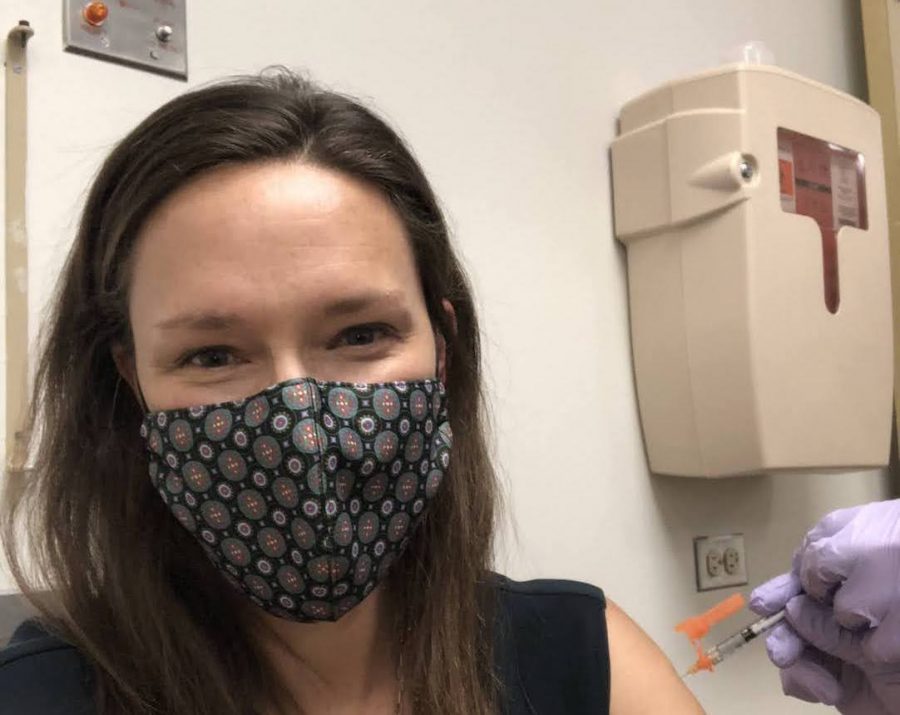 Photo Courtesy of Jessica Ridgway | Used with Permission
Phase 2: The Distribution
Exploring the success and opinions surrounding the first wave distribution of the COVID-19 vaccine
MVHS alumna Gianna John, '19, works an eight hour shift as a ward clerk at UC Riverside hospital's COVID-19 screening facility, where she interacts with around 12 high-risk patients daily, each within close caretaking proximity. According to the Kaiser Family Foundation, over 300,000 nurses in California take care of patients on the frontlines just like John. 
As soon as  Pfizer announced that its vaccine was ready for distribution on Dec. 11, California began vaccinating nurses and essential workers on Dec. 14. Within the state's vaccination plan, Phase 1a provides vaccinations to "healthcare workers and long-term care residents" while the following step, Phase 1b tier one, allows for  individuals 65 or older and professionals at risk of exposure in specific industries to receive vaccinations.
Students with severe health conditions who are 16 or older are eligible to receive the Pfizer and BioNTech vaccine during Phase 1c. According to covid19.ca.gov, researchers predict that the general student population, ages 16 or older, will be eligible to receive the vaccinations later in the spring.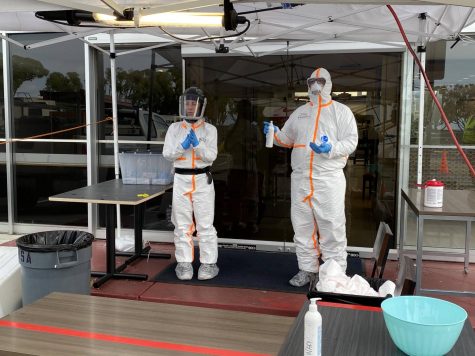 Yet while many are eager to receive the vaccine, John describes caretaking during COVID-19 as simply "scary." Many normal hospital procedures have been modified to ensure safety by isolating patients and staff. Because John works in a caretaking facility, patients who leave the ER in fear of contracting COVID-19 inside the hospital often come to facilities like hers.
"The number of admissions to the hospital has increased because a lot more families discharge patients immediately to help prevent the risk [of getting COVID-19]," John said. "Families can't come inside and meet the patient. For staff in general, we have to get tested every two to three days and we wear [protective equipment] at all times. Even when we eat, we eat in isolation corners so we don't infect … the patients or each other."
While John was initially hesitant to receive the vaccine, she learned its methodology and possible side effects, which reassured her. She received her first dose in late December and remembers feeling slightly "fatigued" but nothing more.
"[The vaccine felt] super normal," John said. "I think the media makes it seem like it might kill you or [make you] have a severe anaplastic reaction, but no one [in my workplace] experienced anything out of the ordinary. Most symptoms [from the COVID-19 vaccine are the same as] the flu shot, and the flu shot is pretty normalized in society." 
Unlike the flu shot, Associate Professor of Medicine at the University of Chicago Jessica Ridgway described the process of getting the vaccine as "exciting." At her hospital, doctors received lottery tickets to determine which staff would receive the vaccine first. 
"There was definitely some of that vaccine envy, when somebody's lottery number came up first," Ridgway said. "Everyone is posting their vaccine selfies, and [there was] just a lot of hope and excitement. It was fun to get [my vaccination] because … everyone [was] happy — almost like a party."
Ridgway echoed the symptoms John described — fatigue and a sore arm —- adding that the second dose of the vaccine is noticeably more painful for some than the first. Yet, Ridgway explained that it is necessary for the majority of the population to receive the vaccine in order for a population to develop herd immunity. Ridgeway estimates that herd immunity occurs when around 75% to 85% of the population are immune to the virus, which allows for a  return to normalcy.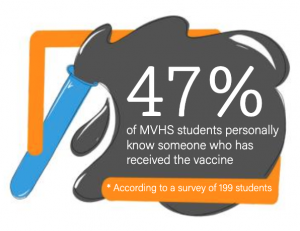 "[Herd immunity] basically means that the virus can't keep spreading … because it doesn't have enough susceptible hosts," Ridgeway said. "[But, how quickly we return to normalcy] just depends on local policy. I do think it might be the sort of thing that you have to prove your vaccination status."
In addition, Biology teacher Kenneth Gan emphasizes the importance of taking the vaccine simply to ensure that the school community achieves herd immunity. 
"I would take it not just because I really want to get back to teaching in person, but more that then I will be a part of the vaccinated population," Gan said. "That is working towards the overall idea of herd immunity. I won't wait to be part of that percentage — I want to be a part of it now."
At the same time, Gan is not entirely confident about the safety of going back to in-person learning at MVHS. According to Gan, his first priority, along with school administration and state officials, is to simply ensure that the general population remains safe. 
"If we can do [in-person learning] and it's safe, then I would go back," Gan said. "But I would still have to feel safe, [not] having to think in terms of, 'Could I hurt the people I love?' For me, the first and foremost thought is that I want to make sure I can go back safe [and] that it's safe for my coworkers and safe for my students."
To find this story on El Estoque's Newsmagazine, visit: https://issuu.com/elestoque/docs/volume_51__issue_4__february_10__2021/8