Illustration | Mikaylah Du and Sophia Ma
Cupid in the classroom
Examining teachers' perspectives on student relationships
It was Valentine's day, and he wasn't prepared at all. 
He went to Chinese teacher I-Chu Chang for help: "Laoshi [Teacher], I'm screwed. I don't have any gifts for my girlfriend — can you help me?"
Chang took out her candies and told him to take some of them. He grabbed binder paper and started wrapping the candies.
"I said, 'Are you serious? Binder paper for [a] Valentine's gift, you're gonna fail. It's not gonna work,'" Chang said. "So I gave him some red paper that I have for Chinese New Year, and then he tried to put them together and staple [them]. Boys are so clumsy, they staple papers and candy and wrap it up and gave [it to] the girl."
A week later, the girl broke up with him. Although Chang doesn't know if it was because of the unsuccessful gift, she still recalls that incident of the boy stressing over a gift for his girlfriend. Over the course of her teaching career, Chang has witnessed many relationships unfold between the students in her classes.
"I think [dating in high school] is kind of cute; [it's] definitely going to be a memorable experience," Chang said. "Especially when [they] are so young, and [they're] still exploring, learning what love is. Even though the relationship is not mature, I would think that would [create] some important memories in [their] lives."
Science teacher Julie Choi agrees that there are benefits to dating in high school, especially in terms of personal growth. She thinks that in any relationship, there is a takeaway lesson that allows the person to develop in ways that are different from other interactions. 
"In relationships, I think you learn communication, you learn your values," Choi said. "You learn the idea of what it means [to] really [like] someone and [do] something for that person, and also receiving a lot of love and feeling good about that too. I think it's a really important phase that students should absolutely explore before they go on to college." 
Chang also thinks a benefit of dating before college is that the student would have a good support system around them. She's seen students being crushed when experiencing their first breakup, but in high school, the student can reach out to their parents. However, she notes that it would be more difficult to reach out to others in college, especially if the student is very shy and doesn't want to share their sorrow with others.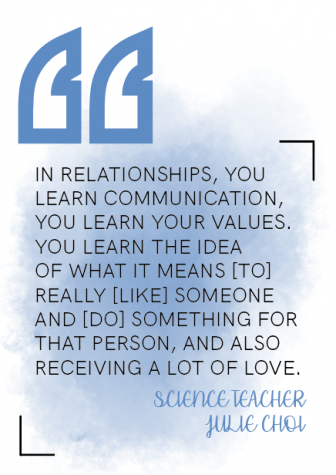 "If the parents have a pretty close relationship with their kids, they could be very helpful to keep them company to go past this difficult time when they really are heartbroken," Chang said. "It's kind of like getting the booster. You get immune, and then maybe it'll be easier in life. That's how I look at it."
Overall, Choi believes that when someone finds a person they "really, really are crazy about," they wouldn't want that relationship to be their very first. She compares relationships to learning how to walk: it's rare to be excellent the first time around. 
English teacher Lynn Rose and her husband were high school sweethearts, and they have now been married for 27 years. They met in their junior year English class, which Rose finds funny since she currently teaches English.
"He sat in front of me; we were seated alphabetically," Rose said. "And we were both new students as juniors, [since] we just moved. That was kind of how we started talking because we were both new to the school and didn't know anybody. We started off as friends junior year, and then towards the end of senior year, he asked me out, and we're still together."
Rose doesn't think her high school teachers would've noticed anything about their relationship. As a teacher now, though, she can sometimes tell if students like each other.
"Sometimes I'll find out that two students have been dating all semester, and I had no idea, so it depends how quiet they are about it," Rose said. "I've definitely seen some crushes, just in terms of you can observe some of the nervousness that one person might have around the other or changes in behavior in the way that they might speak to the other person. So sometimes I'm able to pick up on it."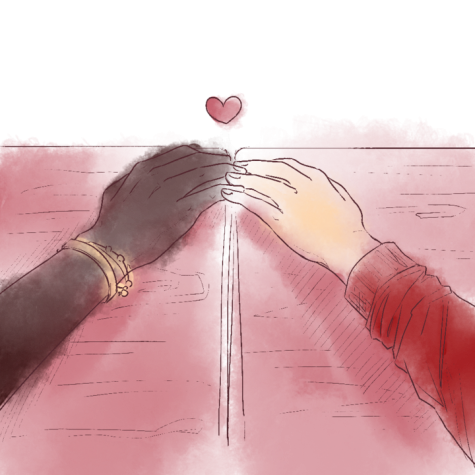 Choi also recalls a time in AP Physics 1 where she asked for seating preferences and two students asked for each other, but then acted like they didn't want to be near each other.
"I thought it was funny because I paired them up [since] they selected each other, but then they're like, 'Ms. Choi, how dare you put me with this person?'" Choi said. "I was like, I don't think I'm allowed to say anything at this point, I'm just supposed to play the bad guy, so I just let it go. I don't know if they actually ended up together, but I thought it was cute."
Chang also notices if someone looks happier around another person or if she sees responses from classmates. Oftentimes, she can tell something is going on when she pairs up two students and everyone starts cheering. She also mentions one of her assignments where she has her students give speeches about their ideal significant other. After a particular student presented, he walked up to a girl in the class, telling her that she was his ideal girlfriend.
Each year, Choi has had a couple who met and started dating in her class so they go to her for relationship advice. Because this occurs often in her chemistry class, Choi humorously wonders if it's because of the chemistry subject. 
"One of the couples that ended up [together] in my class last year was cute because they thanked me at the end of the year," Choi said. "They're like, 'Thank you for always putting us together in our seating charts. I feel like you knew that we liked each other.' And I had no idea, it was just a total accident. I actually didn't know they were together until one of my students told me."
However, sometimes the chemistry between students slightly influences her seating chart decisions, although she doesn't think any of the students she's paired up have actually ended up as a couple.
"Sometimes you look at some people, and you're like, 'Oh yeah, they'd be cute together' — just like how if I see my friends then I'm like, 'Oh yeah, they'd be cute together' — and I would seat them together," Choi said. "I've done it a lot when I was in my first year as a teacher, but in the later years, I've made it more based on student preferences, and TA's help me with that part of it. But they enjoy doing it, and I wouldn't be surprised if they put that factor in as they do seating charts, because a part of what we look for in seating charts is how well [students] harmonize with each other, like 'Will they get along?' And I think that has some correlation to relationships later down the road."