Cottagecore vs. Dark Academia: A detailed comparison
Exploring the popularity and controversies surrounding two trendy aesthetics
January 26, 2021
In recent months, following trendy aesthetics has become popular amongst social media users across multiple different platforms. Examples include "choose your aesthetic" TikToks, Pinterest boards full of specific fashion items for certain aesthetics and Instagram feeds dedicated to the latest aesthetic trends. Two aesthetics that have recently gained traction are Cottagecore, which originated from the romanticization of "cottage" or rural life, and Dark Academia, which emphasizes the importance of learning and encourages self-discovery.
Cottagecore
"Stop trying. Take long walks. Look at scenery. Doze off at noon. Don't even think about flying. And then, pretty soon, you'll be flying again," said Ursula in the movie "Kiki's Delivery Service" (1989).
As simple as this statement may seem, it is powerful because it reminds those of us who are often caught up in the busy pace of life that sometimes, we need to stop and appreciate the world around us. And perhaps, that is why these words appealed to those who identify as Cottagecore fans.
According to the Aesthetics Wiki, Cottagecore, commonly referred to as Farmcore or Countrycore, is an aesthetic inspired by the romanticization of the eurocentric "cottage" and rural lifestyle. It is centered around simplicity and escapism, advocating we reject our technology-obsessed world and instead, embrace nature. 
View this post on Instagram
Cottagecore carries both traditional and progressive values, as it stems from the idealization of agrarianism. Since Cottagecore takes inspiration from the 18th and 19th century white rural lifestyle, it naturally promotes other beliefs and values of the time period, such as the idea of a traditional wife (TradWife) who is expected to take on a submissive, domestic role in marriage. However, in contrast to these traditional ideals, Cottagecore is also widely popular with the women-loves-women (WLW) community because its theme of escapism parallels queer people's desire to escape from a heteronormative society.
The Cottagecore aesthetic is well-known for the distinct fashion trends it has given rise to. Cottagecore fashion tends to stick to nature tones, such as various shades of green and brown, along with faded colors and pastels.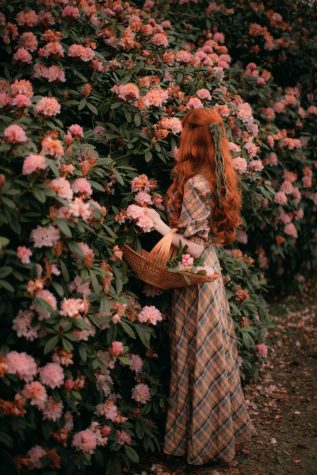 Just like its unique color scheme, Cottagecore also has telling fabrics and patterns, such as gingham and paisley. In addition, materials like lace and embroidery are often used to accessorize or spice up outfits.
Cottagecore aesthetic fashion, like many fashion trends, has a variety of staple outfits, which are discussed in the fashion blog A Clothes Horse. Many people who incorporate Cottagecore fashion into their style wear loose-fitting, flowy dresses and skirts. Ironically, while the aesthetic is centered around agriculture, many of its outfits would be impractical in a farming setting. 
Peasant blouses and other tops with puffy sleeves are also common, along with linen aprons, which are garments commonly worn while doing housework.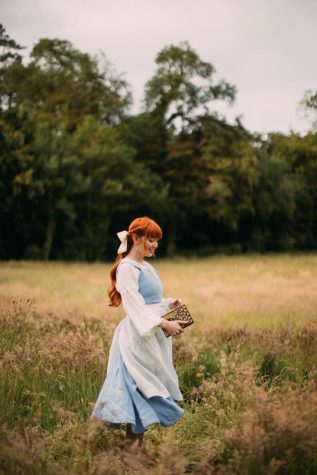 In addition to Cottagecore's fashion trends, it is also widely associated with many forms of media, including films, literature and music. "Kiki's Delivery Service," a Studio Ghibli movie released in 1989, is known for having similarities to Cottagecore.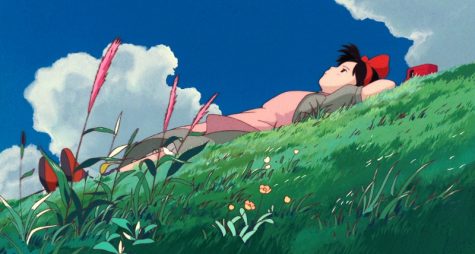 The movie follows the life of Kiki, a young witch, who leaves home at the age of 13 to fulfill her duties as a trainee witch. During this time, Kiki starts her own delivery business and distributes products by broomstick.
There are numerous hints of Cottagecore throughout the film, such as the cottage-like house Kiki lives in that is surrounded by greenery. On top of that, a major theme of the movie is escapism, as indicated by its glorification of menial tasks. 
Other popular movies that are associated with Cottagecore are "The Secret Garden" (1993), "Moonrise Kingdom" (2012) and "Little Women" (2019).
Cottagecore, which saw its rise on Tumblr in 2018, has grown increasingly popular on social media platforms, racking up over 1.2 million posts on Instagram under #cottagecore. Many admirers of the aesthetic have dedicated their entire feed to Cottagecore, posting content that depicts their take on Cottagecore fashion or botanical destinations.
View this post on Instagram
View this post on Instagram
However, Cottagecore does have its flaws. One major issue with Cottagecore is its association with Western agricultural lifestyle and as a result, European colonialism, which leads to a lack of diversity due to the adherence of a white image, according to Abby Fritz's "Cottagecore: The Comeback and Controversies."
While the Cottagecore aesthetic prides itself on being non-capitalist and a supporter of self-reliance, its foundation on stolen indigenous land negates such claims.
Cottagecore has also been criticized for its simplification of agricultural work, portraying it as a mere aesthetic rather than depicting the intensive labor and dedication farmers endure. Additionally, because Cottagecore is founded on an older, eurocentric lifestyle, several fans have misinterpreted the aesthetic as promoting traditional values and beliefs, such as anti-feminist gender norms and the idea of TradWives.
Even though Cottagecore has its shortcomings, it has influenced many people worldwide, providing an outlet for individuals to appreciate nature and the surrounding world. 
Dark Academia
"[M]edicine, law, business, engineering, these are noble pursuits and necessary to sustain life. But poetry, beauty, romance, love, these are what we stay alive for." These were the resounding words from John Keating from the movie "Dead Poets' Society" (1989). 
Keating's words not only move characters in the film, they also left an impact on many viewers, including those who classify themselves as Dark Academia fans.
Dark Academia, as stated by the Aesthetics Wiki, is an aesthetic that revolves around self-discovery, passion for learning and existentialism. Stemming primarily from European cultures, it is also well-known for its connection to classical literature.
View this post on Instagram
This aesthetic falls under a category called "Academia," which is distinguishable because of its focus on learning and studying. Dark Academia in particular is unique and popular because of its cynical and gothic overtones. On the other hand, Light Academia, which is another popular aesthetic that is part of the Academia subgenre, consists of brighter and more optimistic themes in comparison to its counterpart.
The fashion aspect of this aesthetic has swept the world off its feet, as many incorporate this style into their outfits for a more elegant look. The primary color scheme of Dark Academia fashion consists of earthy tones, along with cream, ivory and gray.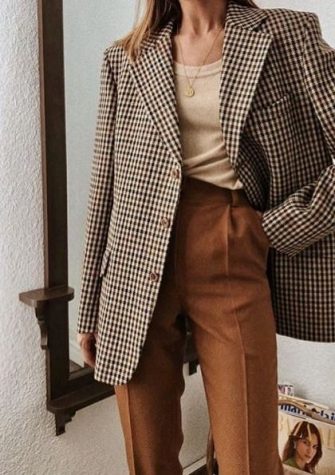 Because Dark Academia is inspired by the romanticization of 20th century preparatory schools, outfits derived from the aesthetic are more on the classy side. For example, upscale fabrics such as cashmere and Egpytian cotton or wool are popular in Dark Academia fashion.
To help newcomers start their journey exploring Dark Academia fashion, a blog post by The Mood Palette lists some must-have pieces to imitate this aesthetic — for example, blouses, turtlenecks and polos are often worn as tops and paired with plaid skirts or slacks.
In order to layer up or just for aesthetic purposes, blazers, trench coats and cardigans are common choices of outerwear. Many people also carry leather backpacks or satchels, and minimalistic jewelry, usually in gold or silver, is sometimes added as a finishing touch.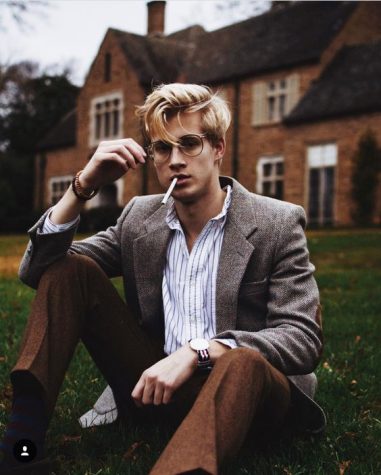 However, fashion is not the only field in which Dark Academia has left its mark — it is also widely popular in various forms of entertainment. "Dead Poets' Society," published as a novel in 1988 by Nancy H. Kleinbaum and released as a movie in 1989, is popular amongst Dark Academia fans. 
The book follows the story of John Keating, who has recently been admitted as a teacher at an elite, all-boys preparatory school called Welton Academy. Immediately, it is evident that his beliefs and teaching style stray from the traditional Welton methods. 
As the novel progresses, Keating encourages his students to break away from the orthodox methods of learning Welton Academy employs. Because this literary work discusses elitism, classism and breaking away with conventions and takes place in a Dark Academia setting, many readers have come to associate the novel and movie with the aesthetic.
Other popular media that are associated with Dark Academia are "The Secret History" (1992), "Kill Your Darlings" (2013) and "The Riot Club" (2014).
Dark academia has also made its mark in other ways, moving many admirers of the aesthetic to create social media accounts. While some accounts portray the aesthetic through fashion and decor, others create blog posts on how to immerse one's self in the world of Dark Academia. The variety of Dark Academia content allows those who stumble upon the hashtag to engage with this fascinating aesthetic.
View this post on Instagram
View this post on Instagram
Yet, in spite of all the great things Dark Academia has brought, there are some glaring issues with the aesthetic. For starters, Dark Academia is centered around the idea of a white society, which may lead to those who are people of color to feel unable to participate in the trend, as addressed in this r/DarkAcademia thread. 
Additionally, because of its foundation of elitism, Dark Academia promotes intellectual elitism, which leads to the classification of menial work as inferior. It also furthers the idea that only the rich may truly engage with this aesthetic.
Lastly, Dark Academia is intertwined with the romanticization of mental illness, smoking and alcohol abuse. Through this, Dark Academia could potentially encourage people to participate in such activities, sacrificing their personal health for education. 
Dark Academia, keeping in mind its flaws, has ultimately offered a captivating way for fans to reignite their love for learning and discover more about themselves.