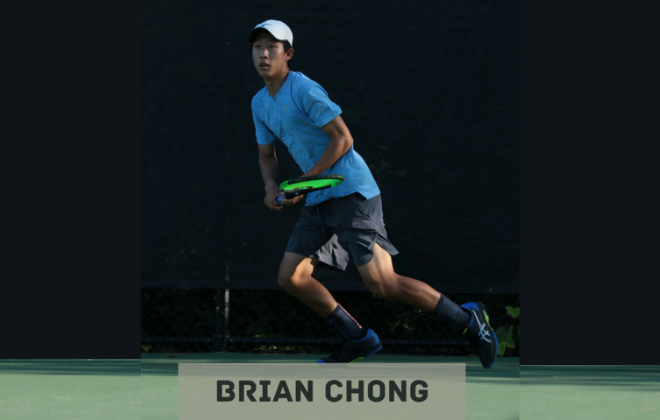 Photo courtesy of Brian Chong | Used with permission
Archbishop Mitty High School senior Brian Chong scores a commitment to play for Brown University D1 tennis
Chong explains his unique recruitment process following 10 years on the court
When Archbishop Mitty High School senior Brian Chong was seven, he started playing tennis once or twice a week after school or over the weekend with his dad for fun. After realizing he enjoyed the sport and was good at it, Brian invested more time into practicing and training after school. By the time he was 13, Brian frequently traveled to tournaments — which is where he first met Lu Tennis Academy founder Lu Tang.
"[Brian] knew that I [was the] coach of some player[s] that he played against," Tang said. "He got my attention because he was a very good player … Later his dad reached out to me to work as his private coach and then that's how we started."
According to Tang, at 13, Brian was already a top player in Northern California. After continuously training with Tang for the past five years for five hours a week, Brian says he is proud to be Northern California's sectional champion for the 14s Division and the 16s division, as well as Northern California's representative for the 2017 intersectionals tournament. Aside from representing NorCal, Brian plays individually for his own record.
For Brian, this internal battle involves a resilient mentality he's been able to develop over his years of practice and matches.
"You can't really talk [in tennis]," Brian said. "You can't talk to your teammates because you don't have any; you can't talk to your parents, coaches, until the match is over. So it's really how well can you play this opponent on your own — rather than [in] other sports like basketball [where] you have teammates to encourage you [and there's] a team spirit. Tennis is just all about being able to maintain your level, being able to stay positive, even though you're losing."
According to Brian, through wins and losses, his dad has shaped his tennis playing the most — despite not being his coach. While he says he has had many impactful coaches, Brian's thankful for his dad persevering to help him from the beginning of his tennis career.
"He really supported me throughout [my tennis journey] — even if I lose, he's always supportive," Brian said. "He's watched every single one of my matches, so I think he's responsible for a lot of my success."
"
You have to learn how to get ready for any type of play style and be resilient [and] learn how to adjust to your opponents. I [also] just like how tennis is different from other sports, because it's just really a battle against, not only against your opponent, but also against yourself."
— Brian Chong
Brian's sister, Mitty High School alumna and Northwestern freshman Sarah Chong, has also supported Brian throughout his tennis journey. The siblings started tennis lessons at the same time, but Sarah lost interest and quit early on. She wasn't surprised that her brother quickly progressed in tennis, since he had always been active as a kid. Over the past couple of years, Sarah has noticed Brian becoming more goal-oriented, working hard for titles he wants and persevering.
"Outside of just winning the tournament, I would be proud of him just being persistent with going to practices," Sarah said. "I know it can get kind of tough when it's really hot in the summer, and no one wants to go out, or really cold in the winter, and everyone wants to stay inside. That kind of determination is something I'm proud of because I don't usually go out, like all the things I do I stay inside."
As Brian grew up, Tang also noticed that he became more mature than other "wild teenagers" on the court. Still, Tang enjoys moments during practice when Brian shares a joke about something that happened to him at school or with his friends. In addition to teasing Brian, Tang says he will miss his respect and hardworking attitude when he leaves for college.
"He's a smart kid," Tang said. "But Brian, he always respects, and he [is] always listening [and] tries to improve his game. And also he tries to improve his personality — that is something really special about Brian. And he is also humble. He does not brag about what he does, when he wins. He works very hard. And he has all the elements to be a good player, so that's why he is successful and he committed to one of the very top schools in [the] U.S."
In October 2019, Brian and his family toured Brown University and its sports facilities with the tennis coach at the time in Providence, Rhode Island. He received an offer and made a verbal commitment in January 2020. However, both the coach and assistant coach who recruited him retired, leaving Brown without a tennis coach for six months. Brian got into contact with players on the team and the athletic director, asking if the new coach would respect the previous coach's decision. When they told him there was no guarantee, Brian had to contact coaches at several backup schools.
"It was a very difficult time because all the coaches, most of them, already recruited most of their players," Brian said. "Just thinking about the reality, where I might not get into Brown after I got an offer was really frightening. When they finally found a coach, it was really good news for me."
In fall of 2020, Brian was able to solidify his verbal commitment to Brown with the new coach Alex Kasarov. In addition to enjoying his campus tour, the weather and the community in Providence, Brian was drawn to Brown's open curriculum, which he plans to take advantage of in order to study economics and business.
"I will prioritize my studying," Brian said. "But at the same time, representing Brown for its tennis team hopefully will add some enjoyment in my college years and some happiness, maybe some motivation to work harder. Hopefully, [attending Brown will] teach me important life skills where I could apply them into the real world. I [hope to] apply them to my academic studies, like teamwork, courage, resilience, things like that."
Brian says that ultimately, he won't become a professional tennis player. Regardless, he hopes that playing for Brown will be a good experience for him after his years with the sport. He advises students athletes who will or are going through the recruitment process to keep these priorities in mind.
"Work hard and train hard and don't let any irrelevant obstacles prevent you from reaching your goal," Brian said. "Remember that the journey is the reward, and you will be successful wherever you end up."