California voters don't turn out in favor of supporting public schools
Proposition outcomes reflect differences of opinion among voters
December 5, 2020
This past election, Californians turned to the ballot box with an opportunity to invest in their public schools and universities — whether that be through opening up critical data for their admissions or strengthening their funding through commercial property taxes. 
Two propositions affecting millions of students.
Neither of them passed.
Proposition 15 was meant to partially undo a landmark rule enshrined in 1978, Proposition 13. In addition, it would increase market value property taxes on commercial and industrial properties worth more than $3 million — from an estimated $6.4 billion to $11.5 billion to fund local schools and governments. Proposition 13 allowed property to be taxed at the price at which it was purchased, rather than its current market value. From a majority of Democratic candidates, including Vice President-elect Kamala Harris, to education advocates like the California Teachers Association, leaders across the state rallied in support of the measure. Their charge was to keep schools open, supported by and representative of the level of wealth that Californian industries have seen over the past few decades.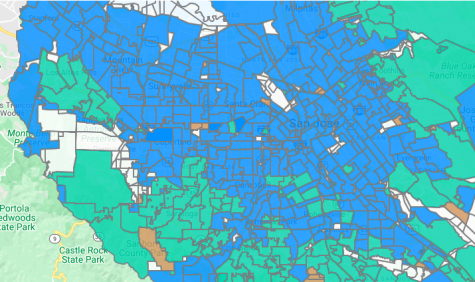 What followed was months of disinformation and campaigns designed to derail the proposition's support, as well as confuse voters with the nuances of commercial property tax. Parents saw flyers in their mail claiming they would see taxes raised on their own homes, organizers were told they were unduly harming business owners of color and neighbors were criticized for wanting to harm small businesses. These messages were untrue, as the proposition had an exception for business owners who have properties $3 million or less in holdings in California to continue being taxed at purchase price.
It was a battle between real estate interest and corporate businesses (a group of large interest to Cupertino residents) and advocacy groups and educators. The bigger, wealthier group won.
Despite being the world's fifth-largest economy and the nation's wealthiest state, California often ranks dead last in education spending — with the largest ratio between teachers, librarians and counselors per grade school student. Each student's education in a typical public school costs $17,000, according to Policy Analysis for California Education (PACE), amounting to a total of $25.6 billion per year. If Proposition 15 passed, there still would've been insufficient funding for the state, but at the very least, it would have been a start to supporting our educators and higher-quality education by taxing wealthy companies the current tax rate for their properties instead of the drastically lower rate from 1978
With the conceded defeat of Proposition 15, likely due to the misinformation and well-funded commercial property-owners railing against its passing, public schools and community colleges lost the opportunity for a large revenue increase for basic education and continued the large disparities in education quality across the state. It will lead to continued funding issues and the closing of neighborhood schools in areas where enrollment is declining. 
Californian voters also shot themselves in the foot by also voting against Proposition 16.
Proposition 16 was an attempt to introduce a full-scale repeal of the 1996 affirmative action ban, Proposition 209, which restricted governments and public institutions from preferential treatment when considering race, gender, sex or national origin in employment and education. Allowing this data to be seen would allow it to be considered or accessible for higher education admission processes, in public jobs and government contracts. This is not a racial quota, as the Supreme Court deemed racial quotas to be unconstitutional in Regents of the University of California v. Bakke (1978). Instead, Proposition 16 would've allowed factors like race to be considered when serving for interest, like diversity, opening up more opportunities to people and addressing systemic inequalities.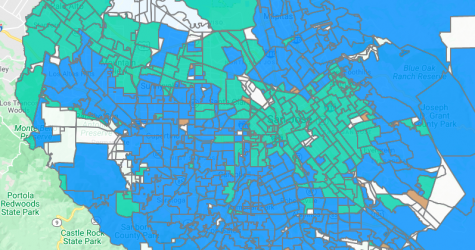 But according to the Associated Press, 57.2% of California voted No — and 52.67% of Santa Clara County also voted No. That's 9,565,767 people who voted against affirmative action in a state labeled as supposedly liberal, and nearly 429,973 voting No in a county praised for its cultivated communities of cultures.
Affirmative action is not a radical or unsuccessful idea, yet California was the first state to ban it. The University of California claims in an analysis that "race-blind access-oriented admissions policies can significantly increase UC's [under-represented] population, but to a lesser extent than race-based affirmative action." In this sense, affirmative action would be assumed favorable to Californians, as we have the largest grouping of different races that face disparities –– 39 percent of state residents are Latinx, 37 percent are white, 15 percent are Asian American and 6 percent are African American, according to the 2018 American Community Survey. There are evident disparities that are still significant in many ways. As of last year, African Americans faced double the unemployment rate than white Americans. And many minority groups at state universities are underrepresented. 
There was active opposition to Proposition 16 for multiple reasons. The most significant point made across the board was the thought that colleges and universities would be able to use racial quotas. Many families thought that the prospect of increased diversity on college campuses could lead to a discriminatory decline in white, East and South Asian student enrollment. When discussing the failure of Proposition 16, president of the Asian American Coalition for Education Yukong Zhao said, "Many Asian Americans feel that affirmative action in effect legalizes discrimination against them." At the University of California Berkeley this year, 42 percent of freshmen are Asian, 21 percent are Latinx, 17 percent are white and 4 percent are Black. Many of the majority opposing affirmative action worried that they would be less likely to be accepted into a university based on their race. In this sense, they are basing the reason for rejection as the consequence of "preferential treatment." In reality, administration having accessibility to whether the applicant is white or Latinx will not be a reason for rejection, as it is unconstitutional. 
The votes against Prop 15 and Prop 16 pulls back the curtain on how a majority of California voters would rather hoard opportunity than share it with the greater collective, oppressing underrepresented groups. Despite being perceived as a giant liberal stronghold, we voted against education funding and against education equity. The reality of our state is clear –– we are greatly behind the majority of America, still fighting for basic rights to fair education and opportunity for all racial backgrounds.
This election was heralded as the most important one of our lifetimes.
We must understand that our vote carries significant weight down the ballot, not just in determining our President, but also dictating education for less fortunate communities. That means encouraging more voter literacy on the propositions that matter and doing all that we can to ensure public education that will lead to a prosperous California. 

In Cupertino, we sit in privileged seats of well-funded education and a direct stream into prestigious colleges. It is our responsibility to use what we have to benefit the rest who will be most impacted by these losses. Local and statewide measures similar to Props 15 and 16 can level the playing field and offer all California students the kind of stellar public education we receive here in Cupertino.