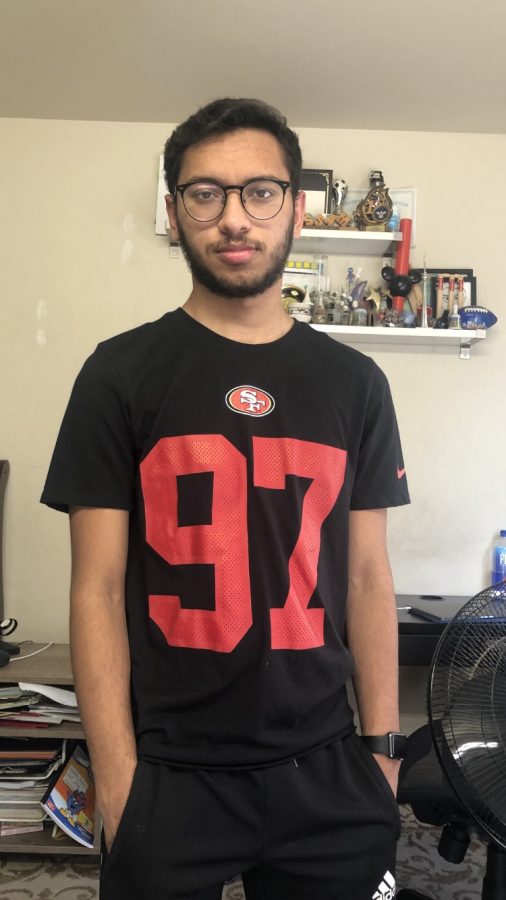 Photo courtesy of Bassam Malik // Used with permission
Faithful to the bay
MVHS Students recount their experiences as fans of the San Francisco 49ers
When senior Bassam Malik's father moved to America in the 1990s, he started to follow football and became a supporter of the San Francisco 49ers, his local team. Growing up, Malik has shared his father's passion for the 49ers, watching every single Sunday game each season. One of Malik's favorite 49ers plays was near the end of a 2019 game against the Seattle Seahawks: tight end George Kittle pushed through several defenders with a decisive face mask play near the end of the game, gaining an extra 15 yards.
Senior Pranav Reddy had a different path to becoming a 49ers fan. He began to gain an interest in professional football in 2015, ironically during what he views as one of the team's worst seasons. Reddy supports the 49ers because it is a local team and he enjoyed watching former quarterback Colin Kaepernick execute plays. In past years, however, he has had mixed feelings about the team's overall success.
"I would never switch to another team — I hate bandwagon fans," Reddy said. "But from 2015 to 2019, it was just pain. [The 49ers] was one of the worst teams in the league for five years straight." 
Similar to Reddy, alumnus '20 Arush Joshi became interested in the 49ers after watching Kaepernick's plays. When Joshi was in second grade, he had a chance to watch a 2012 game live between the 49ers and the Los Angeles Rams. Though Joshi was disappointed by the 49ers loss, he was excited to see Kaepernick and all the team's receivers in-person for the first time. In particular, Joshi loved seeing former quarterback Alex Smith's plays.
Joshi recalls that watching Sunday 49ers games has served as a good buffer and leisure time between his activities, especially during the busy schedule he managed during his junior year. Malik shares a similar sentiment — he makes it a goal to watch every 49ers game, even if that means missing the first or second quarter during a busy week.
"
Right now, if they just stick with their identity and run the football, I think they'll get pretty far."
— Alumnus '20 Arush Joshi
While these three students are all 49ers fans, there have been moments when they've found it easy to lose faith in the team. For Malik, this is because the 49ers tend to alternate between strong and weak seasons.
"Back in 2017 when [quarterback] Jimmy [Garoppolo] got injured, that was pretty bad," Malik said. "And then we had a very bad record when he came [back] near the end of the season. He did [do] really good the rest of the season, [but] then the following season he got injured [in] 2018 — we just did horrible that year."
Malik recounts many conversations he has shared with classmates and teachers regarding 49ers games — in particular, he recalls the disappointment of Math teacher Jeff Payne after the 2020 Super Bowl.
"I talk football with Mr. Payne… he's also a [49ers] fan," Malik said. "The day after we lost the Super Bowl last [school] year, it was pretty sad. Mr. Payne was just not feeling it, and we were all pretty down. I remember literally a week before, we were having a lesson in class and he used an example which had the [49ers] and football on it, so people were talking to him about it."
Regardless of these ups and downs, these three students have remained and will continue to be fans of the 49ers. Joshi specifically finds himself continuing to see renewed faith in the team, even after rough games. 
"Last week, the [49ers] lost to the Dolphins 43-17," Joshi said. "Jimmy Garoppolo had a terrible game. I think he had the lowest completion percentage of his career. He was coming off an injury, but it still was pretty bad … it was crazy. I'm glad to see that we bounced back this week. Right now, if they just stick with their identity and run the football, I think they'll get pretty far."