Clashing views on the climate crisis
Exploring‌ ‌how the upcoming election has environmental consequences
Students at MVHS have already experienced orange skies, smoky air and other such consequences of climate change. Understanding the root cause will help us take steps toward addressing the larger issue at hand. Holding ourselves accountable for our actions is the first step in doing so. In addition to that, we need progressive climate policies, one of the many things at stake with the upcoming election, to ensure a sustainable future. 
Before implementing climate policies, it's crucial that the problem at hand is properly acknowledged. Even President Donald Trump, previously accused of having called it "a hoax," has acknowledged that we are responsible. "For the first time, President Trump acknowledged that human activity has, at least in part, caused climate change," the American Conservation Coalition said. Recently, Trump even signed a plan to spend $3 billion a year on national parks and public land. However, there is still hesitation and doubt regarding his plans, especially given that he pulled out of the Paris climate agreement, an action plan that gives 195 countries a framework for avoiding drastic impacts of climate change. With just weeks before the election, Trump has yet to publicize as comprehensive of a plan as candidate Joe Biden to deal with the climate crisis –– and unfortunately, during the first presidential debate on Sept. 30, 2020, his time was spent criticizing Biden's plan instead of addressing his own.
For example, Trump tried to criticize the cost of Biden's plan, only for Biden to correct him, mentioning that his plan calls for $2 trillion instead of $100 trillion, as Trump claimed. Trump presented the same faulty argument during the second debate. Both candidates were also asked to discuss how the consequences of the climate crisis disproportionately impact people of color, a topic that analysts say has never been discussed during a debate before, indicating how more and more Americans are concerned about such issues.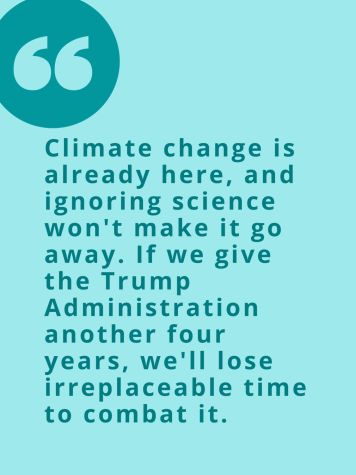 More time was again spent falsely criticizing Biden's plan during the vice presidential debate between Senator Kamala Harris and Vice President Mike Pence on Oct. 8, 2020. Pence accused Harris and Biden of having intentions of banning fracking –– Kamala responded by saying that Biden will not ban fracking, referring to Biden's plan that only prevents new fracking on federal lands, allowing for existing fracking to continue.
Besides banning new fracking, Biden has pledged to transition "away from the oil industry," a commitment promising for ending net carbon pollution in the long run. However, voters are concerned that eliminating the oil industry will put millions of jobs at risk. 
Just as Biden pledged the Clean Cars for America plan, California Gov. Gavin Newsom, in Biden's footsteps, has announced a proposal to stop sales of new gas-powered cars in California by 2035, hopeful that the shift could reduce greenhouse gas emissions by more than 35%.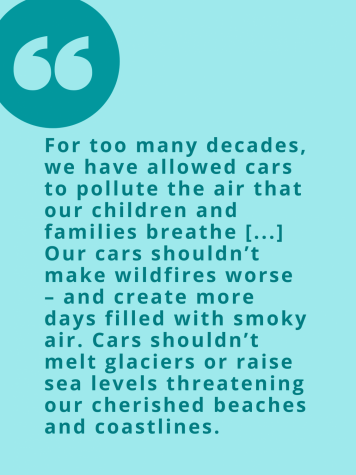 "For too many decades, we have allowed cars to pollute the air that our children and families breathe," Newsom said in a statement. "Our cars shouldn't make wildfires worse — and create more days filled with smoky air. Cars shouldn't melt glaciers or raise sea levels threatening our cherished beaches and coastlines."
Newsom has avoided criticism by claiming that zero-emissions vehicles will likely cost less in the future, adding that the order doesn't prevent residents from owning their gas-powered vehicles or selling on the used car market.
Ultimately, from a local to a national level, such steps are crucial as we continue to advocate for what's best for our planet. It's important that we do our research on politicians and register to vote.