Immigration
Reviewing a wealth of perspectives will best inform us on what immigration issues are at stake
After the 2016 presidential election, public attention around immigration slowly receded, instead gravitating towards other issues like police brutality, race relations and most recently, COVID-19. An October CNBC survey reported that only 15% of voters see immigration as a key issue. And the topic was rarely discussed in the presidential debates — a far cry from 2016. But over the last four years, the Trump administration has authored more than 400 executive orders — some silently, some to media backlash — in its unceasing crusade against immigration.
Just this April, Trump signed an executive order to temporarily halt the issuance of green cards. His aggressive anti-immigration stance — advised by White nationalists like Stephen Miller — was enacted to stoke populist anger among his rural base as the election drew closer, sowing deep division.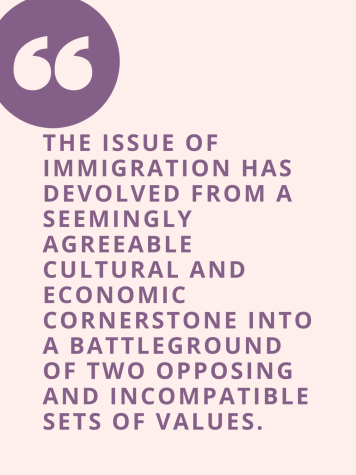 Vice President Joe Biden's immigration plan is almost diametrically opposed to that of Trump. While Trump's policies have separated families, Biden supports citizenship for children without legal status who arrive in the U.S. with their parents. Despite research that shows its positive economic benefits, Trump has battled for decreased immigration from refugees to educated workers, while Biden has advocated for them. The issue of immigration has devolved from a seemingly agreeable cultural and economic cornerstone into a battleground of two opposing and incompatible sets of values. These values are in such stark contrast that the winner of the 2020 election will likely impact the country's long-term cultural, economic and demographic development.
During his first term, Trump's stance on immigration included issuing a travel ban that targeted Muslim-majority countries and calling for a border wall. These actions, along with his string of disparaging remarks against caravan "invasions" and "onslaught[s] of illegal aliens," have sent immigrants a loud message of exclusion. This will continue if he is reelected. In fact, Trump has already begun plans to finish the US-Mexico border wall. Over two miles are being built daily, and the Supreme Court is set soon to hear a case concerning $2.5 billion of the wall's spending.
Trump is also planning to further curtail immigration with more regulations. These policies are often enacted in the name of his rural base — for example, after COVID-19 struck, Trump swiftly reduced the number of visas issued in hopes of protecting American jobs. For over a year, Trump has said that he wants to create a "merit-based" immigration system, which would likely move from family-based to points-based immigration — awarded on criteria like age and education — and mirror systems used by Canada and South Korea. Many have speculated that the "merit-based" label is merely a euphemism for restricting the number of immigrants — particularly family-based immigrants. In fact, one potential merit-based plan by adviser Jared Kushner was estimated to remove 4 million people from immigrant waiting lists. And Trump's Secretary of Homeland Security hinted this summer at another attempt at ending DACA, despite the Supreme Court ruling in June that Trump could not end the policy. If Trump is reelected, the potential impacts of his policies will be especially felt in Silicon Valley, home to many visa workers hoping for greencards and eventual citizenship.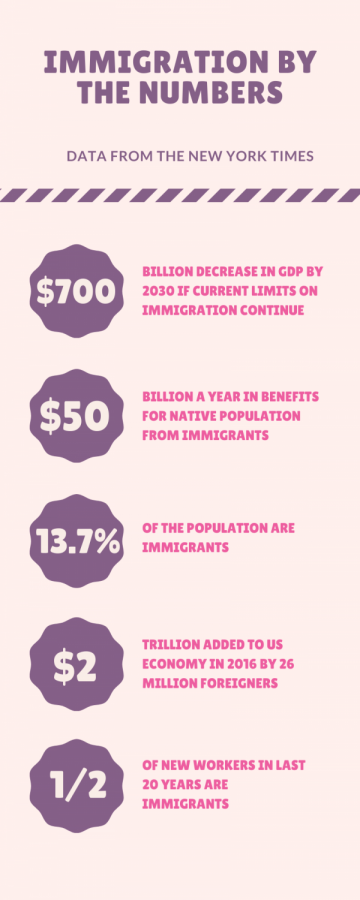 Biden, on the other hand, plans to increase immigration. He has casted off many of Trump's immigration policies as "un-American," believing that preventing cultural diversity and shutting others out from America's opportunities ironically opposes the very values Trump espouses. Although the Obama and Biden administration deported hundreds of thousands of people without criminal records, including minors, Biden has since walked that policy back, calling it a "big mistake." Contrary to Trump, Biden believes immigrants are not a "burden" but rather, a "gift." He views them as core contributors to the nation's economic and cultural successes, bringing talents, productivity and new ideas into American society.
Biden's plans include a roll-back on Trump's travel limits from Muslim-majority countries, an immediate end to family separations and an acceleration on paths to citizenship for approximately 11 million people who currently live in the U.S. but are undocumented. Biden will also increase the annual cap on refugees from 18,000 to 125,000. Acknowledging the myriad of economic benefits of immigration, Biden intends to issue more visas, which will benefit those abroad seeking jobs.
Biden's immigration plan does not only increase immigration — it also prioritizes equity. One of his goals is reversing Trump's "public charge" policy, which denies visas based on immigrants' disabilities and lack of wealth. Overturning it can get the country closer to an immigration system that serves everyone, not just the wealthy. Biden's policies also show concern for the many families — especially in the Bay Area — who are victims of a byzantine green card system which, in some cases, takes up to 50 years for everyone in line to be processed.
Both Biden and Trump's plans will change immigration and, ultimately, the makeup of our country. But there are many nuances behind their identifying characteristics. 
Although immigration may not be as prevalent in the national conversation this election, our immigration system is so closely linked with our economic, cultural and demographic makeup — in addition to other important aspects — that it remains crucial, even if we are not immigrants.
Immigration is not a one-dimensional issue. Even though people may deal with only one of its many facets — asylum, visas or permanent residency, to name a few — it is important to consider all viewpoints when educating ourselves and when voting. Because when we vote for someone, we give power to all of their policies — even if we only support a select few. We must vote for a candidate whose policies support all immigrants.