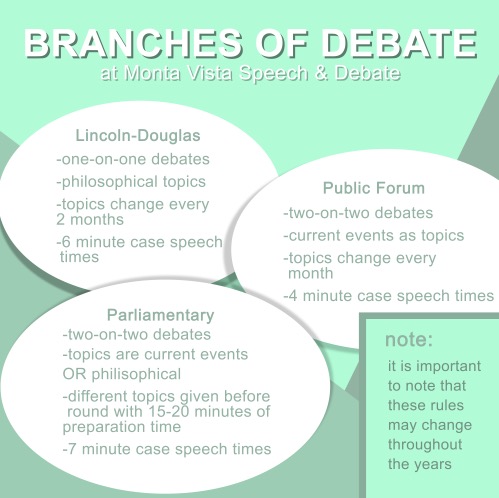 Debating through a screen
Members of Monta Vista Debate (MVSD) reflect on the the shift from in-person debates to online
October 24, 2020
Before attending the annual Cal Invitational Berkeley debate tournament in February of his freshman year, sophomore Rohit Dayanand remembers feeling extremely unprepared and nervous about his potential results. But after putting on his game face and calming himself down, he ended up placing as a quarterfinalist in JV Lincoln Douglas. Dayanand attributes his success to his state of mind and his focus on having fun rather than winning. 
"I had not really thought about this as a tournament, but rather [as] something that I [would] just walk in to have some fun and talk … [and] visit the Berkeley campus," Dayanand said. "For me, that process was where I managed to mentally calm myself down and prioritize my issues."
Dayanand has been part of MVSD since his freshman year; however, he started debate back in middle school. Dayanand participates in a form of debate called Lincoln Douglas, which is a one-on-one debate event debating different philosophical issues. Lincoln Douglas is one out of the three branches of debate that compete under MVSD. Normally, members of MVSD gather together after school and discuss the current debate topics as well as prepare for tournaments. 
Yet due to the ongoing pandemic, club members are not able to physically gather in a classroom after school to learn their respective events or discuss debate topics. Instead, the club has moved to weekly Zoom meetings from 3:30 to 4:30 p.m. on Wednesdays, where the material covered is similar to what would normally be taught, such as speaking exercises and debate practices. However one of the biggest differences is in the way tournaments are held. For Dayanand, attending debate tournaments has always been a significant part of his debate experience.
"I believe tournaments are the quintessential part of debate as a competitive activity," said Dayanand. "But at the same time, it's just being able to interact with so many people whether that be in your club, tutoring or wherever you go, and just having that sort of connection that you never really had before … and just having fun."
MVSD debaters attend many tournaments throughout the season, which spans Sept. to April. Cal Invitational Berkeley (hosted at UC Berkeley), and the annual Stanford debate tournaments are both normally held in February and are two of the most anticipated and competitive tournaments for high school debaters. If a debater collects two bids, which are received if the debater does well at a tournament, then they qualify to participate in the Tournament of Champions, the most prestigious national tournament for circuit debaters (usually debaters with more experience and complex strategies). 
Although winning is a satisfying outcome, members of MVSD like senior and head of Lincoln Douglas Fiona Luo, agree that these tournaments more importantly offer a bonding experience and allow for team members to create lasting memories and traditions. 
"I think most of my favorite moments just come from really late nights at tournaments when everyone gets dysfunctional," said Luo. "I remember, I think after James Logan, a debate tournament last year, some of us debaters were having this argument really late at night about which way to peel an orange, and it got really intense. I'll always remember that."
By going from physical to online debate tournaments, students lose the interactions they would normally have with each other and their judges. According to senior and captain of Public Forum Sarah Tan, there is also a significant change in the way debaters communicate with their opponents and their judges.
"For the less formal [tournaments] a lot of people turn their cameras off," said Tan. "And talking to someone with their camera off especially [while] arguing with them is a very different vibe, especially when you also can't see the judge … because at a normal tournament, we get to see them face-to-face and talk directly to the judge in order to convince them that you're winning, so without that, it does feel a little bit odd."
According to Tan, online debate tournaments also lose the factor of uncertainty. During in-person debate tournaments, it isn't uncommon for there to be a few surprises, which often lighten the mood and leave lasting memories. Tan says that these experiences ultimately make debate the chaotic yet fun activity that it is. She recalls an anecdote involving breaks, which is the term used when competitors make it to qualifying rounds.
"I think one that was really funny was in eighth grade, my partner and I thought that we didn't make the cutoff for breaks," said Tan. "And so, my mom was on her way to come get us, then it turns out that we actually made the cut-off. So I had to call my mom and be like 'Just kidding, you can turn around, come get us in maybe another two hours,' because we actually had to go compete [for] another round … So I think the biggest takeaway honestly is that you never are too prepared in a sense because you never know what wack things people are going to bring up and rounds are not going to go the way you expect." 
Tan says that although MVSD has faced many different challenges this year, both captains and debaters are still hard at work helping each other prepare for tournaments. Tan hopes that before this season ends, school will reopen and they will be able to experience these face-to-face interactions again, as well as attend in-person tournaments.
"I think we also are missing out on that tournament aspect of excitement and just being there dressed with all your friends," Tan said. "My partner and I don't really plan on competing since we are seniors and so right now we are teaching the JV kids on how to prepare for a tournament because we have college apps. But for the second semester, we always joke that that's when we're going to go like full ham [at tournaments] and try to break."