Taking the test: COVID-19 edition
Exploring the importance of the SAT and ACT during a pandemic
Initially, senior Vibha Iyengar had prepared to take the ACT in June, directly after she had completed her AP tests. However, with COVID-19 case numbers rising, her ACT testing center canceled her test. Still hoping to complete it and be "done with it forever," Iyengar registered for the test in July, but her testing center in Reno got relocated to another one in the San Jose area, which also closed down. In September, she was finally able to take the ACT after months of studying for it.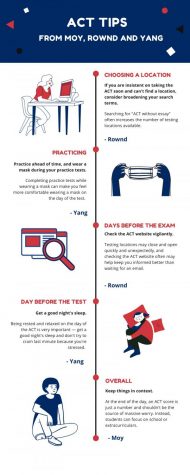 "I think it was actually a little bit more stressful because with school, you're [also] trying to study for [the ACT]," Iyengar said. "But then you have school and all the classwork and homework and everything piles up. And then you still want to get a really good score, especially with the college apps too, because it kind of feels like it determines what college you can get into right now. But the retaking and cancellations, it makes it really stressful."
Iyengar's experience was mirrored by senior Andrew Yang. Yang says he signed up for around two testing centers per month, which kept getting canceled, until he was able to take the ACT at a Hyatt Regency Hotel in Burlingame. 
"[It was] an opportunity I [had been] really longing for because I [was] preparing for a long time," Yang said. "This was finally my time to shine. [Also,] college applications are coming up, [early action] deadlines are just next month. And this is a very important part of college apps, even if colleges claim that they're willing to overlook SAT and ACT scores."
Branch Director at Elite Academy Joon Moy believes that taking standardized tests during COVID-19 is not as important. Moy advises students to think about the use of the tests and not worry so much about them. 
"I think the tests have a diminished value going forward — diminished doesn't mean zero value," Moy said. "I think there is value in taking the test, but I think students should be smart about their use of time. They shouldn't overemphasize the importance of it and spend all their time chasing some magical number. That [extra] time can be spent on school grades and whatever limited extracurriculars you can participate in during the COVID-19 era."
The frequent cancellations of the tests have had an impact on a lot of tutoring centers, such as Elite Academy. Another center, Flex College Prep, has also been impacted. Both Elite and Flex offer college counseling as well as SAT and ACT prep. Flex instructor Henry Rownd has seen several varying attitudes in students due to the uncertainty surrounding standardized testing. 
"For some students, it's still important to them to be able to sit for an exam and they'll put up with some of the negatives," Rownd said. "For other students, it's more of a confusing thing, [where they think], 'Do I need to take this test? How is it going to be used from the kind of admission standpoint? Am I even able to register?' We've [also] had students go to Nevada, go to Montana, just to be able to take the exam. With the inconvenience of social distancing [procedures], it's no fun, but I think students are more or less willing to do that as long as they can simply take the exam."
Moy says that each student is best suited to think about themselves and whether they need to take the SAT or ACT. According to him, each student has their own strengths which they should play to in order to achieve their goals. 
"The test is just a three-hour performance," Moy said. "And a three-hour performance can never have as much value as a three or four year performance — which is your grades and transcripts. Anyone with clarity about education should understand that. For some people, the test is a good indication of their abilities. But for some students, testing doesn't really capture their abilities well. For those students, I don't think [preparing] for the test is such a good idea, because it can't actually reflect what they can do."
Meanwhile, Yang believes that the system to take the ACT during COVID-19, for him, was "as good as it could be." At the Hyatt Regency, Yang remembers standing in a socially-distanced line outside of the hotel before being guided into one of the hotel's ballrooms, which he recounts could fit around 30 people when they were all six feet apart from each other. After the test began, his greatest struggle was wearing a mask for over four hours including the breaks.  
"Something that [I am] very curious about is 'What's the mental and physical impact of wearing masks?'" Yang said. "When you are wearing a mask [for that long], it feels like you're being restricted."
Rownd agrees that the masks could serve as a restriction to students, but unlike Yang who had completed his practice tests wearing a mask, Rownd doesn't require his students to practice with a mask. 
"I think that a lot of the test centers, for whatever reason, want to put more restrictions on things for students," Rownd said. "For me personally, I haven't asked students to practice with their masks on. When we had students take the test in various other parts of the country, I'm not even sure if they wore masks — I don't think they did. But that's not a bad idea, to have them practice with masks on."
Rownd believes that the greatest challenge with students preparing for the ACT during COVID-19 is not the masks, but rather the focus and attention of the students. He believes that his students are losing interest in studying because of the cancellations, and this could negatively impact their scores. 
"A lot of students just want to check out, they're like, 'Well, there's not a lot of urgency to this, I don't really need to do the homework,'" Rownd said. "If you want to get a 36 on the ACT, you've got to be able to maintain [a certain] level of focus [and motivation]. And it's been hard — I've been working with some students for a year now because their test keeps getting canceled. It's harder [for students] to convince themselves this is still something worth sticking a lot of their time and energy into at this current moment."
Yang comments that due to the many challenges that have been brought up regarding standardized testing during COVID-19, many people believe that SATs and ACTs should gradually fade out of the college admission process. 
"There has long been a sentiment where standardized testing should be eventually phased off because of some of its disadvantages," Yang said. "I think COVID has kind of accentuated those concerns. Before my test on Saturday, I didn't have a single test where it wasn't canceled. So I certainly [was] very anxious because even though colleges claim that they won't really take into account these scores, I think that sometimes the standardized test can be just a standardized indication of how well a student could potentially master basic concepts. I hope that people can get their tests taken, if it's possible, but if they're not able to do it, don't stress on it too much, because it's something that's out of your control."