63 MVHS students qualify for the semifinals of the National Merit Scholarship Program
Breaking down the logistics behind the competition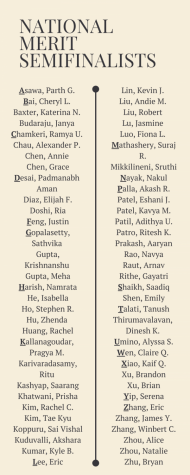 On Sept. 9, the National Merit Scholarship Corporation announced the semifinalist qualifiers for its annual National Merit Scholarship Program. Among those who qualified are 63 MVHS class of 2021 students. These semifinalists may apply to be finalists and NMSC will later select approximately half of the finalists to receive a $2,500 scholarship.
The National Merit Scholarship is a program that recognizes high school students' academic achievements and provides scholarships to aid their college admission process. In order to qualify for the scholarship, students must take a preliminary standardized test, known as the Preliminary SAT/National Merit Scholarship Qualifying Test (PSAT/NMSQT), during their junior year and score higher than approximately 99 percent of those who take the same test, the threshold 99% being determined by the state. 
In 2019, more than 1.5 million high school juniors entered the competition, and about 16,000 qualified for semifinals this year. Out of the semifinalists, 15,000 are estimated to become finalists and NMSC would give half of them scholarships through their applications. Out of the 16,000 who qualified for semifinals this year, 0.394% of them were MVHS students, which is higher than the 0.306% reported last year. This year, 11.01% of MVHS class of 2021 students qualified for semifinals, which is higher than the 8.67% for the class of 2020 and 9.06% for the class of 2019.