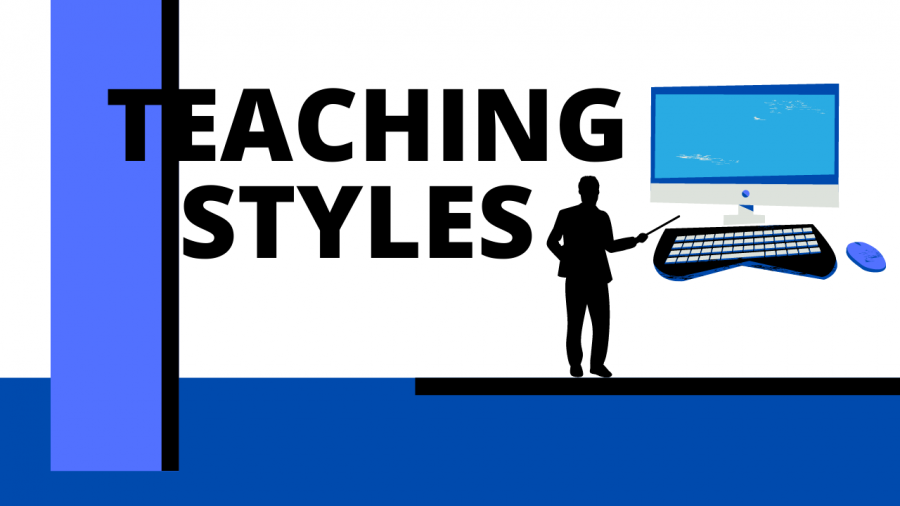 Teaching styles evolve during remote learning
MVHS students and staff share about transitioning to Zoom school
As a result of the shift to remote learning this fall, teachers have had to adapt and modify their curriculum. Many teachers, like AP Macroeconomics and United States Government teacher Pete Pelkey, have found remote learning a less than optimal way to teach, believing that it hinders the relationship-building between students and teachers. 
"When I'm in a classroom with 35 kids, I make sure every day that I connect with every student every day," Pelkey said. "I'm there to say something to them. I'll stand right next to them. I'll ask them if they know what they're doing — and I move around the room. This is the first time I've ever sat down and taught in my life. So I have to sit down and teach, but I can't connect with you individually. [In the classroom] we get little side conversations, and those side conversations facilitate the conversation and the learning."
To make the shift easier for his students, Pelkey says he keeps an open mind when it comes to technology issues. He also teaches teachers at San Jose State University, and has found the skills he teaches there very applicable.
"When I teach, I tell the teachers, when you're new at what you're doing, you have to go easy on the children," Pelkey said. "Until you know what you're doing, and you're good at it, don't make the kids suffer with their grades because you are doing a poor job. So that's kind of the way I'm approaching this. I'm going to have to be easier on the students because there's so much that I don't know [about] whether [they're understanding] or not."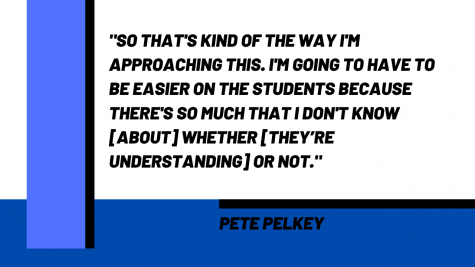 In response to remote learning, AP Physics C teacher Jim Birdsong has revamped his grading policy. As the sole AP Physics C teacher, he is implementing a "gradeless approach" he read about a few years ago. While Honors American Literature teacher Mark Carpenter has previously implemented a similar system at MVHS, Birdsong is the first teacher in the science department to do so.
"There's always just [a] constant search for ways of teaching a rigorous curriculum without driving students crazy," Birdsong said. "The thing that stuck in my mind was that kids didn't feel the need to cheat. They knew that it was just about learning what they could and figuring out what they didn't understand."
The gradeless approach puts a larger emphasis on qualitative, as opposed to quantitative, feedback. At the end of the semester, Birdsong proposes the grade he believes the student has earned. The student is then given a chance to either accept or negotiate after demonstrating the work they've put in throughout the semester and what they've done with the information they've learned.
Previously, in Birdsong's AP Physics C classes, the grades his students received were dependent on how the tests were curved. Now that students can no longer rely on a curve, they are encouraged to master and fully understand taught concepts, according to Birdsong.
"It's less plug and chug into a[n] equation [to determine the student's final grade]," Birdsong said.
Although Birdsong believes that his new approach may prevent students from wanting to cheat, senior Adithya Chandrasekar doesn't think that it disincentivizes cheating, considering the large emphasis on grades at MVHS.
"Cheating at Monta Vista, generally, is intertwined with the fact that Monta Vista is such a test [driven] environment and I don't think [that will] necessarily change," Chandrasekar said. "At Monta Vista, students are so used to wanting straight As; they'll do anything for it."
Chandrasekar believes that although it's a good starting point, it's going to take a lot more than one or two teachers going "gradeless" to change the reputation MVHS has for being competitive, especially given that most teachers at MVHS are already accustomed to using more traditional grading systems.
Depending on how the first semester goes, Birdsong anticipates continuing his new grading system in the future, even when students return to campus.
"It's purely an experiment to see if Monta Vista acts like these other schools I read about," Birdsong said. "If it's good [during] distance-learning, it would be even better in person."