What they would've worn
Seniors dress up in their prom looks despite Senior Ball cancellation
Elegant gowns and sophisticated suits twinkle at twilight on the San Francisco Bay as the Class of 2020, surrounded by their childhood friends, bid farewell to their high school careers and prepare to face the newest chapter of their lives. This was what many seniors had imagined as their Senior Ball, the final rite of passage before graduating high school. 
Instead, seniors found their final year of high school cut short, and their Senior Ball canceled because of COVID-19. Senior Shreya Ganapathy had looked forward to experiences such as Senior Ball, graduation and the Senior All Night Party since her freshman year and felt sad that she wouldn't get one last opportunity to connect with her class before everyone went down their separate paths. 
"We never even got the closure that we're letting go of our high school experience — our senior year just ended with everything else," Parasuram said. "So it seems unfinished — there's not that feeling of everything winding down, which was what prom symbolized."
"People are really split – half of the people want to stay in touch after graduation and half the people just want to cut people off," Ganapathy said. "But Senior Ball is the last time that we can actually come together and enjoy a night as a class."
Despite these unfortunate circumstances, seniors have done their best to make the most of their last days of high school. These four seniors showed the dresses and suits they had planned on wearing to the dance — and the stories that accompany each look.
Senior Giovanni Vurro fondly remembers his Junior Prom — from an eventful pre-prom to being surrounded by his friends at the dance, he knew that the only experience that could top his Junior Prom was his long-awaited Senior Ball with the rest of his class. 
"Senior Ball is the closure of our high school experience," Vurro said.  "Just the whole Class of 2020 together in one place, so yeah, we were definitely sad about [the cancelation] because [Senior Ball] was supposed to be our closure."
Senior Anjana Parasuram felt the same way — she'd long pictured herself in an elegant gown with simplistic makeup, the picture of sophistication finally saying goodbye to her high school self. She had always imagined walking into a gym so well decorated that it was unrecognizable, surrounded by her closest friends, finding finality in their last moments as high schoolers. 
"The dances made me start becoming more connected with the people around me," Parasuram said. "In senior year, you've made all your friends, and you just cherish those last moments as your [senior year] winds down. Not having it was very anticlimactic."
Senior Elliana Damozonio had been looking for a dress for her aunt's wedding with her mother when she stumbled upon a beautiful blue dress. It was just after prom season, and stores were lined with racks of colorful dresses on sale. Damozonio's mother encouraged her to buy the dress, saying that she could wear the dress to her Senior Ball next year. 
One year later, Damozonio found herself in an unprecedented global pandemic with events she had anticipated being canceled. As soon as she'd heard that Junior Prom was being combined with Senior Ball, Damozonio had expected the cancellation, but she was still sad at having this experience taken away. Needless to say, when Damozonio and her mother stumbled upon that dress they'd bought so long ago in her closet, her mother immediately suggested a photoshoot. 
"When I did get to put the dress on, I loved it so much — I felt like a princess," Damozonio said. "It was just such a really fun experience amidst all the uncertainty of quarantine."
About the Writers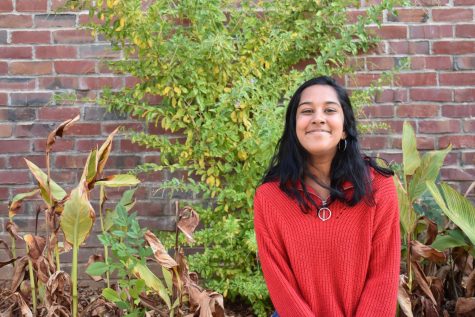 Lakshanyaa Ganesh, Opinion Editor
Lakshanyaa Ganesh is currently a senior, and an Opinion Editor for El Estoque's multimedia platform. Outside of journalism, she is a part of MVHS's Speech & Debate team, where she can be found frequently talking at walls. She loves music, pasta, and Harry Potter, and is always willing to talk about dogs or astrology any time of day.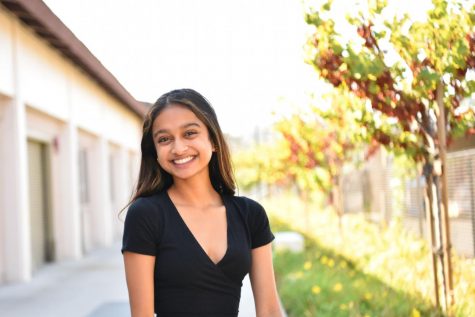 Anushka De, Co-Editor-in-Chief
Anushka De is a senior and a co-editor-in-chief of El Estoque. She loves listening to music, drinking too much coffee and spending time with her friends. She was previously a Features and News Editor and has since learned to parallel park, which she considers to be one of her greatest achievements of all time.