FUHSD implements credit/no-credit grading in response to COVID-19
Despite community opposition, board of trustees unanimously vote to reaffirm new grading system
On April 11th, Fremont Union High School District (FUHSD) superintendent Polly Bove announced that for the remainder of the 2019-20 semester, students would be graded through a credit/no-credit policy. The decision, released nearly a month after FUHSD schools began distance learning, means that students will receive only "credit" or "no credit" marks on their transcripts for the semester, and their performance will not be counted towards their GPAs.
Junior Pranav Reddy believes that credit/no-credit grading is an equitable response to the potential inequalities among students' learning environments at home.
"Not everyone is getting equal quality instruction during remote learning, so I think having a grading scale like A-F would just polarize the [community]," Reddy said. "The district needs to accept that distance learning is just not as effective as school learning and we need to make accommodations for that, and we need to figure out ways to equalize education."
FUHSD Board Trustee Naomi Nakano-Matsumoto agrees that students in different communities have different circumstances at home that could potentially affect their learning. She says that these inequalities, among many other perspectives, were considered in their initial decision.
"Many of us are lucky and have our own room and desk," Nakano-Matsumoto said. "Not everyone has that … [At the board meeting], one teacher described how one of his students was in the middle of the living room, on her knees, with a chair as her desk and all this other stuff going on around her during class … is that grade going to be the same for her as somebody else?"
"
Many of us are lucky and have our own room and desk, not everyone has that … [At the board meeting], one teacher described how one of his students was in the middle of the living room, on her knees, with a chair as her desk and all this other stuff going on around her during class … is that grade going to be the same for her as somebody else?"
— Board of Trustees Member Naomi Nakano-Matsumoto
In response to the initial decision, teachers collaborated within their specific departments to create revised standards that students must meet in order to receive credit in their courses. For example, Chinese teacher Zoey Liu shares that the World Language department decided to focus on mastery and basic student etiquette.
"For all the different world languages, students need to meet the mastery level," Liu said. "It's not something new [that] we haven't done before — it's basically what we've been doing before remote learning… We wanted our students to be on time to attend class, complete all missing assignments, and pass [their] assessments."
Despite these standards, Reddy worries that less rigorous standards will make students less motivated to put in effort.
"There's not really an incentive to learn," Reddy said. "The steps for getting [credit] are like the same for getting an A grade, just a lot less rigorous and intense. I don't think the desire to learn has decreased at all, because I don't think there was that much of a desire here in the first place. It was more like a desire for an A."
Liu agrees that there is little incentive for students. She says that many of her revised standards, which concern mostly grades and punishments, are still "very extrinsic" for an issue that is more fundamental. Instead, she has attempted to motivate her students by helping them understand why it is so important to continue learning even without grades.
"I brought the students' attention to the most powerful thing — the intrinsic rewards," Liu said. "The joy, pride [and] confidence you feel throughout the process of learning, of feeling 'I'm smarter, I'm accomplishing more [or] I'm challenging myself and conquering this problem' — that kind of feeling is yours [and] nobody can take it away from you. I think credit/no-credit, in the end, might also show students that you are not studying for your teachers, you are not studying for your parents — you're continually doing your best because you are doing this for yourself to get ready for a next level [and] to also feel that joy of learning and know that you are capable of doing it."
Some students and parents opposed the initial credit/no-credit decision, disappointed that students' efforts this semester were in vain and that a lack of letter grades would disadvantage them in college applications. Many juniors especially, according to Reddy, are potentially affected by their missed opportunity this semester to raise their GPAs.
In response, the FUHSD Board of Trustees was tasked with making the difficult decision of reaffirming or replacing the credit/no-credit decision on April 28. Deciding that they would make an effort to consider as many perspectives as they could, the board met from 4 p.m. to midnight, listening to parents, students and other members of the community before reaching their decision. Nakano-Matsumoto says that weighing so many different concerns was extremely difficult.
"Both sides had very valid points, and every parent on both sides wanted what they felt was best for their child," Nakano-Matsumoto said. "I can only speak for myself, but I can also make the assumption that we all really wanted to hear what every parent and every student had to say and why."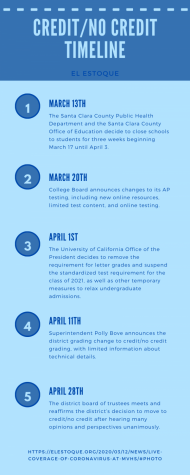 Throughout the entire process, including the initial credit/no-credit decision, Nakano-Matsumoto feared that considering only the comments she had received would give her a skewed representation of what the community actually thought. She felt obligated to approach the issue from "higher ground," a tactic she learned from her primary job as a social worker.
"I was only hearing from certain segments, geographically, of the community." Nakano Matsumoto said. "Then I started looking at numbers … when we [have] 11,000 students, to look at and only concentrate on the voices of the 100 that have contacted me, and then even within that, what is the diversity of those voices?"
In the end, the board unanimously voted in favor of retaining credit/no-credit. As a compromise, however, an additional progress report that would reflect students' grades up to March 13 — the last day students were in school — will be provided for students. While English teacher Jireh Tanabe says the report is a fair compromise, she doesn't believe the report will necessarily serve as a substitute for letter grading in college applications.
"The whole world is in this pandemic and the whole world is dealing with this issue," Tanabe said. "Whether or not you have a grade up through March 13 doesn't mean anything; it just means your school didn't close until then. Some schools closed earlier; some schools closed a little later. I think it speaks more of the decision-making of when to close rather than you as an individual."
Liu believes that the greater challenge comes down to students themselves and how they will continue to learn when there are no grades to motivate them to complete their work.
"It's just really interesting to see the side of some students [that] you don't get to see before remote learning," Liu said. "Behind a computer screen, some people choose to show a different side, [but] some people are still doing their best — it's their true test of what they really want out of this education."
Looking back on the days leading up to the decision, Nakano-Matsumoto wishes she held more community meetings to solicit perspectives in spite of potential technological limitations some members of the community had. But she believes that now it is more important to look forward to planning the fall semester.
"I think, in the current situation with what we had, we made the best out of what we were given," Nakano-Matsumoto said. "Now, we've got to move forward and start planning for the fall — credit/no-credit is just for this semester. We can't put our energy into just thinking 'we could have done that [or] we should have done that' — we have to move on to how we're going to make it better for next semester."