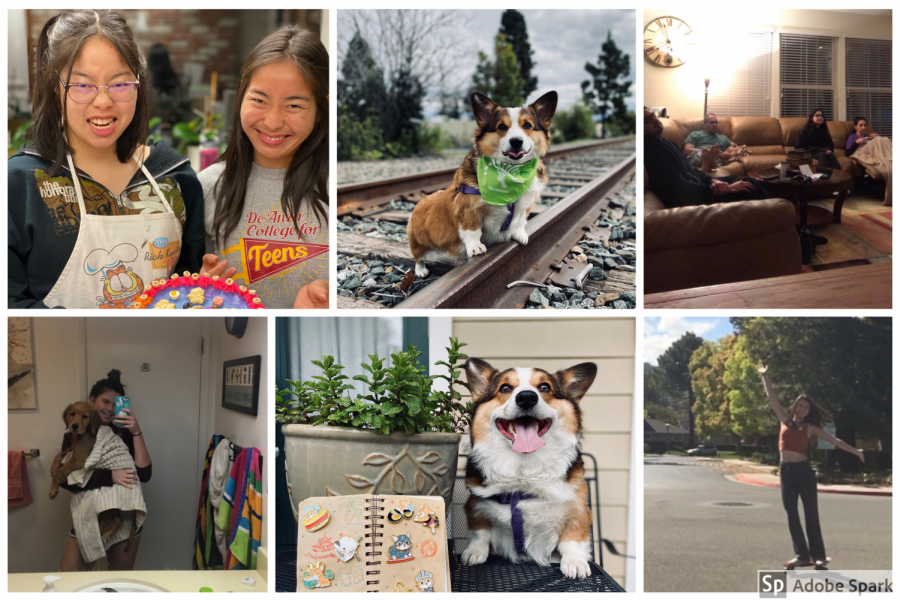 Coping with the quarantine
MVHS students share what they've done to stave off boredom during the shelter-in-place
The spread of COVID-19 and the consequent shelter-in-place in California has left many residents choosing to stay inside. While some have taken measures such as stockpiling groceries and toiletries in the case of emergency, there is one thing that cannot be prepared for: boredom. To keep boredom and anxiety from settling in, MVHS students have decided to invest their newfound time into hobbies, games and relaxing activities.
While the lockdown has kept families close-quartered with many parents working at home, junior Anusha Adira doesn't see this as a concern and enjoys spending extra time with her family. To maintain a sense of normalcy and stay social, Adira has FaceTimed with friends and filled her day with activities. Adira spent the first weeks of the lockdown working on jigsaw puzzles and catching up on reading and school work.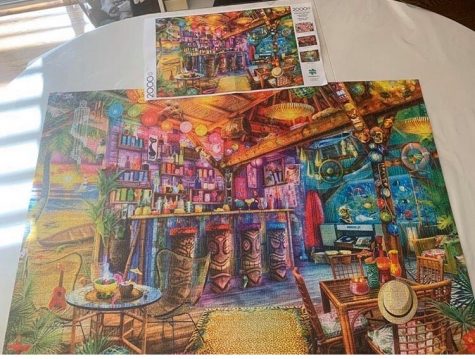 Adira recommends that people stay inside and try to exercise if they have exercise equipment, in addition to eating healthy. She also advises that people don't go outside unless necessary and seek other means of staying healthy. 
"I feel like we usually spend time inside, but when we're forced to spend time inside, that restriction kind of makes it extremely hard for us to do it," Adira said. "But [at the same time] I think that we're able to spend time connecting with our family [and] it's very nice."
To connect with her family Adira, has spent time cooking TikTok recipes with her sister. Some of the recipes they tried out were Turkish delights, brownies and a Dalgona whipped coffee cream. Despite not having all of the required ingredients at times, Adira has still had fun baking and joking around with her sister.
Senior Fatima Ahmed has spent most of her time enjoying the isolation of the quarantine, however, she has been making efforts to spend more time with her family and go out for runs. Initially Ahmed and her family were isolated, but lately they've begun to have a nightly movie marathon. Aside from that for Ahmed, her daily routine hasn't changed much, however, she explains that she has been more motivated to go running after being scared at how much time she spent watching TV. Ahmed hasn't felt any anxiety over the virus and believes that it is a part of life that people need to accept.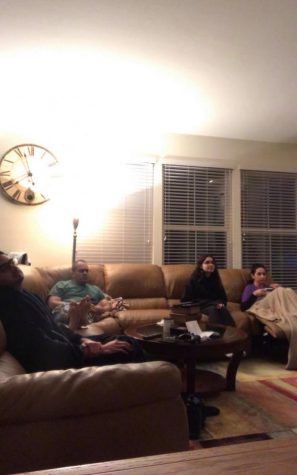 "I know like my aunt is super scared," Ahmed said. "We went to go pick up some food she made and she wouldn't even let us in the house. Like she just left the food outside. I understand that she's scared, but I [think] you just almost have to live your life [and] how can you just hide all the time?"
At the beginning of the outbreak, Ahmed states that she felt anxious, however, gradually the anxiety has ebbed away and glossed over with numbness. She says she was anxious over the loss of jobs, lack of social interaction, and unpredictable events. However, with the extension of the quarantine, Ahmed has grown accustomed to the situation and grown to appreciate the isolation. Ahmed believes the best way to approach the quarantine is to make the best out of it and accept the problems that come.
"The grass is always greener on the other side," Ahmed said. "When we were at school, everybody wanted to stay at home and do nothing.Now that we're at home doing nothing, everyone wants to be at school. You're never going to be able to get [this] time again. Honestly I'm not making the best use of my time, but you can always do something like start up a new hobby or keep yourself busy. [Don't] lose track of yourself so much that you become really depressed and [know] you have your family around you and you have face time and the luxury of that so utilize it."
Similarly to Adira and Ahmed, sophomore Tyra Lin has spent most of her newfound free time inside working on her dog Mina's Instagram, drawing and gaming. For Lin, spending time inside isn't unusual; occasionally Lin has gone out for a walk around her neighborhood.
"I wouldn't say [it affects me] because I spend a lot of time staying indoors or like around my neighborhood," Lin said. "I draw a lot, practicing and I like to take my dog out a lot, so it doesn't really affect me personally but, I'm pretty sure it affects a lot of people."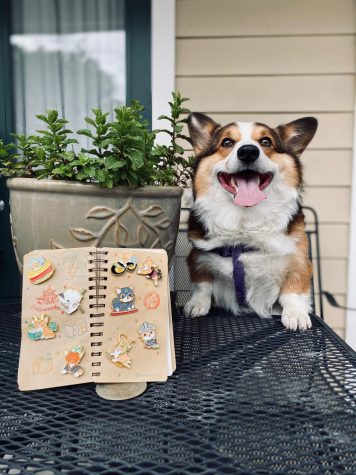 Due to her friends' busy schedules, Lin doesn't FaceTime her friends as often as Adira does. Despite that, Lin still meets up with her friends occasionally in VainGlory, a multiplayer battle arena game. With the extension of the lockdown, Lin foresees potential social and physical health issues. Staying inside has made socializing and maintaining health more difficult due to the limitations of the indoors.
While Lin and Adira have spent most of their quarantine indoors, junior Skylar Ploshay has gone out frequently while adhering to quarantine guidelines. She explains that she regularly makes trips to see her horse down the road and takes proper precautions by wearing gloves and maintaining appropriate social distancing. 
"I can't just not go because I have to care for him and he's getting older too so he needs medicine and stuff," Ploshay said. "So I'll just like wear gloves when I'm going through the gates and I'll take it off when I'm working specifically with him because I don't need it. And then once I'm done with him, there's only two gates that I have to go through afterwards so I just make sure to really wash my hands."
Ploshay, aside from caring for her horse, has been occupied with training her 14 weeks old golden retriever. Ploshay and her mom have been trying to teach their dog various tricks such as sit, shake, roll over, and bang. Ploshay has taken to implementing techniques she's used with her horse into the training of her dog.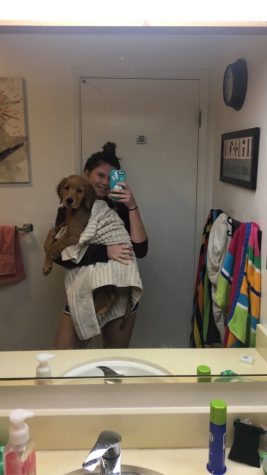 "I have queues that I use for both verbally [and physically] and she can see like with my hands, so I break it down to just the verbal first and I'm like physically moving her the way I want to," Ploshay said. "When she gets the hang of it, I throw in the hand cues as well. So now I can do it with her, I can spin my hand a certain way when I want her to roll over and she just rolls over so I don't have to say anything."
In order to get outside more often, Ploshay has taken to practicing her penny boarding skills. Ploshay had taken penny boarding four to five years ago when it was a trend and used it primarily as a means of transport. Ploshay practices her skills at her local park and has been watching videos to try and learn a flip trick. With these activities, she doesn't find it hard to go out during the quarantine as long as she abides by the restrictions.
Ploshay states that while the quarantine hasn't heavily affected her life or routine, she misses her friends? Interacting with people?. Similar to Lin, Ploshay misses the social interactions, and additionally, Ploshay misses going out as a recreational activity. Nonetheless, Ploshay tries to stay in touch with friends via texting or FaceTming. 
"FaceTime with your friends while you're cooking [or] do Zoom calls," Ploshay said. "I know my friends or we did one Zoom or something but it was a big one. We also have with all my extended family, we have Zoom calls once a week, which is so much fun because we have family everywhere. So it's so much fun to do that [and] to see all my older uncles trying to work Zoom it's just hilarious."
Mirroring Adira, junior Kaitlin Kyutoku has been watching Netflix shows, baking and playing games on her phone to pass the time. Kyutoku's list of shows includes "The Trials of Pedro Fernandez," a murder trial documentary; "Next in Fashion," a fashion designer competition and "Love is Blind," a reality TV show about singles trying to find love. Within Netflix's library, Kyutoku has spent a lot of her free time watching reality TV shows in particular to help stave off boredom. She believes that they're more entertaining because they have real events actually happening on screen.
While Kyutoku is able to cope with the lockdown and create a sense of normalcy, similarly to Lin Kyutoku finds it difficult to socialize during the lockdown. Kyutoku prefers to socialize in person and talking to her friends is one of the main things she misses. The first thing Kyutoku wants to do when the lockdown's over is to reconnect with her friends and go out to eat.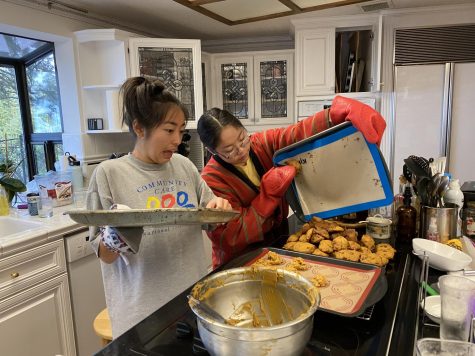 During the lockdown, Kyutoku recommends people go outside, get some fresh air and walk around while maintaining social distance. Additionally, Kyutoku states that staying in isolation isn't an adequate solution and emphasizes that people should spend time with their family and try to interact with others over the internet.
"I know a lot of people are stuck with their families, they kind of dislike their siblings, but I feel like now's a good time to build a strong relationship with your family," Kyutoku said. "And if you have a dog or cat or whatever pet you have, give your pet some love and take care of yourself, because you are the most important thing."
Similar to Kutoku's line of self-care, Ploshay believes that people should check up on how they're feeling about the situation. For Ploshay, this means writing out her thoughts and journaling her day.
"I started doing it doesn't have to be anything serious, just what's going on [and] how you're feeling?" Ploshay said. "Because this is such a crazy and unique time honestly. I mean not every generation can say that they've gone through this and we don't know what it's gonna be like, just write it down. It's such a crazy time, and you're not going to remember how you feel every week. So just see how you feel about different things that are going on right now."