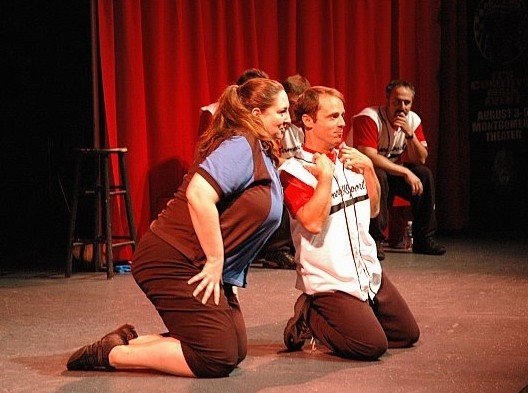 Used with permission from Chris Scharmen
Stand up and laugh
Improv allows actors to work as a team and think on their feet to entertain
As improviser and Kennedy MS teacher Chris Scharmen prepared to step into the limelight, one of his ComedySportz San Jose shows was on the verge of taking a wrong turn. Scharmen — listening intently to two of his teammates who were on stage, acting as a pair of rowdy, fighting children — donned a dress and made his way to the stage, intending to enter the scene as a mad, scolding mother. The two performers heard Scharmen approaching but were unable to see him, so they yelled out that their father was approaching. Caught in the moment with a big dress on, but referred to as a father, both Scharmen and the audience realized the mistake — Scharmen had to think fast about what to say next.
"The audience was cracking up and I had to justify that I'm Dad wearing a dress," Scharmen said. "And so [a] mistake ended up being even better — you just move on to the next one or make it work in the next scene."
Scharmen's first improv performance was on New Year's Eve in 2004, but he began engaging with the art years earlier through adult classes, which he began taking after creating the Improv Club at Kennedy MS. Sixteen years later, he still improvises through weekend shows for ComedySportz. Among the many skills he's developed since then, Scharmen says that listening to others has been one of his biggest takeaways.
"We're working together with no script, which is cool because it's like a trapeze act — you know these people are daredevils [and] they could fall at any time," Scharmen said. "For us, it's the same — just the idea that we're doing this on the spot in front of [the audience] … we have to create [the scene] together. It's listening to everyone else and what they're doing, adjusting to what they're doing and adding to it and then they adjust to what you've done."
Intently listening to how his students react to certain lessons has also helped Scharmen become more effective at teaching. Scharmen describes his relationship with his students as highly "symbiotic."
"If you consider the class [as] an audience, up on stage, you're listening to the audience all the time, you're trying to hear and feel, 'Are they into this? Do I need to adjust?'" Scharmen said. "[At] ComedySportz, we pick certain games — sometimes the audience is like, 'Oh, better not do that game,' they'd rather see this, so you adjust. It's the same [in] the classroom."
"
The best improv for me is when I'm not thinking about it — I'm just doing it and I become the character."
— Improviser Chris Scharmen
According to Scharmen, a key difference that separates improv from other types of live comedy like stand-up is the spontaneity of a performance — jokes are never planned in advance, which can improve the audience's experience, but can also be problematic for the performers.
"The best improv for me is when I'm not thinking about it — I'm just doing it and I become the character and I'm responding and they're responding," Scharmen said. "But as soon as [I] feel it's not working, or [if] I said something I thought was going to be great and it was lousy, I've pulled out of my body and I'm now hovering above myself, and I'm thinking about it and I can't get out of it — I can't get back into the character."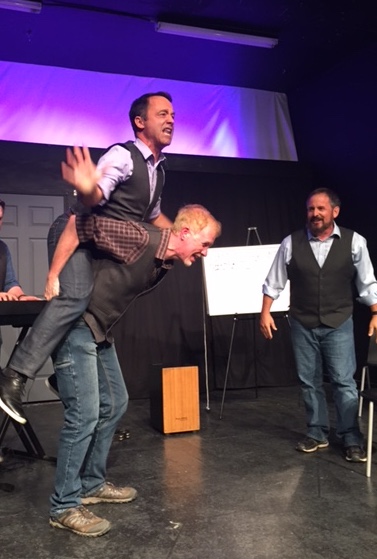 However, Scharmen says these moments are a normal part of shows that players learn to deal with through practice and sometimes even use to improve their performances. In addition, opportunities for redemption and learning from mistakes are often immediate in improv.
"I've had performances that I know have been disastrous," Scharmen said. "The good thing is that you're back at it next week. Or in [some] shows, if [one scene] is awful it could get in your head, but if you can set it aside, it's all wiped and you can win them back right there … in improv, we just wipe to a brand new scene."
Senior and Improv Club president Daniel Schie says that players on successful, cohesive improv teams must let go of their own successes and instead, think in the shoes of their teammates. 
"I always say that the real winner is the audience and that everyone in the improv is the real loser," Schie said. "Our job, when performing, is to entertain the audience. I say we're all the losers because it helps them get out of the mindset of 'I need to win.' When you remind them [that] 'The audience is the winner, you're the losers, so stop trying to win — you're trying to make [the audience] win,' it helps them understand that."
Scharmen, who has worked with many aspiring student improvisers through clubs and electives at Kennedy MS, believes that improv can encourage students to realize social talents that often go unexpressed in daily life — some of his most successful students were the ones who appeared to be shy.
"I think the people that have a harder time are the people that think they're fantastic at it because they're not listening — they're not working with the group," Scharmen said. "They're just trying to say funny things. And meanwhile, the scene is going nowhere … the audience appreciates when everyone's working together creating these characters."
For some students, improv also encourages more carefree and confident attitudes. Senior Aditya Dash first got interested in watching improv and stand-up after moving from India in middle school — seeing various elements of his culture being joked about on television helped Dash establish a connection with his distant homeland while adjusting to a new environment. One of his favorite comedians is Kenny Sebastian.
During his freshman year at MVHS, when he was among the minority of students from Lawson MS, watching comedy and improv also helped Dash implement a carefree attitude when socializing.
"
To be a comedian, you need to be carefree; you need to let go of all the fears and all those internal doubts and that conflict."
— Senior Aditya Dash
"It's very hard to be good at comedy because there is always that self-doubt of if you're good enough," Dash said. "I feel like to be a comedian, you need to be carefree; you need to let go of all the fears and all those internal doubts and that conflict. So I feel like in that [regard], I really connect with [my friends] — I've reached that level of 'I don't care if people laugh at me [as long as] they're having a good time.'"
Schie, who has watched and occasionally engaged with improv since sixth grade, believes that years of experience have helped him become more natural on stage. He describes his repertoire of jokes and characters that years of performance have allowed him to build up a "muscle memory."
"I'd say it's almost sort of inversely proportional — the more I learned about improv, the less I think," Schie said. "I've learned to know less, if that makes sense. Because when I was in sixth grade, I would often get caught up and thinking, 'Oh, what's the funny thing to say? Or what is the joke that needs to be made?' [But] as I've gotten better at it, I've stopped doing that and just started acting."