Nailed it: Nail art in the MVHS community
A glimpse into the process and motivations of local nail artists
Senior Jackie Yeung
Since February 2017, senior Jackie Yeung has posted photos of her nail art and designs on her Instagram account, @jynailed, at least once a week. Two months earlier, Yeung had watched YouTuber Cristine Rotenberg's — known better as Simply Nailogical — 100 layers of nail polish video and "fell into one of those holes" online. She began to watch more nail videos and finally, on a whim, decided to buy supplies for herself.
Over the past three years, as Yeung tried different styles of nail art, she's also grown her collection of nail supplies. Though she initially started by borrowing polishes from her mom or buying them from the drugstore, she's now amassed 150 to 160 polishes and expanded her supplies to more theatrical, decorative items, including 20 to 30 stamping plates and over 100 glitters.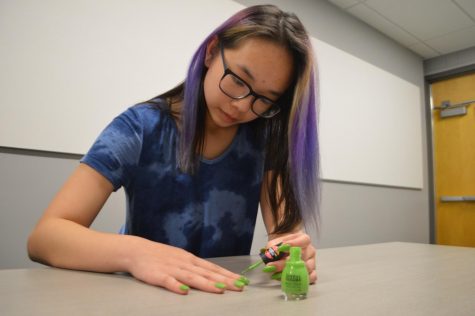 When Yeung began experimenting with nail art, she would post pictures of her creations on Snapchat. With her friends' encouragement, she transitioned to Instagram, where she could document and look back at her previous work.
Some of her favorite styles include gel, stamping, powder, line art and glitter, as well as blue and purple colors. Depending on the design, it can take Yeung anywhere from 20 minutes to three hours to complete her nails. Due to the time it takes and her schedule, which includes working at Kee Wah Bakery and constructing sets for Drama shows at school, she has encountered some challenges. 
"You use a lot of your hands, and even though we have gloves, your nails break, polish comes off and it's really upsetting when something that you've worked so many hours on just goes to waste," Yeung said. "One chip, for me, ruins the whole manicure."
Even with the difficulties she's encountered in maintaining her nails, Yeung has consistently posted updates, and says her level of investment was unexpected for her too. 
"I'm surprised how deep I got into it just [because] I've never really been that much a feminine person," Yeung said. "I don't like makeup — fashion was never really a thing for me. I guess because when I got into it, I was 14, so it seemed like something that only adults do, [and] I thought that was cool."
Now, Yeung finds Instagram helpful when looking for inspiration from other nail artists.
"I follow a bunch of nail polish companies and nail artists, and my entire feed just gets filled up with it," Yeung said. "I like to scroll through and I pick the ones that I'm feeling for that week. Nowadays, I can take more inspiration from just pictures."
Yeung also looks back on her own account. Typically, she'll scroll through her posts once a week, whenever she posts a new photo.
"My reaction has been like, 'Wow, that design looked better than I thought it did at the moment,'" Yeung said. "I knew in the future, I'd probably get better at doing it, so I can look back and be like, 'Wow, I've really improved or changed.' Sometimes, I get into a habit of just doing regular [designs], like one color, and then I'll be like, 'Wow, I got really inspired by my own [designs from] months ago."
Though her initial motivation behind creating a nail Instagram account was for her own reference for future designs, Yeung also shows it to family and friends and has discovered some unexpected benefits too.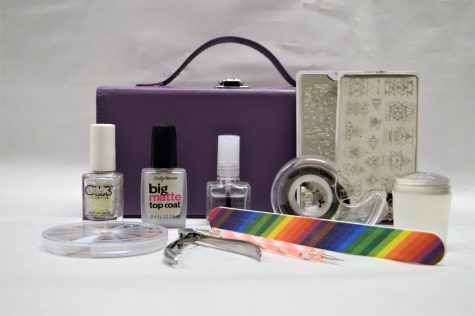 "It's become [something] I've been able to show my friends, especially my relatives because I don't see them a lot, and I'm like, 'Oh, this is something I do,'" Yeung said. "I was also surprised how I was able to use them [on] my college apps and my resume. Since I am going somewhat into the arts, it's useful to have that."
Yeung currently takes Drama and does set design, which she wants to pursue in college. Though she has no intentions of doing nail art as a career, she plans on continuing nail design through her Instagram account. 
Town Nails Spa owner Rose Ngo 
Tucked in the small plaza at the intersection of Homestead Road and North Stelling Road, Town Nails Spa owner Rose Ngo has been working here for 20 years. However, Ngo started nail art 27 years ago and had ample experience prior to opening the salon.
Ngo attended San Jose City College School of Cosmetology before taking the nail technician exam to become a licensed manicurist. Even with 1,600 hours of experience already under her belt, Ngo sought more experience — including working at Just Nails in San Jose at her sister's nail salon — before opening her own nail salon.
"Before opening, you have to learn," Ngo said. "After you [get a] license, you know nothing. The school and the real feel — it is completely different. You have to learn a few years to practice how to do nails, to deal with the clients, to open your mind, how you open your business, how hard you work — you have to ready everything before you open it." 
When Ngo opened Town Nails Spa, she initially ran the business with a friend, though she bought her out after 10 years and now has full control over the salon. She feels that having full ownership and managing the salon is a stressful job, entailing many behind-the-scenes tasks, ranging from paperwork to payroll. An occupational hazard of being a licensed manicurist is that now, Ngo "never" does her own nails — she never has the time.  
"Some day[s] we're busy, we have no lunch at all, so [it's] very stressful," Ngo said. "[We] make sure that every day, everybody gets service on time. At the end of the day, ten fingers have ten different colors because I tried to color on my nails. The customer [asks] how it looks, [so] I try it on my own."
Though finding time is difficult while owning and managing a salon, especially during the weekends (which Ngo says are Town Nails Spa's busiest days), she also believes that customer service is one of the most challenging tasks of the job.
"Customer service is very hard," Ngo said. "It doesn't matter how hard you work, how nice you are — people still complain. One hundred clients — you cannot make all [of] them happy, right? Luckily, in Cupertino, we have very nice clients, very nice people. That's what helped us stay longer here."
Town Nails Spa just passed its 20th anniversary on Feb. 2, 2020. After passing this landmark anniversary, Ngo reflects on what she finds rewarding in her business. 
"To me, after 20 years, my big reward is [to] make my customer happy," Ngo said. "Of course you work to earn money — of course, right? — but besides that, the real business is you have to make your customer happy and return."
Junior Emily Reyes 
After first seeing her brother's girlfriend's nails, as well as noticing recent trends, junior Emily Reyes was inspired to get her own nails done. Though she started getting her nails done at 14, she especially wanted longer acrylic nails. She gradually experimented with different styles, starting with short stilettos and medium ballerina nails, and at 16, was allowed to get longer nails. 
Though Reyes wishes she knew how to do nail art on herself, she goes to salons, her favorite being Angel Nails in Monterey. From start to finish, the process takes about an hour and 20 minutes, but the resulting nails last her about a month. However, Reyes says that if people don't know how to manage and maintain their nails, their acrylics might only last them three weeks before starting to fall off.
"You have to be careful sometimes because sometimes your nails get caught in things," Reyes said. "Like if you open a car door, your nail will get caught. I'm used to it now, so I'm not very careful anymore because I know where not to put my hands and where to put my hands."
Though she regularly gets her nails done, Reyes says that she still receives a steady stream of comments about her nails.  
"It's so annoying sometimes," Reyes said. "I get a lot of negative comments, like, 'Oh, how do you manage? How do you wipe? Oh, I could never do that,' or they're like, 'Oh, those are too long.' Most people, they do say, 'Oh, yeah, but they're very pretty. I like them.' I'm like, 'Yeah, thanks,' and they're like, 'But they're really long.'"
Despite the reaction she gets from people, Reyes enjoys how having longer nails makes her feel and plans to continue.
"I like it because it makes me feel a little extra," Reyes said. "It gives me more confidence and I feel more cool I guess. If I know a special occasion's coming up, I'll get something cute for that occasion."