Record number of MV Speech students qualify for States
Eight members from the team place in its annual state qualifying tournament at Leland High School
On March 1, the MV Speech team attended its annual CFL State Qualifier Tournament hosted at Leland High School, where students from counties such as San Mateo, Santa Clara and Santa Cruz competed. Students ranking top seven or eight in each event advance to the state tournament in early April and compete with the most talented students in their event. 
According to senior and president Flora Peng, teams can select 22 members to send to the tournament. However, certain students who place top seven in regular league tournaments throughout the season are automatically guaranteed a spot in the state qualifying tournament without impacting the 22 student quota. Because of this, MVHS was able to send 25 entries to the qualifier tournament. Of those 25, 11 entries made it to semi-finals; among those 11 people, eight students qualified for states, a record for the club based on recent history, as the team sent five students last year.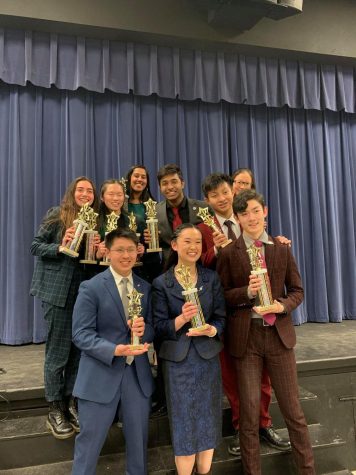 For Peng, who placed seventh in her event Oratorical Interpretation, this tournament was especially important because she wasn't able to go to state qualifiers last year. Peng notes that if she didn't make it past this tournament, this would have been her last high school speech competition. Motivated to perform well, Peng emphasizes that the team trained rigorously by practicing in front of objects with no real audience. 
"[For the tournament], we had coach work sessions where we sit down with a coach for a solid half hour and just grind on the speech," Peng said. "Our coaches were really great in that they even offered their own time to help us at the library if we wanted it. Also, just personally … in class [my friend and I] would just be making random hand gestures or talking to ourselves in front of a wall, just randomly walk up to a wall and start saying [our] speech[es]."
Similarly, junior and first year speech member Olive Tang highlights the extensive rigor needed to have a strong speech for the state qualifying tournament. Tang, who placed fourth in the event Humorous Interpretation and fifth in her other event, Duo Interpretation (with junior Elene Pilpani), mentions that one of the best ways she learned to improve her delivery was by observing her competitors at other tournaments and interpreting effective delivery strategies when competing. Tang also explains that she has certain strategies to manage her stress that naturally elevates before competitions, especially tournaments with such high stakes like the state qualifying one.
"Typically how I handle my stress [is] I just don't think about it," Tang said. "I told myself [at the state qualifying tournament] that it's OK as long as I do my best [and] it'll all work out because I've already worked this hard. I [was] already chosen. I'm already here [and] that's pretty good for my first year too."
Junior and third year speech member Kai Xiao explains that the stress speech members often feel is because of the subjectivity in each round — no matter how well an individual performs, success in the tournament is ultimately determined by the judges who may find a speaker's voice, attire, posture or speech topic itself unappealing. For Xiao, this tournament was not only important because of the high stakes, but also because Xiao didn't qualify last year.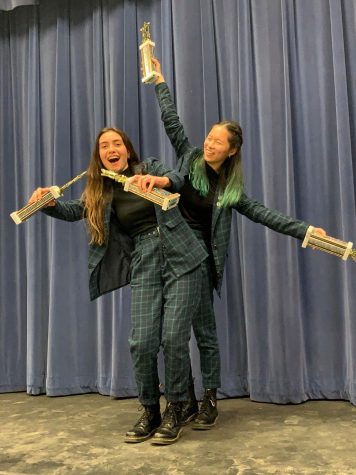 "I've been doing speech since freshman year … but last year's state qualifying tournament was really bad for me because I was one rank away from making it into the final round," Xiao said. "It's very disheartening because you don't find out your results until after the tournament, so finding out you were super close but just a little bit off is pretty rage inducing."
As Xiao prepares for the state tournament, he mentions his ambitious aspirations for both the state tournament and the upcoming national tournament at the end of March. Heading out to these competitive tournaments, Xiao attributes the importance of resilience, regardless of outcome. 
"I have had tournaments where I've just gotten dead last every single round and they were depressing and obviously not fun," Xiao said. "But learning from them and learning that I can improve … [it's what speech] really means to me, just like being able to fail in front of people and still [bounce] back from it to try to improve."
In her final year in MV Speech, Peng looks at the state qualifying tournament as proof of how much MV Speech has evolved over the years — MV Speech only took one person to the state tournament her freshman year, two in her sophomore year, five last year and now they have almost doubled that turnout. Throughout her years in speech, Peng notes how strong the team's sense of camaraderie was and continues to be. 
"[It's] not even just qualifying to states, [it's] also just having the team there," Peng said. "Everyone's hugging everyone, everyone's crying and screaming [and] just feeling the energy of being there, at what was some people's last tournament. [It's amazing] just knowing that all the work the entire team put in throughout the entire season paid off in the end."