Keep the dream alive
Community members discuss the personal and legal implications of the Deferred Action for Childhood Arrivals (DACA) being rescinded
February 11, 2020
Living Undocumented
"You need to pack all your things. Your notebooks, all your school stuff."
Fremont HS English teacher Onette Zabinski vividly remembers her parents telling her this when she was 7 years old. She recalls packing her belongings into the car and thinking to herself, If we're going on vacation, why do I have to bring all my stuff? But Zabinski didn't ask any questions.
Her family drove 2,121 miles from Morelia, Mexico, to the Bay Area, where her mom's sisters and extended family were already settled. Although Zabinski didn't understand it then, she had just illegally crossed the border.
"I don't think that my parents were ready to explain to me what was happening until we were actually here because of the sheer number of changes," Zabinski said. "Especially the fact that I didn't speak English and I was going to need to start school over here. All of those things were slowly rolled out once we were here in the U.S."
Zabinski went through elementary, middle and high school as an undocumented student. For her, day-to-day life as an undocumented person was an "overwhelming stress" that compounded the diffculties of being a teenager and growing up. 
"Being a high schooler on its own is a very difficult time in life; there are a lot of different stresses. To add that layer of being undocumented means that you also don't really know [how] you're going to navigate the world without the means to find a legal job or easily be able to access education," Zabinski said. "There's just a lot of different challenges that present themselves when your life is not necessarily in your own control, when it's being controlled by some other unseen forces."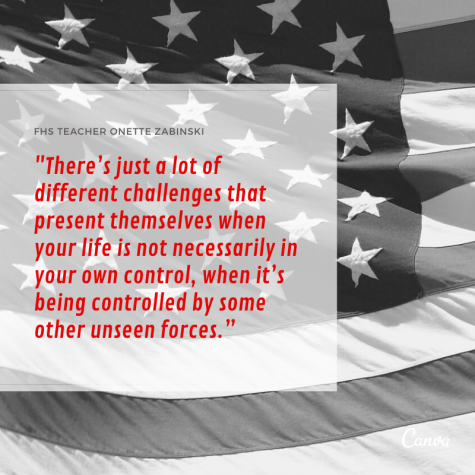 Without a social security number, Zabinski was unable to apply for financial aid, which made it impossible for her to attend many universities. She decided to attend De Anza College to get an affordable education and was able to cover the first year of tuition with scholarship money. After two years, Zabinski transferred to San Jose State University (SJSU). It was at SJSU that Zabinski's future felt most hopeless. The uncertainty of her looming future and inability to work in the U.S. became such a burden that she wanted to return to Mexico.
"I told my mom that I wanted to leave," Zabinski said. "I said, 'I have family members in Mexico, I'm tired of feeling like I have to live in the shadows and of never being able to feel comfortable and safe outside because you just never know what's going to happen.' So I told her, 'This is the idea that I have and I'm just done with this, I can't do this anymore.'"
Zabinski's mom's response was simple. She told Zabinski that moving back to Mexico wasn't just her decision — it was something that would impact both her mother and little brother. 
"[My mother told me] that she was willing to have me go back [to Mexico] but only after I finished my degree," Zabinski said. "She reminded me that education is worth an education no matter where you go. And especially if I had an American degree, then that would just open up more opportunities if and when I needed to go back."
Zabinski remembers that period of uncertainty as a constant push and pull — her life felt manageable one second and hopeless the next.
"It was just this fluctuation between feeling like 'I see the light at the end of the tunnel' and feeling like, 'Wait, that wasn't really light, that was just a match that someone turned on for no reason,'" Zabinski said. "Just this constant swinging back and forth of feeling like what I was doing was right and […] feeling like what I was doing was fruitless."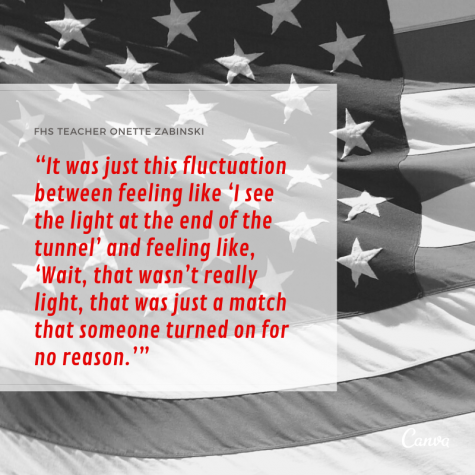 Despite her fears about her hazy future, Zabinski dedicated herself to her education. When she was earning her teaching credential, her godmother texted her a link to an article that changed her life in the space of a second — the Deferred Action for Childhood Arrivals (DACA) had passed. Zabinski now had legal status in the U.S. — she could work and follow a path to citizenship. 
"When I was finally able to go and get a driver's license or go and get a work permit, I just couldn't believe that it was actually real," Zabinski said. "When I finally had all of these different documents, I started to feel just so much more like a part of actual society. I didn't have to figure out different ways in which I needed to work around the system because now, I could work within the system."
When DACA was rescinded in 2018, Zabinski was completely heartbroken. She herself was no longer protected under DACA at that point, but she ached for the thousands of undocumented students who wouldn't have a chance at the life DACA had allowed her to create. 
"I can't imagine the feeling of being so close to being able to get such an opportunity and then it being pulled out from under you," Zabinski said. "It has made me tear up on multiple occasions and it just makes me feel the same way that I felt when I was in high school and going through a lot of those feelings of uncertainty."
Local Action
DACA is an American immigration policy enforced through an executive order by former President Barack Obama in 2015 that allowed eligible immigrant youth who were brought illegally to the U.S. as children to receive a renewable two-year period of deferred action from deportation and become eligible for a work permit in the U.S. DACA was a temporary program instituted to help eligible immigrants after Congress failed to pass the DREAM Act in December 2010, which would have provided a path to attain citizenship for immigrants brought to the country illegally as children.
Obama hoped to expand DACA in 2014 by establishing a new program, Deferred Action for Parents of Americans and Lawful Permanent Residents (DAPA) to delay deportation for parents of U.S. citizens and lawful permanent residents. However, this expansion was blocked in 2015 by a lawsuit from 26 states. In September 2017, the Trump administration announced it was terminating DACA, as Obama's executive action of enforcing this program surpassed his legal authority, placing the citizenship and lives of 700,000 DACA recipients in legal limbo.
Due to pending litigation, the United States Citizenship and Immigration Services (USCIS) continues to accept DACA renewal applications but stopped accepting. any new DACA applications as of August 2019 due to an executive order.
In June 2019, the Supreme Court revealed that it would review the Trump administration's decision to end the DACA policy, hear oral arguments for the case in November 2019 and reach a decision no later than June 2020. The Justices are reviewing a trio of cases that argue that the administration's decision to terminate DACA violated the Administrative Procedure Act, a federal law governing policy-making procedures.
In an effort to urge the Court to consider DACA's continuation, the Cupertino City Council unanimously signed on to an amicus curiae brief authored by the City of Los Angeles on Oct. 1, 2019, which was sent to the Supreme Court. An amicus curiae brief is submitted to the court when a third-party to the lawsuit wants to raise additional points of view in an attempt to influence a particular decision.
According to council member Liang Chao, who was Vice Mayor when voting on signing the brief, the council wasn't provided any background information on DACA and the complexity of the issue before voting on whether the city should sign the brief.
"[In retrospect], I don't think it's something that the city should get involved in because this is a legal issue and it's a temporary solution to a problem, but the actual solution would be for Congress to adopt something legally that can be implemented," Chao said.
While Chao still supports the idea of protecting these working immigrants, she is doubting the city's decision to sign the brief after discovering that the cities of San Jose, Sunnyvale, Palo Alto, Mountain View and Saratoga did not. This brief gathered the support of 109 cities and counties across the country while other big corporations, like Apple, submitted their own briefs to the Court.
"Should a city like Cupertino, where illegal immigrants [are] not a big issue for us, have taken a position before we understood everything?" Chao said. "I don't think it's something the city should get involved in because [DACA] is a legal issue and is a temporary solution to a problem."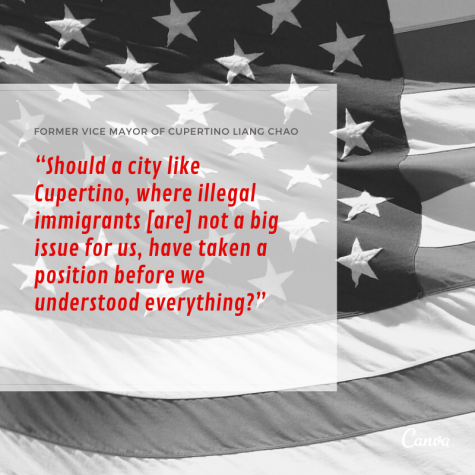 Although Chao believes that DACA recipients contribute to American society in school and at work, she also understands why people have opposed the program. For many, the program appears to unfairly reward illegal immigrants with economic and political autonomy while others are stuck waiting years to obtain permanent residency.
"I think we have to be fair," Chao said. "There should be a path to citizenship for these children, but it needs to be a path that doesn't penalize others who legally followed the process [of] waiting to get a legal entry to the country. [But] we don't want to deport them to a country that they don't even know, that's just very cruel."
After further research, Chao discovered more information. In 2016, the Supreme Court announced a 4-4 decision in a case challenging Obama's expansion of DACA and the establishment of DAPA. In this lawsuit, 26 states, including Texas and Florida accused Obama of ignoring federal procedures and abusing his power by evading Congress in his decision of establishing DAPA. For Chao, the fact that four Justices believed the programs were unconstitutional made her second guess the Cupertino City Council's decision to publicly support DACA.
"We want to follow the law, we want our representatives to follow the law, we want our president to follow the law," Chao said. "This is a matter of principle — even a good program should follow the law. So if this is not the right way to solve the problem, find a good way that actually follows the law. There are systems in place, if you break it for one issue and it's good now, what about another issue? It's not fair for someone else. [DACA] was a temporary solution, it should have been replaced."
Legal and Emotional Support
Attorney Victoria Argumedo, a first-generation Peruvian American, has represented thousands of clients over the past seven years and focuses on cases involving deportation defense and asylum practices. Her parents immigrated from Peru to Alabama in the 1970s, where she didn't have much of a Latinx community. She decided to pursue immigration law when she realized she wanted to use her education to directly benefit the Latinx immigrant community.
For Argumedo, DACA acts as a "semi-bandaid" to America's broken immigration system and provides a temporary remedy to help young people who had no input in their legal residency. While she believes comprehensive immigration reform is needed to solve these problems, she also understands that America's immigration system is extremely complex. As a daughter and wife of an immigrant, Argumedo is directly affected by the intricacies and nuances of American immigration.
"So I think this whole idea … about how this current administration is saying that they don't want chain migration is really, really hard to listen to because this country was founded on immigrants," Argumedo said. "That is what makes America, America. It's a melting pot. We have the Statue of Liberty that has the saying: 'Give me your tired, your poor …' but somehow from this administration that's no longer something we believe in. I don't see why there would be a need to rescind DACA; these are all young people that have made a pledge to study, they have no crimes. There's absolutely no negative that comes out of DACA, from my personal and professional opinion."
Argumedo's job involves presenting options to families to help them remain in the U.S. legally and to prevent children being separated from their parents.
"I explain to them what their rights are," Argumedo said. "My job is not to choose a path for my clients. It's to make sure that they understand the immigration consequences of the decisions that are available to them, for them to feel empowered to pick the best choice that fits best with their family."
Although Argumedo has been handling immigration cases for 20 years now — she is in no way accustomed to watching families ripped apart or children losing their homes.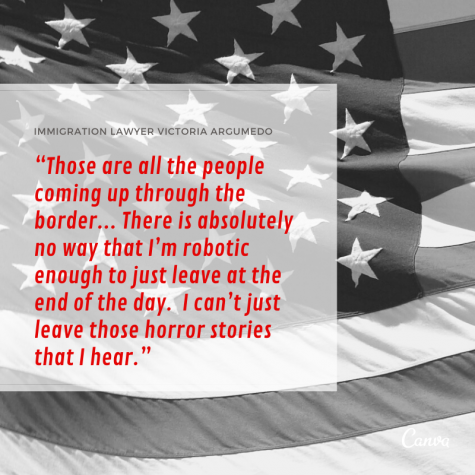 "Those are all the people coming up through the border," Argumedo said.  "That's a large chunk of what we do. There is absolutely no way that I'm robotic enough to just leave at the end of the day.  I can't just leave those horror stories that I hear."
Similar to Argumedo, Zabinski felt compelled to help undocumented students navigate the complexities of their situations. She is part of a small community of staff members at FHS working to support the school's undocumented student population. As a highschooler, Zabinski was the first undocumented student her guidance counselor had encountered. She hopes that by sharing her story, she can help students feel less alone.
"I thought that if I share [how DACA being rescinded is] really affecting me, then at least there's one person that you can put a face to the issue with," Zabinski said. "I've been more comfortable being really open with my students about my experience and framing it as a big challenge but definitely not one that should stop you from being able to pursue your goals, especially in terms of being able to pursue higher education."
The Nuances of Illegal Immigration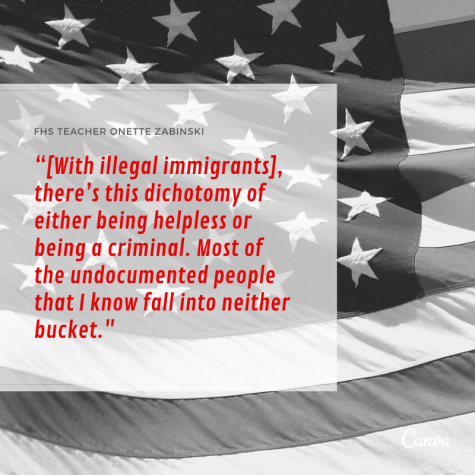 Zabinski has noted that certain elements of the media oversimplify illegal immigration when she says it's actually a complex issue.
"[With illegal immigrants], there's this dichotomy of either being helpless or being a criminal," Zabinski said. "Most of the undocumented people that I know fall into neither bucket. The stereotype makes it easy to digest this image but the actual reality of it, I think, is just way more than most people can handle and more than people are really willing to grapple with."
Although Zabinski's experience as an undocumented person felt insurmountable at times, she says it has given her an inner strength and faith in herself she wouldn't have developed otherwise.
"It's safe for me to say that there's nothing that I've dealt with that has been as challenging as being an undocumented person," Zabinski said. "If you're able to jump through all these hoops, you're going to come out on the other side being super savvy and super resilient to a lot of the other challenges that life is going to throw your way.