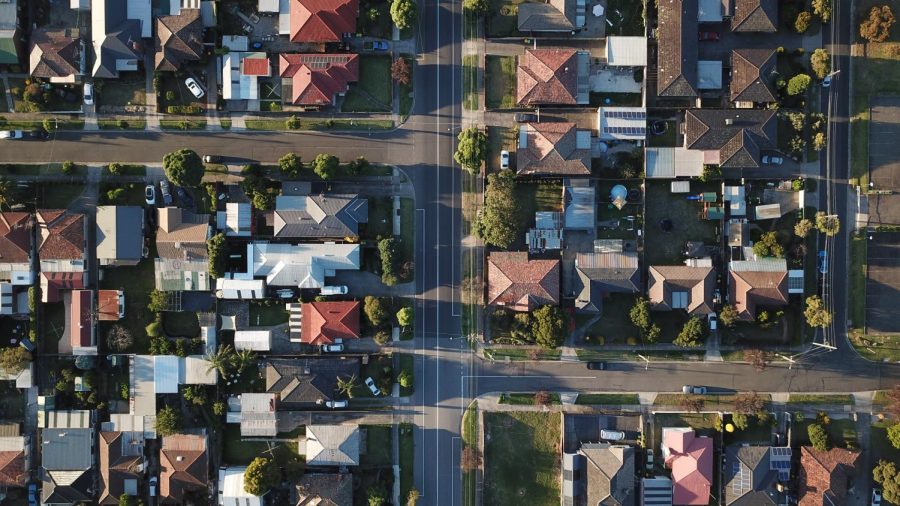 Photo by Tom Rumble on Unsplash
Realty changes in Cupertino
Evolution of the nature of Silicon Valley housing
Median house values rose from just over $400,000 to about $2,200,000 in Cupertino from 1996 to 2019, the largest growth in mid-price markets compared to places like Mountain View, Sunnyvale, Campbell and Santa Clara according to Bay Area Market Reports. Other than an increase in expensiveness, many realtors have noticed changes in information and priorities in the housing market.
Sunita Merchia has worked as a realtor at Intero Real Estate Services for eight years, helping clients with property purchases, sales and investment management. Merchia has noticed an increase in generic property information buyers can access. 76% of all buyers found their home and 17% of all buyers found an agent using a mobile device, according to the NAR Home Buyer and Seller Generational Trends Report of 2018. While Merchia recognizes a risk of misinformation from generalized, consolidated data as opposed to data specific to the individual property, she values the integration of technology in real estate because of the convenience it offers to buyers, sellers and realtors.
"Rather than dealing with a paper, we're able to use technology to make things much … smoother for our clients — the clients also have more accessibility to be able to do things at their convenient time rather than only meeting and putting their hours," Merchia said. "Given that time is the most scarce commodity that everybody has, technology definitely has helped all the parties."
Due to the increase in information available to buyers, sellers are often expected to provide a "3D panel of the home along with a floor plan [and] more digital integration into the presentation of the property," according to Merchia. 
During MVHS parent and Coldwell Banker's realtor Manu Changotra's 10 years of realty experience in the South and East Bay, she has recognized another aspect of the effect of technology in Silicon Valley, which she calls "the new Wall Street."
"[If you] have a higher income you also have more stock options, and because of that there are more Asians who are in tech companies," Changotra said. "People are making that kind of money so they are buying more homes of that demographic in Silicon Valley. Regarding their habits they like good schools, that is their number one priority. So, in that sense Cupertino, Saratoga, Fremont with Mission High, Palo Alto with Gunn, all of these areas are very, very high in demand."
However, Changotra has noticed a different priority emerge — shorter commute times. Merchia sees this as well, especially in contrast to past emphasis on schools.
"[The] new generation are more moving towards the south side of the Bay because that's where affordability is a little bit better," Merchia said. "Schools [have] no longer become a very critical element for people to find out where they want to live, unless they have enough money to be able to support those areas. So I think commute has taken [over] but commute over the affordability is another factor that people are kind of worried about."
Housing manager and senior housing planner Kerri Heusler runs Cupertino's housing division, which is responsible for all of the city's affordable housing initiatives, from human services grant programs to accessory dwelling unit policies. Heusler also has observed the issue of affordability, especially in regards to the impact on teachers' housing.
"
The goal is to get a variety of properties that fit everyone's income level. And I think the Silicon Valley is struggling with that right now, because everything has gotten so expensive."
— Kerri Heusler
"The cost of housing usually determines who's able to settle into a community," Heusler said. "And so in Cupertino we need more housing for all income levels, so we can make sure to house our teachers. The goal is to get a variety of properties that fit everyone's income level. And I think the Silicon Valley is struggling with that right now, because everything has gotten so expensive."
Despite not having much experience working with teachers, Changotra offers possible solutions such as increasing interest rates for teachers, or a government-supported down payment.
"Ideally, everybody wants to be closer to their place of work and unfortunately, the teachers are not getting paid the same kind of salary," Changotra said. "I wish and I hope that either [the government] increase their salaries and and give them what it should be there to live in Silicon Valley or do something in terms of giving them affordability in terms of high housing or priority."
Over the years, Heusler has met with school districts, looking into increasing retention of teachers and assisting homeless college students with programs working on homelessness as a top priority item such as down payment assistance programs. 
The city has been investigating methods of increasing the number of affordable housing units such as providing housing for low income citizens and grant funding to programs of service providers who work directly with the homeless such as West Valley Community Services. This year, as part of the city's work program, the city council has asked the housing division to research ways to "better assist the homeless population in Cupertino," according to Heusler.
"Our city council has been very supportive of affordable housing, and has placed a lot of priority on affordable housing and homelessness, we're really hoping to find some solutions," Heusler said. "We're not in this alone. Each city can't really address this issue by ourselves so we have strong partnerships with our neighboring cities and our counties and we're constantly putting our heads together to see how we can tackle the issue of affordable housing regionally.