A familiar face
DJ Kobza returns to coach MVHS boys basketball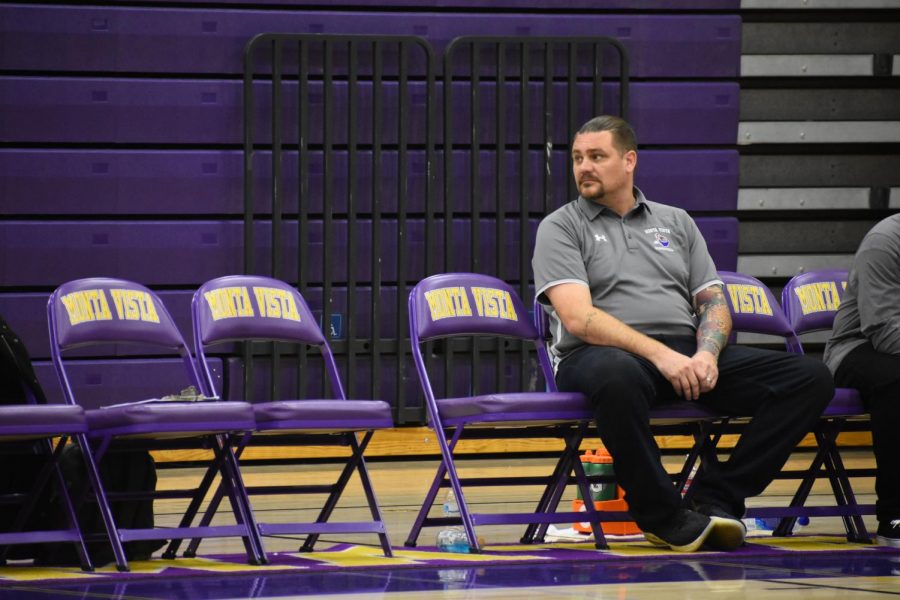 In the 2016-17 season, the MVHS boys JV basketball team, coached by DJ Kobza, finished the season 2-10. This May, Kobza returned to MVHS as the head coach of the boys varsity team, hoping to redeem his last stint.
During his time away from MVHS, Kobza spent his time coaching a competitive AAU basketball team South Bay Spin, which has several MVHS players on it. Kobza explains that even though he originally planned on coaching high school basketball, this time away allowed him to achieve some of his other goals like earning his teaching credentials. 
"When it became clear that I was going to do the credential program that I wanted to do, I wanted to stay active in coaching," Kobza said. "But it's pretty hard to do that because for credential programs I have to be a student teacher in the daytime and take class at night. Coaching an AAU team where the commitment isn't quite as extreme as a high school program, made sense because I only had to coach practice once a week with games on weekends. That came around full circle because I found out the job was again that the job was open through the MVHS players on the AAU team."
Kobza's return is a new experience for the class of 2020 players, since they have had a change in head coaches every year in the MVHS program. 
"It's definitely good to have someone back because we know what's going on systematically and we know his style, so it's easy to adjust," senior guard Sid Majeti said. "I think team chemistry itself will be a big key for us especially because our team is much smaller than previous years."
Majeti, a four year player, explains that along with the familiarity of the coaching improving the team chemistry, the senior players were also able to make a connection with the juniors two years ago on JV.
"Although DJ was not their coach, because they were still in middle school, most of the juniors that are playing this year played with us when we were sophomores," Majeti said. "Us seniors still have a connection with them which started a couple of years ago. Adjusting to the coaches is not really a problem then because we all have a connection with each other and so the coach can communicate everything easily to the whole team."
However, even though Majeti explains that the players themselves have been able to improve because of their history with each other, senior forward Arvind Jagdish explains that Kobza's coaching style is another reason why the team's overall atmosphere has improved since the past season. 
"Every time he's been around, we've always had better chemistry, he's been really open to listening to everyone's ideas," Jagdish said. "He's really empathetic, in a sense, he's not harsh as coach. This year has been a lot more of the same just like it was our freshman year."
Kobza explains that his coaching style is extremely relationship-based, comparing his coaching style to the Maya Angelou quote, "At the end of the day people won't remember what you said or did, they will remember how you made them feel."
 "So over the years, I've worked with many great coaches, and some of the coaches I worked with were basketball geniuses, but I saw that they didn't always have the best rapport with the kids," Kobza said. "It's really important to me to make people feel positively, because I think you get the most out of them that way. They'll buy into your system, they'll respect what you're trying to do, when you make them feel good about themselves and make them feel good about what they're learning."
Kobza also explains that another aspect of his coaching that isn't orthodox is his transparency with the players, referring to himself as a "benevolent dictator." Kobza takes input from the players on certain plays, and also makes sure to take the time to explain why he is making certain decisions before making the final call. 
"I'm always trying to make adjustments," Kobza said. "One of the things I always do at the end of any game or practice is asking if anyone has anything to add. I feel like I have a lot of things to share and perspective on the game we just played or the practice we just had, but I also recognize that there are other opinions and other eyes watching and other people seeing different things that I'm seeing, and they might see something I've missed."
While the team chemistry has improved exponentially since last season, an unexpected factor limiting performance has been injuries. The Matadors are currently 1-4 on the season, but the team has lost three players since the beginning of tryouts. Still, Jagdish explains that this won't be a major issue for the team because he explains that from the first player on the team to the last player on the bench, anyone can go in the game and make an impact. 
"I have full faith that this year we have the talent, chemistry and experience above all else to make it to CCS," Jagdish said. "We will be one of the will be a force to be reckoned with in league, and we will probably make CCS as well."
About the Writer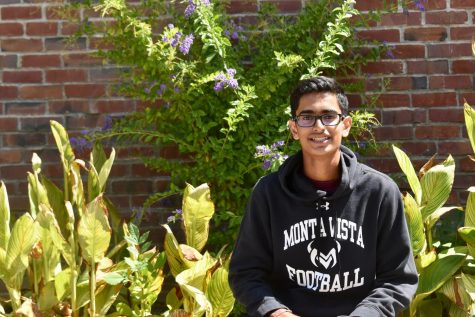 Anish Vasudevan, Co-editor-in-chief
Anish Vasudevan is currently a senior and co-editor-in-chief for El Estoque. He is a wide receiver and cornerback for the MVHS football team and enjoys playing recreational basketball with his friends. In his free time he watches ESPN and dreams of being a sports journalist someday.