Girls soccer: Matadors draw against Valley Christian HS 0-0
MVHS ties against Valley Christian HS in second preseason game
After a 5-1 loss to Branham HS in its preseason opener, the MVHS varsity girls soccer team bounced back with a draw against Valley Christian HS (VCHS) on Dec. 2. 
According to senior team captain and center midfielder Jaimie Chan, the Matadors' expectations heading into the game were low since VCHS is a private school and in a higher league, providing team members with more resources to create an overall stronger team. Chan explains that the team had an underdog mentality, which ultimately lead to their success.
"I think part of it was our mentality that we knew that we were coming from a lower position so we had to work super extra hard and that also caught them off guard," Chan said. "That helped us because we were pushing really hard, and they were not ready for all we had to show."
MVHS dominated the first half offensively with four shots on goal, including a close score by Chan which deflected off the crossbar and was narrowly saved by the VCHS keeper. Head coach Jose Vargas explains that the team's strategy was to capitalize on holes in the VCHS defense, but remain conservative on the defensive side. Late in the second half, this conservative approach helped the team as they were able to counter the VCHS attack with several key saves by MVHS keeper Kira Israni. 
On a gloomy Monday afternoon, MVHS girls soccer (0-1-1) faced Valley Christian HS (0-0-1) in its second game of the season. Despite numerous shots on goal by both sides, the game was like the weather conditions ending in a 0-0 draw. Photos by Zara Iqbal and Anish Vasudevan pic.twitter.com/H0umCaoG4V

— El Estoque (@elestoque) December 3, 2019
About the Contributor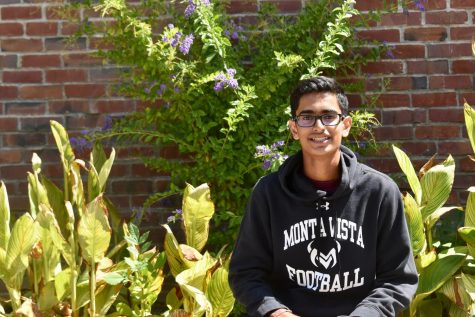 Anish Vasudevan, Co-editor-in-chief
Anish Vasudevan is currently a senior and co-editor-in-chief for El Estoque. He is a wide receiver and cornerback for the MVHS football team and enjoys playing recreational basketball with his friends. In his free time he watches ESPN and dreams of being a sports journalist someday.