Football: Matadors win homecoming in a shutout game against Lynbrook HS
The high energy was present as the stands filled Friday night for the homecoming football game as the MVHS cheer, color guard and dance team performed their pregame routine with the MVHS marching band. After coming off of a loss against Los Altos HS, the MVHS football team was hoping to make a comeback for this years' homecoming game.
LHS started the game off with the ball, but yards were hard to come by. The Matadors defense made it difficult for LHS to move the ball all night long, and on the first offensive possession of the game, senior running back Henry Lassa runs for a touchdown. A nine play, 57-yard drive put the Matadors up 7-0 early in the first quarter. 
Later in the first quarter, a 65 yard option play made by junior and quarterback Simon Leoffler kept the ball runs down the sidelines ultimately bringing MVHS ahead 21-0 
Even with the early offensive success, junior middle linebacker and offensive tackle Henry Hodgkins mentioned that the team still has things to focus on.
"We obviously we tried to correct [the lack of defense in the first play from the previous game against Los Altos HS]," Hodgkins said. "We just tried to play really good defense today and I think we proved it on the scoreboard. They didn't score points and that was a whole emphasis."
Junior and wide receiver and cornerback Shreyas Deshpande scored a touchdown after a play was called and Loeffler threw a pass. After hearing "blue" called which indicated going to the left side where Deshpande was, he knew it was his time to focus in.
"I was like all right, I'm just gonna run as hard as I can, hopefully he's there," Deshpande said. "Simon and I have have that chemistry since like last year, and I was just gonna hope for the best. My heart was racing but you know it turned out well."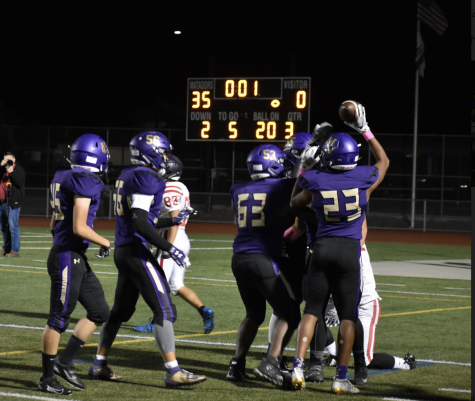 The majority of the second half included very little activity from either team, as the Matadors coasted their way to 38-0 final score. After nearly a 40-point margin of victory, both Deshpande explained that there is still plenty of room to improve. 
"We just need that effort, we need to follow through," Deshpande said. "We can't give up after halftime. We can't give up. We can't relax after we're up and stuff like that, honestly. No, we got to be consistent. We got to put in that effort, knock them down [during the] first half, first quarter, first play and keep them down the entire game.
Hodgkins also addressed what this win meant after a tough loss like the team had against Los Altos HS just one week prior, as well as a win for the homecoming game. 
"The atmosphere is amazing when everyone shows [up] — you just hear the crowd and it gets your heart pumping," Hodgkins said. "It's really fun [playing] and I love what I do." 
When reflecting on the game, Deshpande gives credit to the coaches for helping the team get to the place they're at now, and looking at how they've improved through the season. 
"We've talked about this a lot in the locker room and we're so grateful for our coaches right now … we have some of the best coaches if not the best in the league right now, if not like even bigger than the league," Despande said. "They all have great football experience. They know what they're teaching us, they know what they're doing. And honestly, that just gets us motivated"