@mvathletics: Athletic director uses Instagram to provide information and promote teams
Exploring athletic director and MVHS student perspectives on the @mvathletics Instagram page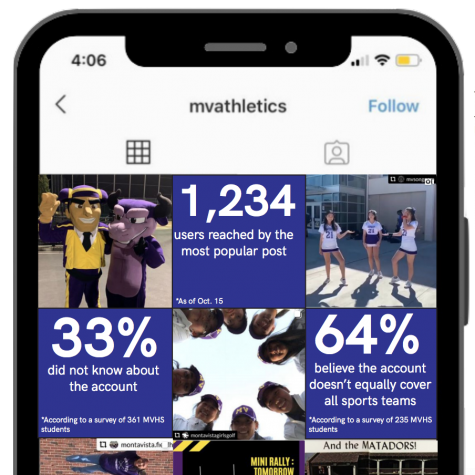 The Monta Vista Athletics Instagram page currently has 761 followers and 585 total posts. What began on Aug. 22, 2017 with a series of game day pictures has become a source for a variety of regrammed team photos, logistical information and other MVHS sports-related news.
Athletic director Nick Bonacorsi, the account's creator, has been primarily responsible for the page's activities — using a combination of photos, videos and Instagram stories.
"When I took the role of athletic director, one of the biggest struggles I had was getting information out to athletes in a meaningful way," Bonacorsi said. "And so then feedback from players was to try and use some type of social media presence as a way to get information out. So that's kind of how [the account] started. So I could post updates and then it's kind of morphed more into a publicity thing as well."
Freshman and varsity volleyball player Miranda Shakouri began following the account after hearing about it from her friends. She agrees that the page's content has been beneficial.
"[The account] has helped me stay informed about all the other teams and sometimes just my team in general," Shakouri said. "I think it's pretty good and how it talks about the wins and how they do."
Senior and cross country captain Nitin Subramanian agrees that he can learn more about the other teams' performance as well as their experiences.
"I think [the account is] just a good source to see how all different what all the fall sports teams are doing or whatever sports team is in season," Subramanian said. "It gives you a deeper insight [about] your team and stuff you don't know [about]."
This "deeper insight" is something that Bonacorsi values about the page, since he finds that it can be more than just a source for high school athletics information.
"[The page] gives you a little bit more of the behind-the-scenes view," Bonacorsi said. "A lot of teams are posting their team dinners. They're posting their bonding events. They're posting all these things that kind of show you more of the family side of athletics, which I really like."
In terms of how to improve the page, Bonacorsi points out that there is some room for improvement in terms of balancing the content posted.
"That's probably one of the areas that I always feel bad about, is certain sports get more publicity than others," Bonacorsi said. "Because maybe their coach is more involved with taking pictures or their captains are more involved with taking pictures. So I've tried to get some of the less publicized sports to be more engaged, but it's been difficult."
Although Bonacorsi doesn't have any specific objectives going forward, he hopes that he can continue to showcase all the sports team's activities, among other things.
"I hope [MVHS students] are proud of the content when it's personal to them," Bonacorsi said. "I hope they like it."