Speech Club's October Social
Members bond through playing the murder mystery game Ravenwood Masquerade Mystery
During their October Social, members of Speech Club competed to identify the murderer in their game, Ravenwood Masquerade Mystery. The game is set in an isolated town known as Bloodworth Falls, where the mayor is holds a mysterious masquerade ball with the townspeople.
In the pre-murder first round, each player is assigned a character and given a sheet of clues with information they are instructed to reveal, such as spreading rumors and seeing people's reactions, and with clues they aim to conceal from certain people, such as who they hate, as they interact with other guests to learn about each other. 
Afterwards, in the second round, guests investigate again with new clues and "missions" they are trying to accomplish. The round ends with a murder and a victim is revealed — guest and news reporter Ashton Jade (played by junior Archana Mucharla), who was looking to secure an open position as the new television host at CBC news. Jade was described as an unlikable character, as almost every character had a personal dislike for him written on their clue sheet, meaning that narrowing down to a single suspect was a difficult task. 
Using clues from the murder provided by a forensic report, the guests are handed investigation sheets and players record their prime suspect based on their alibi interpretations and knowledge on other characters' blood types. 
In the final round, the characters sit in a circle and reveal their personal opinions on Ashton Jade and their murder suspects. The round ends with the true murderer, Drew Golden (played by sophomore Zechin Liu), confessing that his character killed Jade because Jade blackmailed Golden for a previous murder. 
After the game ended, speech members hung out and played games like "Never Have I Ever." According to senior and speech president Nikitha Fernandes, the officer team was looking to find an event that could get several people involved and talking to each other, which the murder mystery game accomplished. For Fernandes, strengthening relationships between new and varsity members of speech is a step forward to having a more diverse and active club. 
"I think a lesson that we learned from last year is that the more bonding events [we have], the more people are willing to actually come to practice and the tournaments because they know each other," Fernandes said. "We sometimes have trouble with keeping the novices after their first couple of tournaments. We're thinking that this year, [if] we can get them hooked both on working on their speeches and having fun, then we might be able to keep them."
Junior and public relations captain Elene Pilpani, who planned the event, decided on a murder mystery game as Halloween is approaching. Pilpani explains that even though speech contains individual events, group bonding is still meaningful. 
"Because [speech involves] individual events, we don't get to work together as much. But we are at the end of the day, [we're] still a team," Pilpani said. "We're not going to get to bond all the time during work time, because it is individual work, so outside bonding experiences is where most of the team bonding happens."
As years have passed, junior Arya Das, who joined speech in her freshman year, has noticed an increase in enrollment for the club. She strives for socials and group bonding to emphasize community and reflects her time on speech to be incredibly impactful, as it got her out of her shell and comfort zone.                                   
"Group bonding is important so that [new people on the team] can see that we are very focused on being together and being in it together," Das said. "Speech is one of the clubs on campus [that] you might think is super stressful [or] that you have to be at a certain level to join it. But honestly, from the time [I joined] to where I am now, I think I've grown so much and I've improved so much and the people that I've met and the friends that I've made [are] so close. [So] I think there's a lot of benefit, in joining a group like this." 
Socials like these have strengthened camaraderie within the speech team. At Parent Night on Aug. 30, speech advisor Gavin Wong expressed that speech bonding events can become long-lasting memories in years to come. Even though Wong joined speech and debate close to eight years ago, he still looks at it as one of the most important decisions in his life. Wong hopes that students who are looking for a challenging yet rewarding experience in high school will consider joining the club.
"The way I look at it is like a fork in the road, where you can go one way and choose the easy way out and not do Speech and Debate and go and do [other] extracurriculars at MVHS, or you can actually choose a hard path of Speech and Debate," Wong said. "I just see [choosing speech] as a fork in my path and I am so grateful — I tell people that, at the end of the day, that is the greatest mistake I've made in my entire life." 
As she enters her final year of speech at MVHS, Fernandes strives for incoming students to join the club that gave her copious benefits and allowed her to keep her voice heard. Fernandes believes that any student could gain the same skills and have the same experiences she's had if they participate in speech.
"It doesn't matter if you like public speaking or not, there's something in this club for you," Fernandes said. "Whether it's learning how to speak on the spot, or doing an oratory to show what you want to change in the world, or acting out different characters in interp— there's something for everyone." 
About the Contributor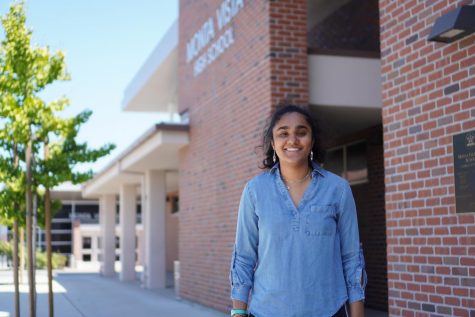 Anjali Singh, Sports Editor
Anjali is currently a senior and a sports editor on El Estoque. She enjoys playing piano and spending a lot of time on Spotify listening to music. Anjali is passionate about journalism and social justice issues, and she loves to travel — one day, she hopes to visit all the wonders of the world.