Model United Nations: Beyond the results
On Oct. 5, the annual Henry M. Gunn Model United Nations Conference (GMUNC) took place in Palo Alto where participants came up with solutions to real world problems in a United Nations simulation. MVHS students attended the conference, with many students participating in various committees and winning a variety of awards.
Sophomore Sylvia Li, who took up Model United Nations (MUN) club in eighth grade, was one of the many students to attend GMUNC. Looking back, Li is satisfied with how much she was able to accomplish.
"I did pretty well for my own standards," Li said. "I gave a decent amount of speeches, although I certainly could have given more speeches. But then for working with other people, I got myself situated pretty quickly. So then I was able to have a hold in my [group], [which let me] represent them a lot. And I wrote a big portion of our overall solutions."
Although she has been to many conferences before, Li appreciates how this particular conference allowed for a more relaxed and lively atmosphere.
"The committee I was in specifically was very casual," Li said. "So instead of having standard procedure, we had screen voting, which is whichever side is loudest, that's the side that wins the decision. So it was very interesting and not as formal as MUN usually is so [it] made it easier to participate with everyone."
Despite the many highlights during the conference and the lightheartedness of the committee, Li also recalls several instances where the energy of the group took a more negative spin.
"It's fun giving comments when people are speaking," Li said. "But then when you're on the other side, when you're giving speeches and people are yelling at you, yelling insults at you for what you're saying, it's kind of disheartening. You feel like everything you're saying is going unheard."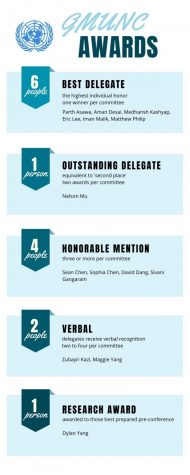 Li believes part of the reason she felt this way was because she allowed others to have their way too often and was not as aggressive as she could have been. As a result, she did not perform to the best of her ability.
"Towards the end of the conference, I was kind of tired and I didn't really want to give any more speeches," Li said. "So I let the people I was working with take over speeches, but then that negatively impacted my own performance. I didn't really fight the other people I was working with when they said that they wanted to speak and represent the block. I think if I took the opportunity to fight them and actually represent the block in speaking, I would have done a lot better."
Freshman Matthew Philip, who won the best delegate award for his committee, believes that experience plays a large role in determining one's success by providing useful learning opportunities.
"The more conferences you do, the better you're going to get at [MUN]," Philip said. "And you can't just learn everything [in] one night and go to the conference and expect [to] win the best delegate, you definitely just need to go to more conferences [to succeed]."
Philip also believes that it is important to utilize external resources in order to become a better rounded member and improve one's performance. He himself is doing speech in order to improve his impromptu speaking skills.
Freshman Medhash Kashyap, who was Philip's partner for the conference, views experienced members in the club as an additional resource. He sees them as a valuable source of guidance and support.
"We also have experienced staff that MUN runs on," Kashyap said. "They're juniors and seniors, so they've been in MUN for the past four years. I feel like there's a lot we can learn from them."
At the same time, more experienced members are still learning new lessons. For Li, the experiences from the last conference have taught her to keep persevering rather than to let the results define her future in the club.
"A lot of people can give up at that moment where you've done so much work and you genuinely thought you did really well," Li said. "When the overall outcome is not what you had hoped or expected, it's easy to give up. Even though I didn't do the very best I could or I didn't win anything, I still want to continue to strive and work towards improving myself and not simply focus on awards."
Kashyap also believes that winning does not define success. Rather, he thinks this accomplishment will propel him forward and initiate further progress.
"Just because we won this conference doesn't really stop us from improving," Kashyap said. "We definitely need to keep on working because it's only going to get harder [from here]."