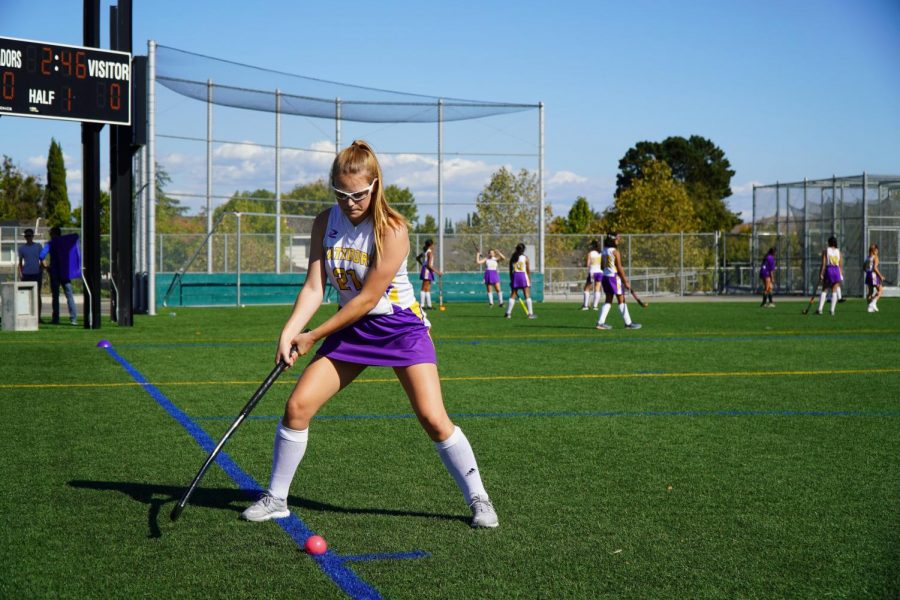 The spirit of a leader
The dynamic between captains and leaders on the field in sports
After the first practice of the school year, girls varsity volleyball coach Colin Anderson pulled aside his two team captains, Anumita Alur and Anusha Pothineni, and urged the girls to be more assertive and energetic on the court — they decided to take his advice to heart. From the next practice onwards, Alur and Pothineni started actively calling out balls, calling out plays, and communicating on the court. 
According to Alur, the team's performance dramatically improved. For the first time, Alur realized just how much power she held as captain of the team. 
"Captains are literally the backbone of the volleyball team," Alur said. "I've noticed that since my freshman year. Our captains freshmen year were amazing… they were so committed to the sport… and because of that, practices were very hard core, very intense, very fast paced, but we needed it. That's why my freshmen year was probably the best season."
Alur explains that even though there is a coach and assistant coach, the captains are ultimately the ones who run the drills, ensure that everyone is working their hardest and set up team bonding, such as Secret Sister gift exchanges.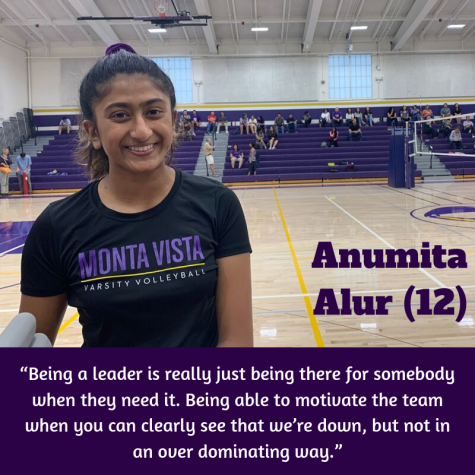 Junior and co-captain of the girls varsity field hockey team Roya Ahmadi echoes a similar sentiment.
"Although everyone contributes, especially during games and after the games, I think it's still important to have people you can turn to [if you are a player]," Ahmadi said. "If you don't want to talk to the coach, just like 'what do you think I can improve on' or have someone closer to your age help you out in that way. It's less intimidating."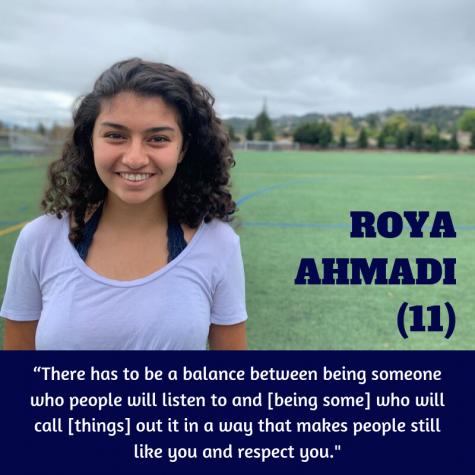 Senior and water polo captain Samer Awad believes that captains aren't just someone players can turn to, but also someone coaches can turn to. Because this is the boys' water polo coach's first season coaching the team, the captains try to serve as a bridge between players and coaches.
"He doesn't know the students nearly as well as we [the players] do," Awad said. "[A lot of team decisions come] from team captains making the call, receiving feedback on how players work from the players themselves and how they observed other players would function in a team environment."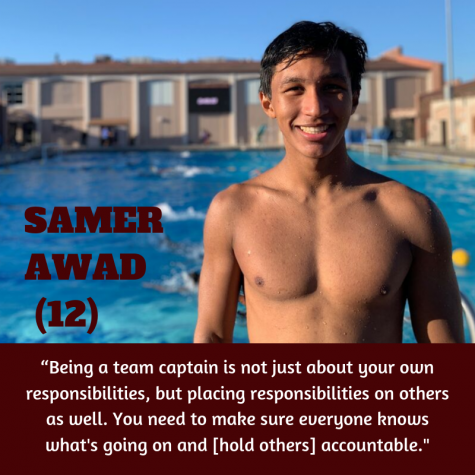 Regardless of the valuable leadership role captains play, many times captains aren't the only leaders in the field. 
Junior and varsity field hockey player Sara Valtenan considers herself a leader, even though she is not a captain. Valtenan explains that a leader is someone who brings a positive attitude and energy when the team needs it most, and this role can be filled by any player.
"There are times I've seen players who are struggling," Valtenan said. "I'll come to them, I'll give them some pointers and help them out with something. If they seem sad, I'll come to them and ask them what's going on. It's about creating a more open environment. For your team to grow altogether — you don't want to have groups or cliques, you don't want the drama in your team … so if someone's not included, bring them in."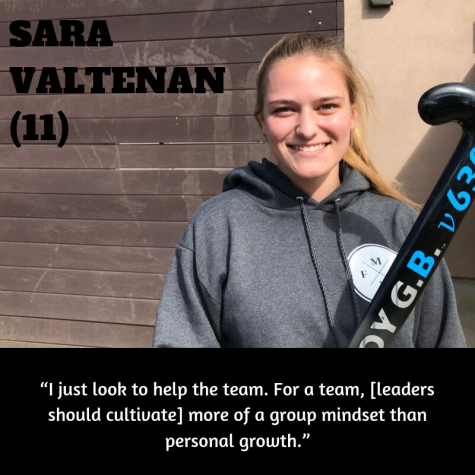 As a field hockey captain, Ahmadi recognizes and appreciates players like Valtenan who step up in leadership positions.
"I think it definitely makes it easier because I know that even if I don't notice something or I don't know how to articulate something that I see happening, there's always other people who are willing to take on that role and help the team out," Ahmadi said. "Everyone's equally contributing to it." 
Alur adds that captains are only humans, and they are inevitably going to have off days and rough patches. When that does happen, Alur explains that leaders bring energy to the team without needing to be asked. She points to players like senior Divya Suresh and Jiani Tian as these leaders.
"[Divya and Jiani] will constantly yell out where the setter is," Alur said. "They'll constantly say 'watch tip' or 'short serve' and they're not doing it because they want to be watched, they're doing it because they genuinely want to bring the team to victory. They want to bring positivity to the game."
Awad points to junior Luke Bowman as a leader in the field for boys water polo. Whenever Awad is running late to practice or forgets to mention certain things, he can count on Bowman to hold the team accountable. Even in the pool, Awad says Bowman constantly" works his a** off,", setting a positive example for every other player on the team.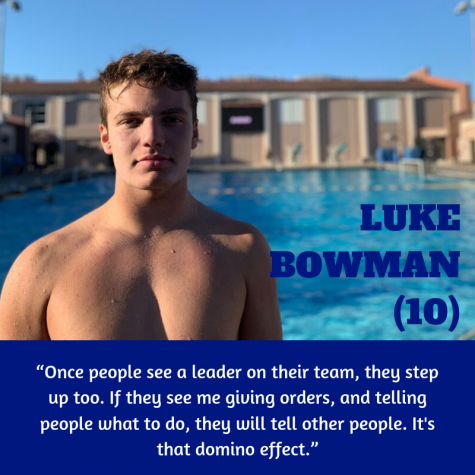 In response, Bowman explains that he enjoys leading the team and helping the players feel connected. He tries his best to include people in drills, encourage players to come to bonding, and communicate constantly during games. And whenever he needs help involving players, he can rely on Awad and the other captains.
"For example, if we have some shy kids on our team I might utilize Samer in that situation," Bowman said. "He's a very outgoing, funny guy and he can always kind of bring a smile to anyone's face. He specifically really knows how to get to them, so I have him help me with that."
By working off each other, Awad and Bowman agree that they are able to help the team run more effectively. And according to the varsity boys water polo coach, Cory Murphy, this leadership from the players goes a really long way, especially because there are only four returning varsity members on the team.
"[Their leadership] is huge with kids that young and inexperienced," Murphy said. "Without them I have no idea what I would do. I can only say so much and be around so much. Those other extra areas, they have to step up and [lead the team]."
Valtenan agrees that leaders can often complement the leadership styles of captains and relieve some of the pressure and responsibility that captains may otherwise feel.
Despite the many advantages and benefits of having leaders who aren't captains, Valtenan also recognizes that there can be conflicts when too many people are playing a leadership role. She explains that she's careful to ensure she doesn't overstep on the captains' duties, such as splitting up people for scrimmages or organizing certain activities.
"It's not just captains who need to do everything, even though that's the person we all look to," Valtenan said. "I consider myself more of a vocal leader. But I try to take a step back every time to not go over them. I respect my captains."