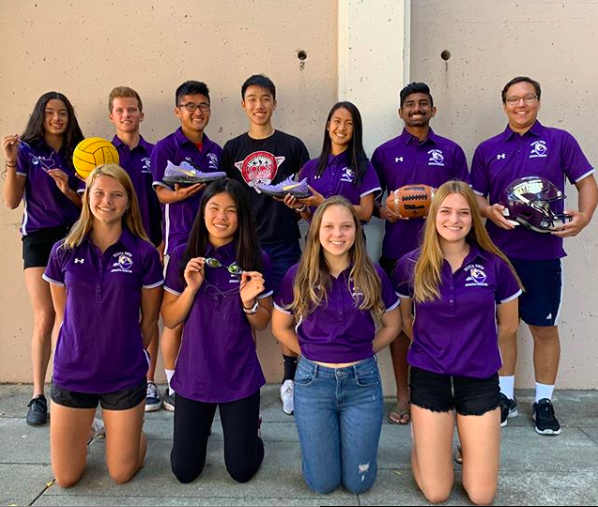 Students in the Athletic Senate
Members of the Student Athletic Senate discuss their role in improving the MVHS athletic community
Athletic Director Nick Bonacorsi coached the MVHS baseball team for 10 years and then coached football for four years before stepping up as director of the athletic department. During the 14 athletic seasons he coached at MVHS, he noticed a general disengagement and lack of passion and pride for sports. He immediately knew that changing the attitude surrounding athletics at MVHS would be his long-term battle.
"We're obviously known for being strong academically," Bonacorsi said. "We celebrate a lot of our academic achievement. I always struggled with how our culture treated sports so when I became athletic director, I knew straight away that that was something I wanted to focus on as a central goal."
To increase athletic engagement at MVHS, Bonacorsi created the Student Athletic Senate last year. He chooses athletes to take part in the Senate by taking recommendations from coaches, selecting athletes nominated by their teammates and taking volunteers. He stresses that although the majority of the Senate is comprised of team captains, the only criteria to join is to be an invested athlete who is passionate about elevating the athletic program. 
"[This mission to change the culture surrounding athletics at MVHS] feels more meaningful when it's coming from [the athletes] than if it's me approaching it from a top-down thing," Bonacorsi said. "Plus, I wanted to get plugged into what they think, how they feel, what changes they want to make. They give me that voice or that bridge to the student-athletes."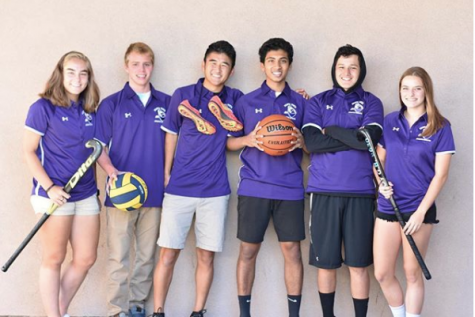 The Senate's central goal is to boost attendance at games and to build the athletic community. They have implemented a points system in which student-athletes receive points for attending sporting events for sports other than their own, posting promotional photos on social media and planning team bonding. The team with the greatest amount of points at the end of every season receives a prize, such as a pizza party or an ice cream social. 
Varsity girls soccer captain and junior Skylar Ploshay explains that she joined the Senate because she feels disconnected from the athletic community during the off-season. Ploshay believes that it is the responsibility of current athletes to leave the athletic department in a better place than they found it. 
"It's like a whole chain effect," Ploshay said. "We need to build [the athletic department] now, while it has a strong group of people. Right now, numbers [are] lacking in the sports teams, so we want to build that up so we're known as a school with a better sports team."
Bonacorsi explains that although the Senate has been focusing on encouraging athletes to attend sporting events, their ultimate goal is to engage the entire student body, as well as parents and school staff, who rarely attend games and tournaments. 
"I think it's a very important first step [for athletes to attend sports events for sports other than their own]," Bonacorsi said. "If we're looking at student-athletes not being happy with their fan base or with the amount of fans that attend their games, a logical place to start is with other athletes that are feeling the same thing."
Varsity football player and junior Henry Hodgkins believes that Matador Madness, an inter-sporting event between all of MVHS' sports team, was a major success last year towards unifying the athletic department. In addition to the increasing spirit within the athletic community, he agrees that audience turnout is essential to building the athletic department.
"After [the Senate] brought up the issue of athletes going to other athletes' games I really noticed a spike in other athletes watching other athletes' games," Hodgkins said. "Having a big audience [at sporting events] and [to see] everyone participating, it really, it encourages the athletes to do well. I love seeing big crowds show up to games."
Bonacorsi explains that the energy of a game with a large, passionate audience is entirely different than a dead game with a few spectators. According to him, the audience's energy invigorates players, improving their performance. He noticed this energy at the Boys' Volleyball NorCal Finals last year, in which the MV team won.
"When MVHS played Harker, the crowd made a huge impact on that game," Bonacorsi said. "They helped push that team at the end and helped them rally through — just that atmosphere and that vibe, it changes things a lot. And the people in the stands, if they're involved, if they're engaged, if they're having a good time, it becomes a social act at the same time; it goes both ways."
Moving forward, the Senate has plans to continue improving spirit in the athletic department, starting with changes in Matador Madness this year. Despite the large turnout for their first attempt to unify the athletic community, Hodgkins acknowledges that there is room for improvement to make the competition more enjoyable and impactful. 
"Last year, the way we organized [Matador Madness] wasn't the best, and this year we're really trying to fix that so that we have clear defined winners," Hodgkins said. "We're just trying to get everyone together and the whole sports department be more supportive of each other and attending each other's games." 
As the Senate works to continue strengthening the athletic department from within, Bonacorsi is ready to target the rest of the student body. However, he isn't sure how to bring athletics to MVHS' general population.
"A lingering question I have for the school community as a whole, is what would it take for non-athletes to get involved?" Bonacorsi asked. "How do we go beyond and reach the greater student body?"