Field Hockey: Team takes home first win of the season
Despite a shaky start, Matadors emerge victorious against Valley Christian HS
Additional reporting by Lakshanyaa Ganesh
The MV Field Hockey team faced Valley Christian HS on Sept. 10, winning 3-0. Members looked forward to face their opponents on home turf and hoped for a win. Despite VCHS kicking off the game with the ball, the Matadors recovered quickly and gained momentum as they pushed for their first goal, scored by junior Roya Ahmadi, 10 minutes into the first half.
"Usually when you start off with the ball, you get an offensive push first and that's the point of starting with the ball," co-captain and senior Isabelle Dingli said. "However, we intercepted within the first pass and managed to push up with that. It was a good feeling to be the first [offensive] team on the [first] half."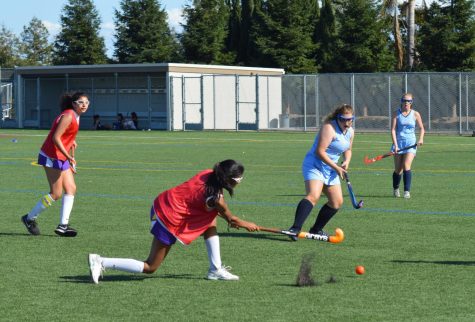 The Matadors' continued to maintain their aggressive offense, and were quick to advance upfield, with long passes between members, as well as tackles. The last 30 seconds of the first half welcomed the second goal, made by sophomore Navarin Pirachai. Dingli explained that the goals heightened the energy among the team and motivated them to keep pushing forward.
"It's a good motivator, especially to have it so soon on in the game," Dingli said "It boosts the confidence and the general mood and adrenaline of the game shifts to a positive one."
The Matadors continued to dominate offensively with more efficient communication between members on the field throughout the second half. With six minutes left to spare in the game, Pirachai scored another goal, resulting in many excited cheers of encouragement from the JV members. She believes that training in her club team as a forward lent her the confidence to score twice.
"I feel really good because I usually play [as a midfielder], so [I] run a lot in the middle and don't score that many goals," Pirachai said. "Coach put me as left forward and I was so scared. She patted my back and was like, 'You got this' and then I went in for the game and that happened. I was really happy." 
VCHS is a new team to the league, and Pirachai believes that the Matadors' experience and training may have contributed to their win. Moving forward, the team hopes to improve its communication and maintain an energetic atmosphere throughout the game. Pirachai personally hopes to become a more confident player and improve her technical skills.
"I'm hoping to score more goals and just do big passes and be confident," Pirachai said. "You can't go into a game being all scared, which I do all the time."