Sul Searching: dessert cafe manager opens Sul & Beans and SomiSomi
Dessert cafe manager reflects on opening two Main Street restaurants
Walking into the brightly lit store, the buttery aroma of waffles wafts through the air. The hum of soft serve machines underlays noisy chatter from the long line of customers who eagerly wait for a taste of the dessert that pops up so frequently on their social media feeds. 
As customers place their orders, employees bustle about behind the counter, filling the cafe's trademark fish-shaped waffle cones — their version of Japanese taiyaki or Korean bungeoppang, with soft serve before sprinkling them with toppings. Amid the cheerful activity, one employee lacks a distinctive SomiSomi cap and T-shirt. Instead, she wears a black shirt, plain except for the word "manager" embroidered in the corner. 
She works alongside her staff, occasionally stopping to redirect rowdy customers or instruct an employee on how to make a particular order. She goes where she is needed, at times opening the black curtained doorway to the adjacent dessert cafe, Sul & Beans. 
Her name is Mindy Ngo, and she is the manager of both the Main Street locations of SomiSomi and Sul & Beans, two new neighboring Korean dessert cafes. Having recently entered the Cupertino business scene, Ngo opened SomiSomi in February, and Sul & Beans in May. Prior to opening the two dessert cafes, Ngo operated a small recycling center, but chose to pursue a more fulfilling and flexible job. She instantly fell in love with the flavors and textures after tasting the chain's desserts first-hand — especially those of the SomiSomi bungeoppang, a Korean carp-shaped pastry.
"SomiSomi tastes really creamy, and I like the different flavors," Ngo said. "The bungeoppang is freshly made, and not a lot of people have [it] around here … I really like the bungeoppang because of the crispiness and the chewiness and also the fillings inside of the bungeoppang. So basically, I just love everything about SomiSomi."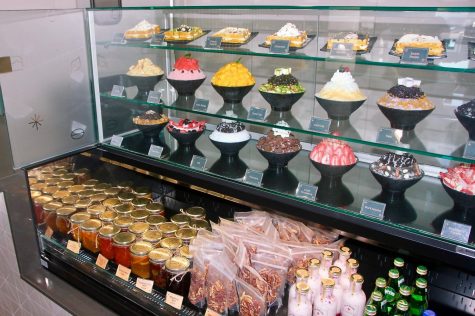 The soft serve shop offers its spin on bungeoppang, calling it ahbung. Instead of merely using a traditional red bean filling, the pastry is hollowed out and fashioned into a waffle cone with the customer's pick of Nutella, taro, red bean or custard, and then filled with soft serve flavors ranging from matcha to black sesame to a mix of both Oreo and milk. Each soft serve is then sprinkled with any of the eight toppings and served with a macaron or strawberry.
Sul & Beans, Ngo's larger cafe, offers a wide variety of bingsoo (Korean shaved ice) flavors as well as a diverse selection of toasts and drinks. Ngo attributes the bingsoo's popularity to its use of milk as the base of the shaved ice, giving the ice a creamy flavor that complements fresh ingredients to create a frosty, refreshing treat.  
"With all the fruits on top and other flavors, [the bingsoo] all comes together," Ngo said. "I really like bingsoo because on a hot day everybody wants something icy to cool them down, and I think bingsoo is one of the best choices that you can have."
As a dessert lover herself, one of Ngo's strongest motivations for opening these shops in this location was to introduce locals to traditional Korean desserts. She believes that if she enjoyed the desserts so much as a customer, then others would surely love them too.
"Cupertino is one of the areas that doesn't have many authentic Korean desserts," Ngo said. "I like the area, I like the people here and they are always welcoming new products and new dessert places. People around here like to try new things, so I [thought] this place would be a popular place once it is open."
Second-year UC Davis student Pavithra Pandian enjoyed her first trip to Sul & Beans, stating she would return. After hearing about the cafe from a friend, she decided to give it a try and was charmed by the shop's Fresh Strawberry Bingsoo and its peaceful environment.
"Meet Fresh [another Main Street dessert store] and SomiSomi are pretty good, but [Sul & Beans] is a lot nicer," Pandian said. "[The strawberry bingsoo] is not as sweet [as the other stores], which is good, and [the shop] is cute and quieter as well." 
St. Francis HS seniors Nicole Tou and Keerthana Vinay frequent Main Street and have been to SomiSomi three times. They initially visited the cafe due to the excitement around the shop's opening, but left feeling disappointed. Despite their dissatisfaction with the ice cream and high prices, Tou and Vinay decided to return owing to lack of alternatives.
"Honestly [the ice cream] was kind of mediocre," Tou said. "Personally, if it was not at a convenience, I don't think I would come back to [SomiSomi] … There's no other [soft serve] around, and I just really wanted ice cream. It's not the best, but I mean, it works."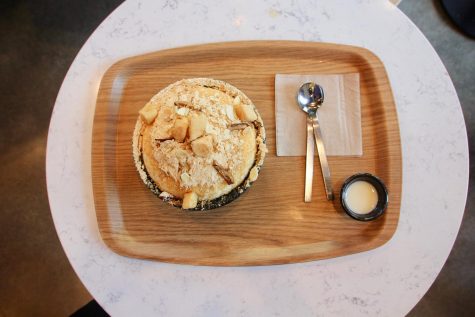 Instead of SomiSomi, Tou and Vinay prefer to share desserts at Sul & Beans for the store's aesthetic. Ngo, however, can't choose a favorite, revealing her love for both.
Before opening SomiSomi and Sul & Beans, Ngo primarily cooked for family and friends, but she received far more exposure to food preparation through trial and error at her cafes. Ngo notes that she encountered many challenges with construction, delays and staffing, but she continued to persist in her efforts, which got her to where she is today. 
"It comes down to your patience, so once you have patience and you have the ability to face challenges, then the future runs smoothly," Ngo said. "Now for me it's running okay, because I was facing the challenges that I had before. Now we are okay, and the people here love the products."
To Ngo, the greatest reward for all of her work is the positive reaction she gets whenever a customer enjoys her food. Ngo feels that her love for desserts and the dedication in opening her cafes are reflected in the restaurants' popularity, and she hopes that her work will continue to please her customers.
"[I love] seeing customers happy and walking out with a smile," Ngo said. "When they walk up, just them holding up the SomiSomi with a fish, the kids all excited with the toppings. And with the bingsoo, I see people love the bingsoo and the drizzle on top, and then when they get to the taste of it and then they enjoy it, it makes me happy with what I do. That's what I like to see, they enjoy the product and always come back. Seeing them coming back, it means you did it, you did it right."