A starry night: Astronomy and Astrophysics Club host stargazing events
Club founders and officers host monthly stargazing events for members
A starry night — long telescopes, clear terrain and vivid planets. At the start of each new school year, Astronomy and Astrophysics Club plans its cross-over stargazing events for the year.
The preparation for each of these events requires heavy planning and commitment. One of the main tasks to be completed before stargazing events are the logistics and member interest forms. According to co-founder and co-president senior Eric Yang, club officers usually take inventories from club members to gauge interest for the stargazing events. After that, they get a permit if it is required for the preserves they hold the event at. Some of the preserves the club has went to in the past includes Montebello Open Space Preserve and Pigeon Point Lighthouse. The last step is then to send out a google form for the club members who are planning to attend the event.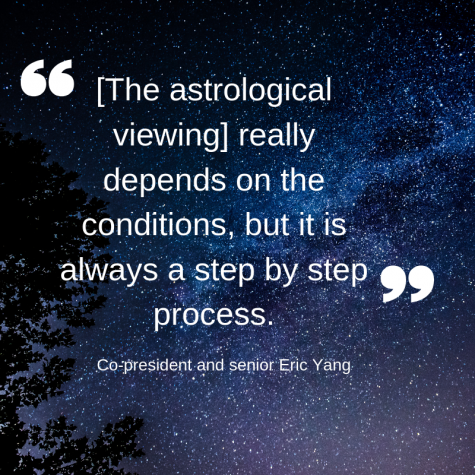 In addition to tracking club interest, club officers also need to "rent" the preserve for stargazing. However, different factors are taken into account before this is done, according to co-founder, co-president and senior Christian Chiong. Different seasons of the year allow for different objects in the sky to become more transparent than others.
"To prepare for these events, we basically check a website to check the seeing conditions for stargazing," Chiong said. "This includes light, haze, pollution, clouds, etc."
Weather conditions and careful planning must also be taken into account before stargazing events are scheduled. Astronomical projections are harder or easier to view under specific conditions.
"If the moon is up, we will have to plan hard to observe objects cause the moon is super bright," Yang said. "It really depends on the conditions, but it is always a step by step process."
While the club has a few days each year dedicated to stargazing events, it also keeps its members informed about societal issues in the astronomical world. Every meeting, according to freshman Ojas Karnavat, is composed of the officer team going over the latest astrological news.  
"They choose a topic for the day, such as exoplanets or something like that and they go over that in quite detail," Karnavat said. "They explain well and go in detail and that is good."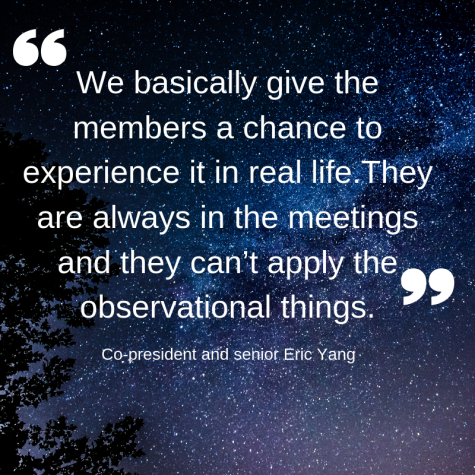 Most member meetings are usually composed of a presentation with astrial news as well as technological advancements. These meetings serve as the basis of content for the stargazing events, giving the members background for their observation. Yang believes stargazing events are the best way to apply the knowledge from the current events discussed in the member meetings.
"We basically give the members a chance to experience it in real life," Yang said. "They are always in the meetings and they can't apply the observational things. I guess it is also to have fun, so it is a pretty cool experience for them."