MVHS baseball take home a 3-2 win on senior night
Baseball plays Fremont HS on their last home game of the season
As the MVHS baseball team warmed up for their last home game of the season, they could hear the chatter of excited parents and friends stringing purple and gold streams along the field and bleachers.In celebration for senior night, family also taped posters for each senior on the dugout wall. 
At the top of the first inning, the Matadors started on the outfield with Fremont HS up to bat. Senior Jake Kokeny would be named the starting pitcher for the game.
As the Matadors went up to bat, senior Ryan Hada made it to third base after hitting the ball and hitting the foul pole. Unfortunately, what should have counted as a homerun, called a foul ball by the umpire.
"I hit it down the line, and I just started running as soon as I hit the ball, but then I hear all my coaches saying, 'it hit the foul pole, it should be a home run,'" Hada said. "Then the umpire was like 'no it was a foul ball.'  Then later in the game, the left fielder came over to me said, 'I feel bad for you man, that s**t was gone."
By the end of the first inning, the score was 2-0, with Fremont in the lead. With this being the last home game of the season, the Matadors were more determined than ever to take home a win in front of their friends and family.
Although Kokeny had been struck by a ball to the back of his calf earlier in the game, he knew there was only going to be one senior night. That meant this was something he had to overcome.
"Towards the end, I just wanted to finish it [the game] even though I was going through some pain;" Kokeny said. "I just wanted to be the one to finish that game off and win it for our team,"
By the bottom of the second inning, the score was still 2-0 and remained this way throughout the game. The matador's first run of the game came from freshman Benjamin Chang, when he made his way to home plate in the fourth inning, bringing up the score to 2-1. With senior Josh Ploshay up to bat next, he connected on a pitch hit allowing Kokeny to make a run for home plate from third, tying up the score to 2-2 by the end of the fifth inning.  
MVHS took the lead 3-2 off a go-ahead single by Benjamin Chang in the fifth inning, driving in senior Sam Yang from third base. The right arm of Kokeny proceeded to shut down Fremont for the rest of the game. He finished the game with a no-hitter,  a game where a team was not able to record a single hit since both earned runs from errors made by his teammates.
"It meant a lot because that's a hard thing to do in baseball," Kokeny said, "In front of everyone at the last home game,that was pretty, pretty amazing."
With this being one of the last times that the team's MVHS seniors will step out onto the field , senior Sam Yang explains that something as simple as  practice is often overlooked in the world of sports.
"I will miss practicing with them because practicing [ with ] them was very fun," said Yang. "It's that everyone had a common interest that, no one took it super seriously. No one thought it was like, life or death. Everyone could sort of be silly, but also get things done."
For other players like Hada, baseball had been a big part of his life for so many years as he reminisced his three years of playing varsity baseball during this senior night game.  
"It means a lot," Hada said. "It's all coming down to this game. I can still remember my first game we played here. We played against Milpitas, we lost 3-2. I remember I ended the game with a line-out to first base and it was something I never really forgot, but I didn't let that hold me back. All the events that have gone on from that today has built up to this day."
About the Writers
Ankit Gupta, Sports Editor
Ankit Gupta is currently a junior and sports editor. Previously, he was a visuals editor. In his free time, he plays chess and hangs out with his dog, Rufus.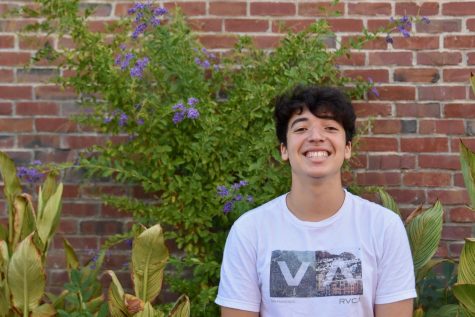 Kamyar Moradi, Staff Writer
Kamyar is currently a senior staff writer for El Estoque. In his free time he loves to spend time with his friends and family, talk about sports to whoever is willing to listen and enjoy music from the best rapper alive, Montana of 300.