City staff holds Regnart Creek Trail walk-shop
Senior residents and Cupertino staff voice their hopes and concerns for the trail
On March 30, staff members from the City of Cupertino gathered with a crowd of over 100 citizens for a walk-along on the planned Regnart Creek Trail, a proposed trail project that could potentially encompass Pacifica Dr., E. Estates Dr. and La Mar Dr. The walk-along took place along two probable  paths, named Alternate Path 1 and Alternate Path 4.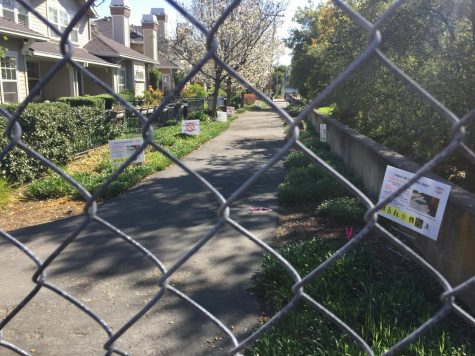 The trail was approved by the City of Cupertino in August 2018 as part of its Bike Master Plan, an effort to make biking around Cupertino safer and easier. However, city records denote that on a scale of 0 to 100 indicating how feasible the trail is, and on a tier system indicating which projects should get prioritized, Regnart Creek Trail scored 48, placing it at the bottom of Tier I. It also scored 0 on safety improvements due to the trail primarily taking place along a residential area without a history of collisions.
According to Vice Mayor Liang Chao, discussion surrounding the trail concerns what the City is sacrificing in order to make the Regnart Creek trail a reality — the trail's estimated cost is around $380,000 for design and $2.1 million for construction. The true cost will be determined at bid.
"It's really nice to have a trail. When I first heard about that, I supported it," Chao said. "But now that I'm on the City Council I'm taking more of a city-wide look, I have to question how we should better prioritize things."
Connie Cunningham, a senior biker who has been a resident of Cupertino for 32 years, supports the trail because it yields as a  safer alternative for both student and senior bikers. According to Cunningham, having an off-road biking trail would help bikers avoid dooring or colliding with the open door of a car at a high speed. For  those reasons she supports Alternate Path 1.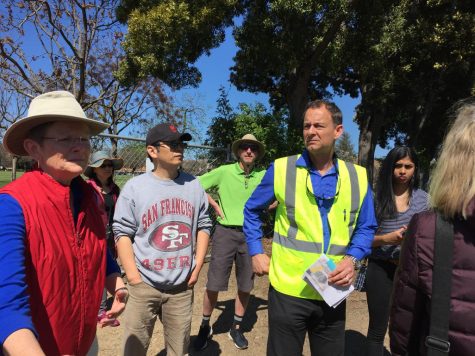 "I'm particularly interested, on my behalf and other seniors, that we have an off-trail bike situation and also walking, because it is extremely dangerous for seniors to be in any kind of accident," Cunningham said. "I'm also very interested for the children in the schools going from one to another. [The Regnart Creek Trail] would be much safer for them, more pleasant and of course relieve a lot of worry for their parents."
About halfway through Alternate Path 1, the trail proceeded past a residential area. Along the street were signs that argued against the building of the trail, asserting that the trail would invade the privacy of residents. Additionally, the trail's lack of railing along the creek could make it unsafe. However, transportation manager David Stillman says that the city did not see a need for railing because it would hinder the Santa Clara Water District —  the District may need to enter the creek, and the slope and height of the drop does not necessitate a barrier.
In order to address other residential concerns, City employees are going door-to-door to every house along the trail, having discussions with the residents about what they would like to see. Additionally, there will be a neighborhood workshop on April 24 where residents can voice their concerns about the trail in an official setting.
"We're always getting communication out to the residents through some social media — the website, door hangers, mailings, all kinds of outreach in that respect," Stillman said. "We're basically making ourselves available any way that is convenient for the residents."