Model UN hosts conference at MVHS
Behind the scenes of how South Bay Model UN (SBMUN) came together
A lull in activity during the months of March and April posed a question for both the MVHS and Homestead HS Model UN Committees: how do we initiate more engagement? The solution was deceptively simple — host a local tournament at one of their campuses. After coming to this consensus three years ago, MVHS has been hosting an annual tournament — South Bay Model UN (SBMUN) — in late March. This year, on March 30, over 200 delegates from 17 schools attended SBMUN, which, according to senior and club president Amit Chandramouly, was a "definitive success."
In terms of preparation, most aspects of the tournament have to be organized and executed well in advance, rendering it a year-long process that begins with the start of the school year. This year, as club president, Chandramouly was the Secretary General for the tournament, the highest position, leaving him in charge of streamlining all of the logistics of the tournament.
"We had to coordinate between everyone else that's involved in the conference and make sure [we were prepared]  for the conference from the committee aspect or the knowledge aspect of putting everything up on the website and getting things ready," Chandramouly said. "Or just the logistics aspects such as checking with the administration and doing things like booking rooms and ordering food."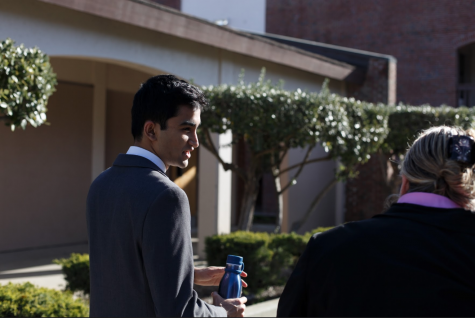 Since SBMUN is entirely student-run, the judges, known as chairs, are students as well. Sophomore Lakshmi Talapaneni, a chair, reveals how this was an eye-opening experience for her. Playing the role of a judge versus a delegate gave her more insight into what Model UN is really about and how to better herself within committee.
"Personally, there were some things that I thought a chair would look at, like they would really care about how you spoke," Talapaneni siad. "But when I was a chair, I realized that that's not always true. Sure you can be a really good speaker, but what my partner and I cared about was do you have real solutions, have you actually done your research or are you just saying stuff that doesn't make any sense."
In addition to the logistics of organizing the tournament, Chandramouly says that they also had to figure out how to make their committees as engaging as possible. Being a smaller tournament, it gave them more flexibility to stray away from typical ones that are present at the larger tournaments. For instance, this year, they decided to create a committee that was intertwined closely with current politics in Syria — except in the future.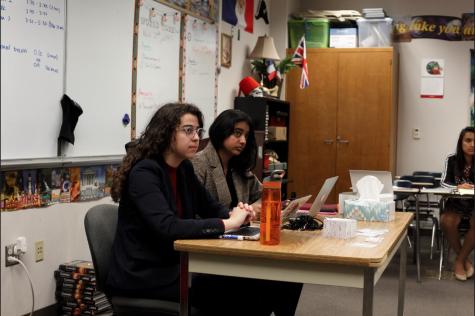 Chandramouly describes this committee,  aptly named Rebuilding Syria, as one based on the premise of different world leaders coming together in the future — 2030 — to set Syria up as a successful country. Owing to a ceasefire, Syria was said to be tensely stable for the last two years. The committee comprised of country leaders from the United States, China, India and Russia and they were tasked with deciding how they need to go about rebuilding Syria.
These intriguing committees also held allure for sophomore Elizabeth Lee, who says that one of her favorite moments from the tournament was coming up with entertaining solutions. She was part of the World Health Organization and in charge of keeping infectious diseases under control. She details the creative yet drastic steps that her committee took, such as quarantining everything that went in and out of Australia. Lee was also glad she made the decision to branch out and try a new type of committee for SBMUN, one with a more individual role.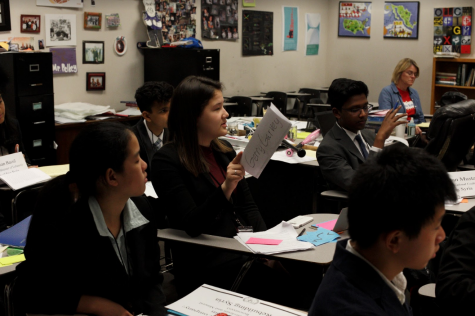 "I think [SBMUN] was an interesting experience just because it was on our campus," Lee said. "The thing about SBMUN is that it's actually smaller than most other conferences we go to. Especially in comparison to Berkeley MUN, it's a lot less competitive in a sense. I mean there's still a lot of competition, but there's just less pressure. It's an opportunity for a lot of people just to try different committees that they don't normally do."
Talapaneni also enjoyed some of the unique aspects of this tournament, including the fact that it was open to novices — middle schoolers. She says that surprisingly, she was able to take away important lessons from them.
"I actually learnt a lot from the way that they work as a committee, and to be honest they're a lot nicer in committee," Talapaneni said. "I feel like when you get to high school, everyone's so focused on awards that they are just willing to do anything, like they have no compassion sometimes and I really liked that these kids really were compassionate towards each other."
Chandramouly says that organizing and running a tournament was a massive struggle, and recalls facing major communication challenges throughout the process. As a result, he was initially a little fearful about the end result, but was pleasantly surprised.
"I was pretty apprehensive about whether the conference would be an optimal experience for delegates," Chandramouly said. "As the day moved on, I popped in and out of committee rooms just see how debate was going, checking in with chairs, parents, and advisors if they needed anything, and everyone seemed to be happy with how they were being treated. I think my favorite part was essentially seeing all of that come together on one day. "
About the Contributor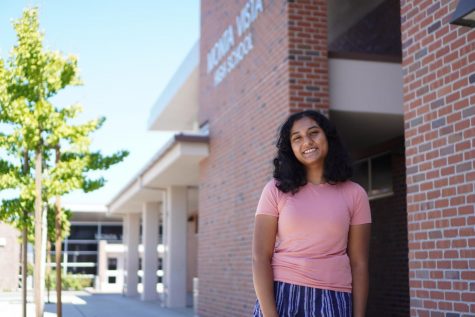 Oishee Misra, Editor-in-chief
Oishee is currently a senior and the co-editor-in-chief for El Estoque. She's an artist, and the walls of her room are plastered with artwork. She loves listening to music and obsessively creates Spotify playlists and plays the piano. She's also a total foodie (although her cooking attempts are usually disastrous). She loves reading the Opinion section of New York Times, and hopes to live in New York City and be an NYT columnist someday.