Boys tennis: Matadors defeat Los Gatos HS 6-1
As senior Karthik Guruvayurappan walked on to the court, he looked around, knowing it would be his last time on the court as an MVHS tennis player. On Tuesday,  April 2, the MVHS tennis team hosted its last home game against Los Gatos HS as it celebrated the seniors' final home match.
Guruvayurappan also reflected on his growth as a player, having been part of the team throughout high school.
"It's been so great," Guruvayurappan said. "I played two years on JV, one year on singles, so making it up to varsity in my junior year felt good."
Junior Jeremy Wu serves during his first set against Los Gatos.
Junior Evan Yu described the season as a successful one, with the team having the chance to grow closer on a consistent basis by playing games involving tennis after practice.
"After the team finishes practice, we usually play random games to help us grow as players and our bond as teammates," Yu said. "I'll miss the seniors."
Like Yu, Guruvayurappan will miss the bond he had with his teammates the most.
"[I'll miss] the things I did like go to the laundromat to wash my uniforms, DoorDash-ed Krispy Kreme at 12 a.m., and dinner with my teammates at Hooters," Guruvayurappan said. "Those are some of the moments I will remember the most from my time [here]."
Junior Jeremy Wu believes that the seniors were a great presence throughout the season and their selflessness allowed the team to experience sustained success.
Sophomore Saraang Kashyap serves in his second set against Los Gatos.
"I'm really grateful for the seniors we have this year," Wu said. "Last year, we lost eight of our seniors, so having the current seniors that we have now [to] be able to support and actually make the season a successful one was nice."
About the Writer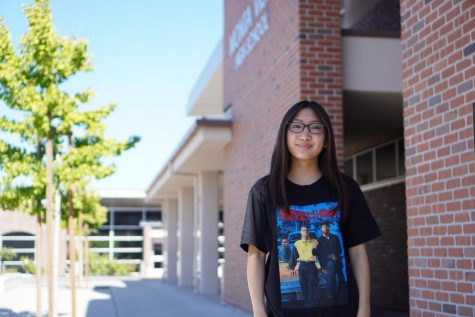 Tina Low, News Editor
Tina is currently a senior and a News Editor for El Estoque. She enjoys listening to music, reading, hanging out with friends and binging television shows to an unhealthy extent. She hopes to become a biomedical engineer in the future to follow her passion in the medical field.