MVHS Ultimate Frisbee Club welcomes new members
The re-established club aims to create a friendly setting for all skill levels
On Friday, March 29, the MVHS Ultimate Frisbee Club held its weekly meeting after school. Due to weather and scheduling conflicts, the previous two meetings were postponed. However, after careful planning and an eventual agreement between club officers, the club finally held its final meeting of the month — while welcoming new members.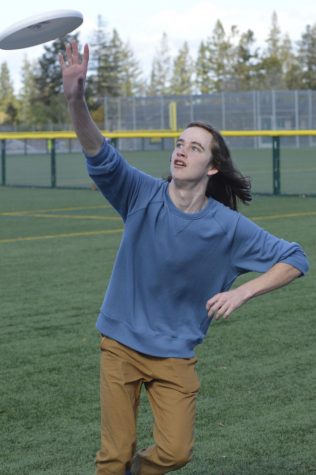 Ultimate Frisbee Club aims to promote the sport in a welcoming environment for students of all skill levels. For junior and first-time attendee Megan Johnson, she hoped to learn the sport in a friendly social setting.
"My [expectations were] just to have a good time — I don't expect it to be too overwhelming," Johnson said. "It's open to everyone, so even if you're new, they'll help you out."
The club, which is made up of roughly 20 active members at the moment, splits into two teams and plays a game until one team reaches a final score which is decided earlier. Before the game, new members are taught the rules and get the chance to practice with officers.
Although the games are recreational and open to all students, club president and junior Niko Gustafson also enjoys how Ultimate Frisbee can sometimes bring out the competitive nature in players.
"It's always awesome to see how people come out and play for hours," Gustafson said. "Sometimes, the games can become kind of competitive, but it is all in good nature."
Gustafson, who joined the club as a freshman, says the unique qualities of ultimate frisbee appealed to him the most.
"I personally love ultimate frisbee because it is unlike any sport," Gustafson said. "Of course, any sport has its own unique technique and style but frisbee is not only a non-contact sport, but also one of the most graceful sports while being able to do the same amount of running if not more."
Junior Alex Hocker agrees with Gustafson, adding that the intensive activity involved with ultimate frisbee allows him to exercise in a more enjoyable way.
"I think ultimate frisbee as a sport is very similar to soccer; it's a good way to get cardio exercise," Hocker said. "There's a lot of running around, and afterwards you feel like you got a good workout in."
Gustafson emphasizes the social aspect of ultimate frisbee and how the weekly meetings serve as a way for him to enjoy one of his favorite pastimes.
"This club is my child," Gustafson said. "I love Ultimate Frisbee and it's not really a popular sport, so this club gives me joy. There's people who come every week and play with me every week, [sharing] a special interest that I thought I only had."