Newly renovated Cupertino Teen Center reopens
Activities included table tennis, video games and food
On March 23, the Cupertino Teen Center reopened after a nearly month-long renovation that included new TV and computer installments, repainted walls and refreshed room rearrangements. The event featured free food, tabletop games like table tennis and foosball and video games like Super Smash Bros and Fortnite.
The Teen Center opened in 2004, but according to City of Cupertino recreation coordinator Daniel Mestizo, its arrangement before the renovation was not conducive to what many teenagers wanted, which was a place to relax and study. As such, all games were moved into one room and another made into the Infinity Room, a collaborative workspace that can be reserved for workshops or group study sessions. The newly reopened Teen Center also offers free printing and the ability to project content onto two screens.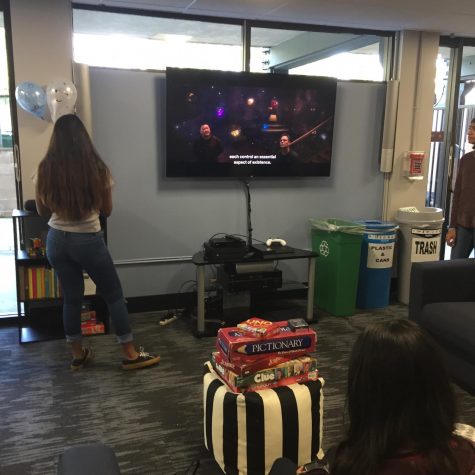 "One thing I've noticed, either through our Teen Commission or Youth Activity Board [YAB], is there's a resounding theme that teens are stressed — they're extremely anxious," Mestizo said. "So I want to try and help as much as I can. Part of that includes creating a space that they can come to relieve stress, relax, socialize and all of that stuff. That's what my goal is, to be that teen and youth advocate."

For sophomore and president of the YAB Nelson Mu, the reopening holds a special significance, as this is the first year that Cupertino has had a YAB. A staunch advocate for youth involvement in city affairs, Mu views it as a step towards increasing engagement and focusing on adding positive things to the city rather than only fixing problems.
"We always focus on the negative of teens," Mu said. "How do we help [them] do this, how do we help them do that? We focus on so much of what's negative that we don't take a little bit of time to pat ourselves on the back for what is positive. We're not thankful for what we have, and I think we want to make sure to do that."
Mu himself has been involved in city affairs since he was in eighth grade, when he participated in a city-held exhibition. He decided to join the YAB after participating in a Pizza and Politics debate even though he had no prior volunteer experience, later becoming president. He emphasizes that youth involvement is less about the skills and experience one has and more about having optimism about the city's future.
"Having this kind of reopening event, where you get to see all these new things and see new faces for the leadership of youth events in the city now, I think is a really good way of showing that," Mu said. "This is who we are, this is what we do. We hope you enjoy and work here, so make sure you have a good time."