Boys volleyball: MVHS glides past Lynbrook HS in first home game
MVHS wins in straight sets after returning from San Diego tournament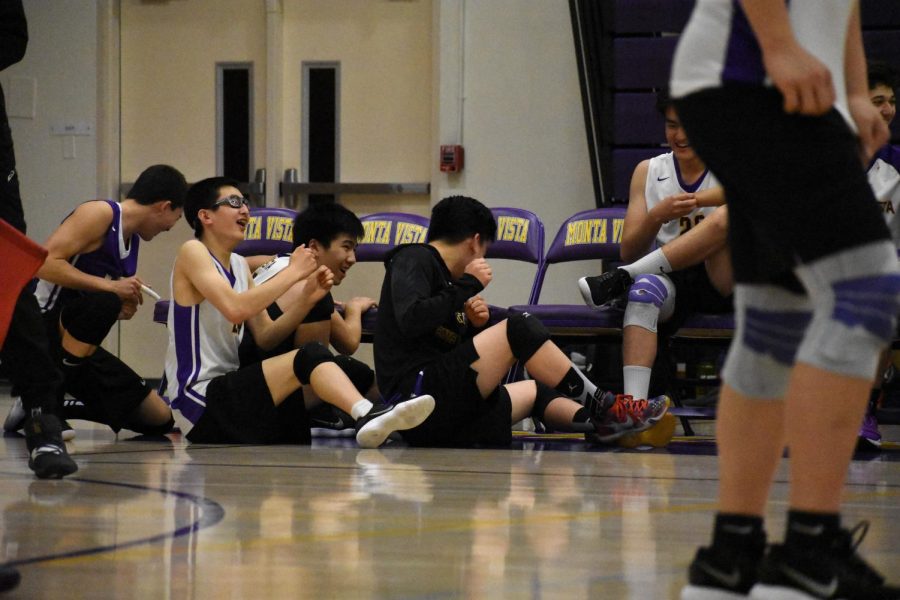 Ballerinas, snipers, rowing and baseball. These aren't actions that one would expect to see from a volleyball team's bench during a game. However, MVHS boys volleyball is not a regular team. After winning the NorCal championship last season, the team aims to repeat its achievements from last year, while also trying to maintain a relaxed attitude during each game. And it did this through choreographed celebrations from the bench.
Despite the team's success last season, MVHS did not manage to dominate in every set during its first home game against Lynbrook HS on March 13 — instead, the team unexpectedly struggled to keep more than a two-point lead throughout the game. Though they ultimately won 3-0, it wasn't quite as comfortable as the team hoped.
Prior to its game against LHS, MVHS attended a tournament in San Diego where they competed against the best teams in Southern California. After placing second in the same tournament last year, according to senior Cameron Vong, MVHS became a team that everyone else wanted to take-down. This year, the team ended up finishing 12th out of 32 teams.
"We knew going into it we had to play harder and the game we played this year was a very different game from last year. It was a little bit different of a finish than we would have liked, but it was a learning experience and going into the rest of the season we definitely have to change up our style of play to match [tough] competition," Vong said.
Senior Adarsh Pachori prepares to serve against LHS. The Matadors used serving to their advantage having numerous aces throughout the game. 
In San Diego, the team faced a different environment than what it was used to at home, according to Vong. Before the tournament, they started to incorporate cheers into its game. Vong came up with cheers based on the different plays that happened on the court as a way to have the players on the bench to be engaged with the game.
"It's more fun to watch a game when things are happening on the court, and it's more fun to be on the court when the bench is supporting you as a team rather than watching you passively," Vong said. "I wanted to get the whole bench engaged and the best way to do that was being kind of stupid but at the same time you're celebrating the success of your team."
However, in its game against LHS, the Matadors were only able to keep a narrow lead throughout the majority of the first set, winning by a score of 25-23.
"We can do a better job coming out focused," senior and captain Kevin Mathew said. "We came out a little bit flat, and they jumped on us that first set and made the game a lot closer than we thought."
The Matadors dominated the rest of the game winning the second and third set, 25-17 and 25-18, respectively. However, according to Vong, the team has to polish its play heading into the rest of the season since the competition is only going to get tougher as MVHS nears the postseason.
"We need to work on cleaning our play up as a whole," Vong said. "Our hits are hard, but they are not landing in the court, which we can just work on by practicing with our setters. That hitter setter connection is going to be really important heading into the rest of the season."
About the Writers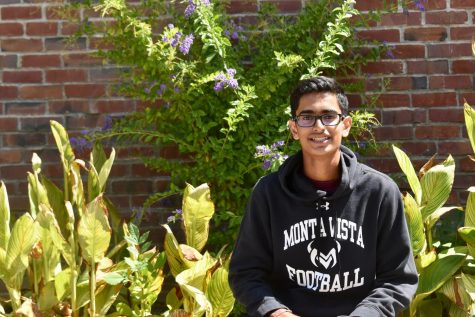 Anish Vasudevan, Co-editor-in-chief
Anish Vasudevan is currently a senior and co-editor-in-chief for El Estoque. He is a wide receiver and cornerback for the MVHS football team and enjoys playing recreational basketball with his friends. In his free time he watches ESPN and dreams of being a sports journalist someday.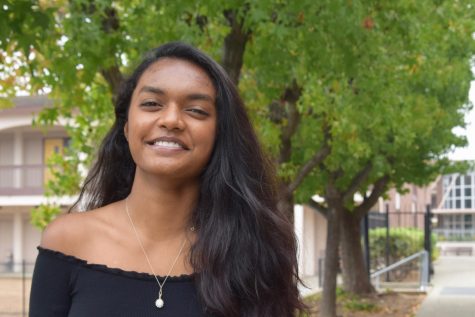 Gauri Kaushik, Managing Editor
Gauri Kaushik is a managing editor on staff and has served previously as a News editor. In her free time, she enjoys rereading Harry Potter and going to the park with her dog Jackie.