Girls softball: Team loses close game against Saratoga HS
MVHS varsity is defeated 10-9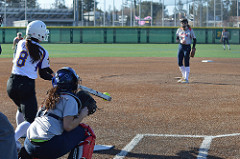 "Do softball games have a time limit?" asked a Saratoga HS parent in the bleachers.
The SHS coach replied no — stating that varsity games can go on for hours. It was the ninth inning with strong winds blowing in the faces of a small crowd of onlooking parents in the bleachers.
The parents shouted their children's names, encouraging players to score so they could bring an end to the already exhausting three hour game. By the ninth inning, teams were tied at a score of 9-9, but not long after the parents' insistence, SHS scored ending the game at 10-9 victory after their batter hit the ball.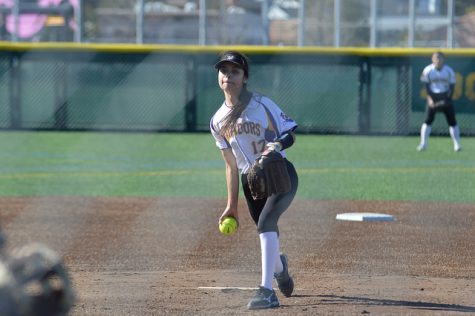 The game started off slow with both teams struggling to hit and get past first base. The pace picked up near the end of the sixth inning which started off as 5-2, MVHS in the lead, but SHS caught up — tying the score at 5-5. By the end of the sixth inning with MVHS batting, senior third baseman Irene McNelis managed to bring the score up to 7-5.
As the score stayed at 9-9 in the ninth inning with SHS up to bat, SHS spectators began to cheer louder and clap after nearly every single pitch. With their next run securing the win of the game, they encouraged their players to score one final run to end the game. At 6:55 p.m., SHS got exactly that, securing the 10-9 victory after their batter hit the ball.
Throughout the game, MVHS found it challenging to get their players on bases despite their numerous hits. Senior utility player Jacquelyn Loretto observed that the team struggled to land runs during the game's most crucial moments, wanting to work on converting hits into runs during its practices.
However, for junior shortstop Lauren Lee, this loss is still considered a triumph compared to their performance in previous games. The team had lost three games prior to the one against SHS by a greater margin without having won any games so far this season. Such a close score displayed how MVHS was beginning to play better than before, so close on the brink of winning yet losing by one run.
The team's next game is Friday, March 15 at 4 p.m.