Music in film: MV Cinema Club discusses movie composers
Officers and members gather for trivia and Hostess cupcakes
"Excuse me, cupcake coming through."
Arbitrary phrases such as this may be heard during the MV Cinema Club's meeting, along with competitive yelling about which composer curated the music for Alfred Hitchcock's "Psycho."
Vice President and sophomore Arjan Madan revealed that throughout March, Cinema Club has been focusing on scores and the composers who work on the music behind movies. The work for hosting these meetings, however, is a group effort among club officers. Cinema Club holds weekly lunch meetings on Mondays in room B211. The ideas for content and games are outlined throughout the week with all the officers' input.
"We'll text each other ideas and critique each others' ideas and eventually figure out what [material] we're going to use," Madan said.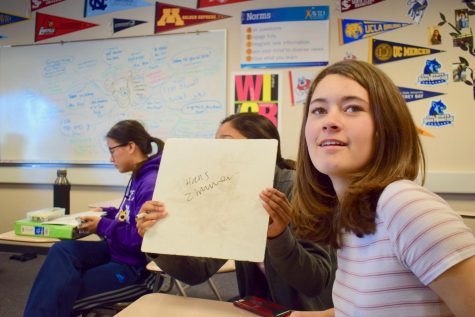 After the planning, officers get to work, making the interactive component of the meetings — trivia. At this particular meeting, the officers borrowed whiteboards from their advisor, English teacher Lynn Rose, and split the attendees into two teams, each with four members. Madan believes that activities like this are the reasons why some of their members attend.
"We have people in the meetings that are really interested in film and you also have people in meetings that just like to come and play the games," Madan said. "We think the club is a good place for both types of people."
Although sophomore Delani Franklin's team didn't win during this meeting, she is a film enthusiast. Franklin believes the club's activities have enriched her view and knowledge of movies, whereas before she hadn't paid close attention to the directors and moviemakers behind the screens.
"It's always fun to find different movies that I've never even heard of and then end up really liking them," Franklin said.
Junior Fithe Demlew is another film enthusiast, who secured the winning point for his team during the last round of trivia, when he guessed "Bernard Herrmann" for "Who scored 'Obsession'?" A regular at Cinema Club meetings, Demlew often takes home the winning title.
"I win a lot," Demlew said. "Ninety-five percent [of the time]. I lost one time in a Kahoot but I got all the questions right but the other guy was just faster. I got second place. So technically, I lost."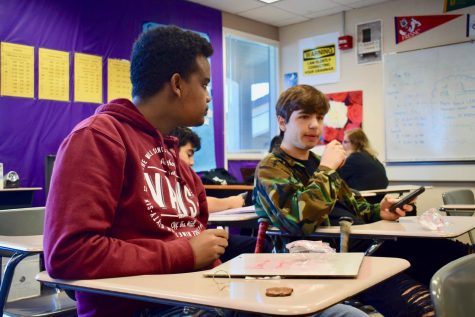 Regardless of whether members were part of the winning or losing team, everyone got to enjoy the Hostess cupcakes the officers brought. At the end of the day, Demlew believes there's no hard feelings.
"I just think [the officers] set a good environment," Demlew said. "There's no toxicity – everyone is fun and easy going [and] there's snacks."