A Different Perspective on Math
A feature on MVMSC officer Brandon Guo's passion for mathematics
For a subject that entails hundreds and thousands of concepts, mathematics can cause trouble for many students. However, for those that can appreciate the subject, it can become a hobby. Since middle school, junior Brandon Guo has embraced the beauty of the subject and has delved into its intricacies since the beginning of middle school.
Guo began exploring math and its plethora of topics at Kennedy MS. He participated in math competitions such as the Berkeley Math Tournament and joined the selective club at Kennedy Middle School, Mathcounts. There he found the beauty of the subject and the victorious feeling of solving a challenging problem.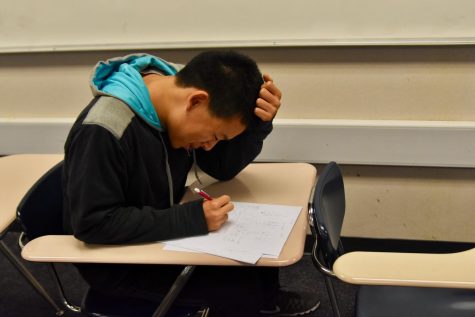 Though he has familiarized himself with a variety of topics, Guo finds number theory and statistics the most intriguing. From a mathematician's point of view, he finds the nature of number theory to be incredible.
"Number theory is really cool because it seems like there's an infinite amount of numbers but number theory deals mostly with integers," Guo said. "So when you're able to reduce the whole realm of numbers into just integers you get some really cool results and I find that very appealing."
In addition, his appreciation for statistics came when he realized its real life applicability and how it combines all the math one has learned throughout school. Guo is taking AP Statistics this year, a course that juniors do not commonly take.
"It's very interesting how all these things you learn in high school like calculus actually apply to things," Guo said. "Especially in statistics where you mold a lot of things you learn in high school together in a way that is relevant."
While competing, he has met others who enjoy doing math as well. Sophomore Parth Asawa first met Guo at a math tournament in middle school, where they become friends.
Since then Asawa and Guo have gone to multiple competitions together, working to learn and solve challenging problems. In doing this, they have created many memories.
"My favorite memory was when we were both in middle school [and] we went to the Berkeley mini math tournament together on a team with some other kids," Asawa said. "It was a lot of fun to participate in all of the different team rounds and puzzle rounds and speed rounds that they offer and we ended up placing in the speed round."
In competitions like these, Guo's admiration for math can truly be seen. Junior Andy Tang has gone to competitions with Guo since middle school and has seen his love for combinatorics (which in its most basic form concerns the math of counting) emerging in his problem solving.
"He seems to have a certain affinity for them and I am not sure why but it's easier for him to see the insight in those than others and I feel he's gotten a lot of practice with those," Tang said. "He does well and those in competitions and in number theory as well."
While some may shy away from the challenges that math poses, Guo likes to face them head on in order to experience the victorious feeling that comes from solving a challenging problem.
"Math is designed to be extremely challenging and you have these problems that are designed to challenge people and mess people up," Guo said. "When you're able to solve the problem, there is a really triumphant feeling."