Basketball: Matadors fall to Los Altos HS and Wilcox HS in aggressive back-to-back matchups
Basketball teams struggle in last home quad game of the season
Girls Basketball
The clock ticked down towards the start of the MVHS girls basketball game against Los Altos HS. With CCS closing in, the team wishes to gain some momentum before they head into the playoffs  The Matadors were also looking for redemption after being blown out against Fremont HS in their last game.
The first half started  off with a bang as junior Silpa Ajjarapu drained a three-point shot during the second possession of the game. MVHS continued to build on this lead early in the first quarter, but it was short-lived due to fouls made by MVHS as well as LAHS' strong offensive strategies. Although sophomore and point guard Kelli Kosakura drained a three pointer towards the end of the quarter, LAHS continued to maintain their lead as they were ahead 9-10 by the end of the first quarter.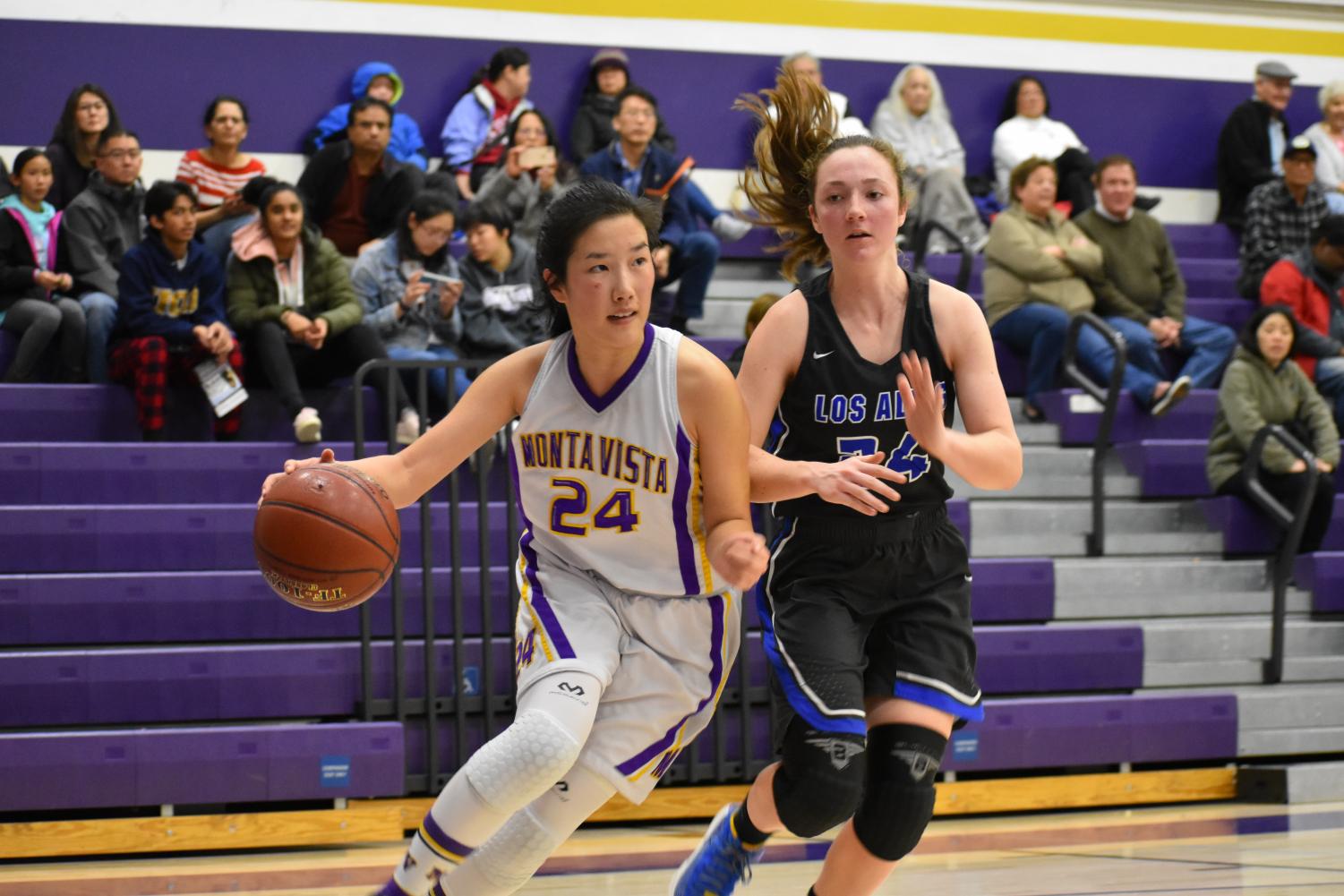 With LAHS starting the second quarter on top, MVHS was determined to gain the lead. With the Matadors running their offensive sets, they were able to  up a two-point-lead minutes in to quarter, although, LAHS quickly regained it before halftime.
Hindered by LAHS' strong offensive plays, and unable to create their own shots when necessary, MVHS failed to come back, resulting in a 27-38 loss.
Freshmen Siri Adusumilli did not have many positives to take away from her or her team's performance.
"[I am] personally frustrated with the fact that we [didn't] get rebounds [and that] we lost intensity in the middle of the game," Adusumilli said. "We had to fight hard to pick up the slack to get back to where we need to be and this game, we didn't pick up the slack so that's why we lost."
Similarly, Ajjarapu believes the team needed to take its shots at the right moments in order to secure a hold over its opponents.
"We're a pretty good shooting team," Ajjarapu said. "If you see our starting lineup, everyone can shoot the ball. It's a matter of choosing to shoot the ball."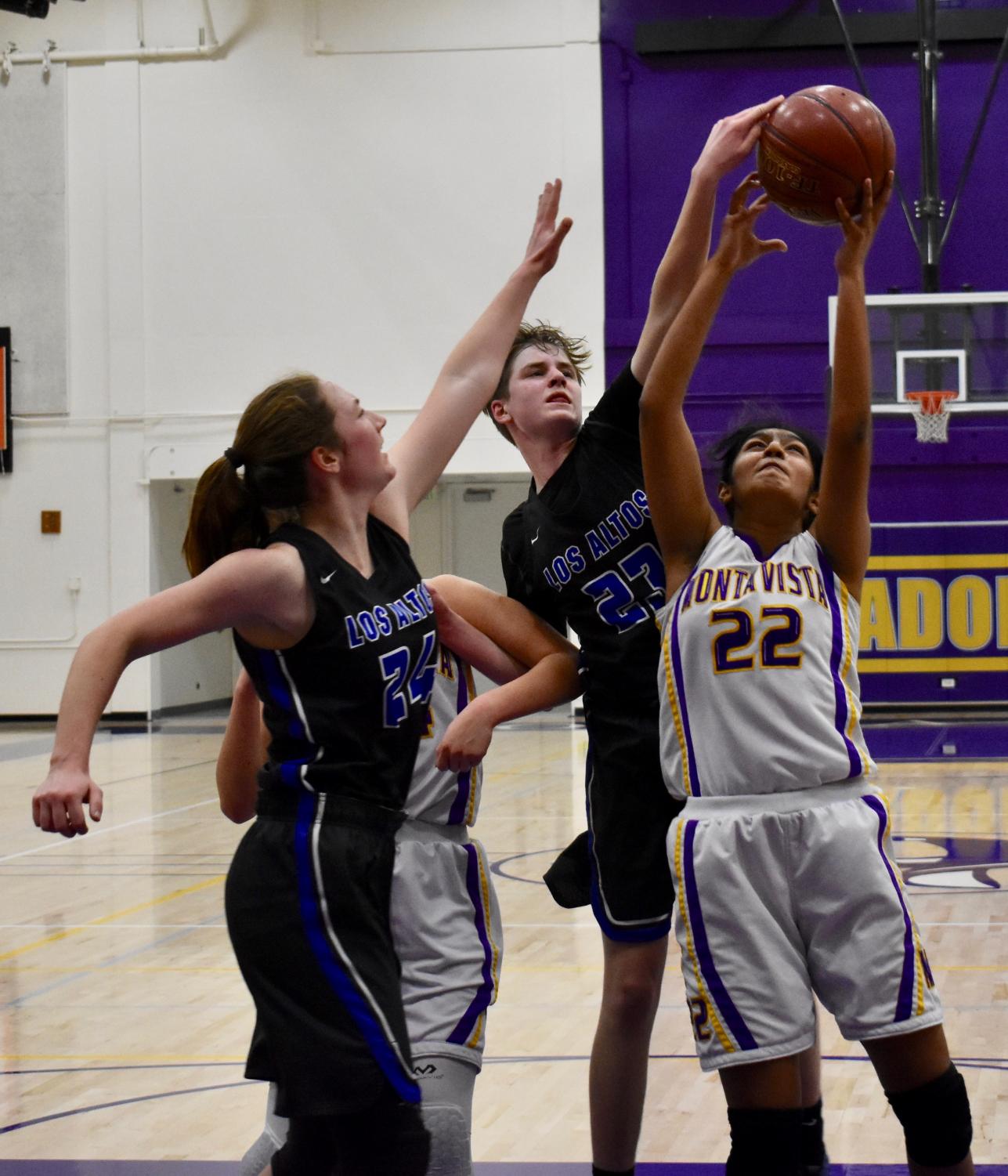 Ajjarapu explains that confidence is a recurring problem with the team and that they need to transfer what she describes as "super bubbly" energy into a more calm and collected mindset. In order for the team to achieve this, she said coach Sara Borelli incorporates meditation into its pre-game plan to help the team regain focus.
"A game is all about relaxing and being super composed, so if you have all that energy channel a certain way, then it's good and meditation helps a lot," Ajjarapu said.
However, Ajjarapu admits that there is still a long way for the players to go if they wish to make it far into the playoffs, as the team has qualified for CCS. She discussed how typically, this late into the season, a CCS-bound squad should be firing on all cylinders and playing its best basketball. The team simply wishes to string some wins together and have the team at their best going into CCS.
Boys Basketball
Senior Josiah Figueroa squatted down, taking a defensive stance as he stared at the opposing player and anticipated his next move. As the Wilcox HS player drove hard to the basket, Figueroa stayed in front of him. Students crowded in the stands watched the play unfold. The WHS player went in for a layup and a whistle sounded immediately. The shrill sound caused students to jump up from their seats — yelling and booing at the referee.
This was a recurring event throughout the entire game. On Feb. 1, MVHS faced off against WHS in a game filled with fouls and aggressive play. The Matadors were determined to win in front of their home crowd after defeating Lynbrook HS in a thriller at home the week before.
MVHS held a strong lead throughout most of the game, but in the second half their intensity started to die down, leading to an eventual 47-55 loss.
Heading into the game, the Matadors had studied the tendencies of the undefeated WHS team, knowing that they ran a press defense, which would cause the Matadors to play at a quicker pace. To combat this, MVHS practiced in high-pressure situations at practice to prepare.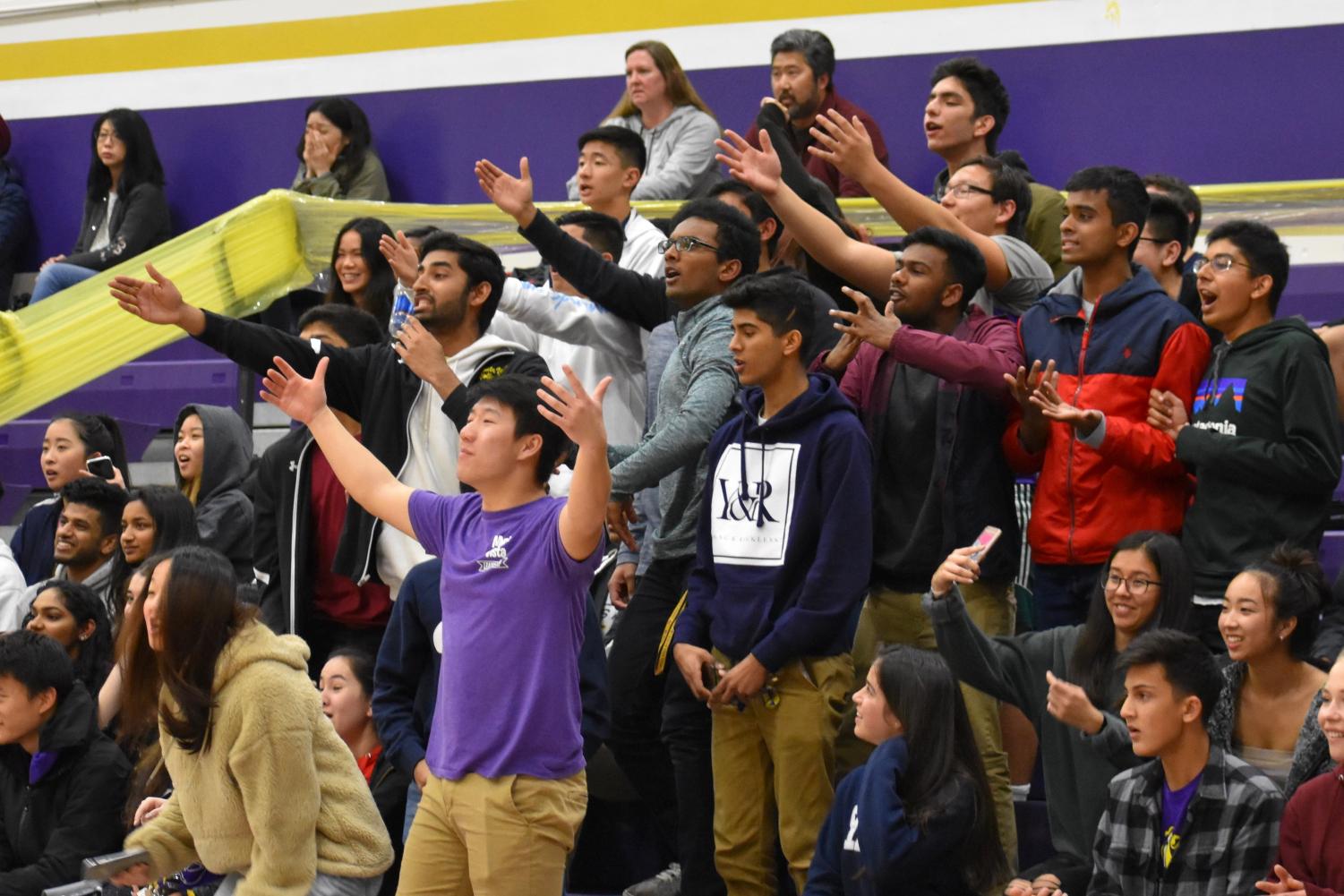 "We ran six players vs. five players drills during practice to make it harder for us and that we would already be ready [for the press defense]," Figueroa said. "We were ready, but we got tired towards the end and were unable to keep that same energy."
The first quarter was filled with constant back and forth action with numerous uncontested shots made by both sides. However, during the second quarter, the Matadors played exceptional defense against the sheer length of the WHS team. According to senior Akshay Gopalakrishnan, this defensive success was due to better communication within the team.
"We gave up two points that whole quarter and we had so much energy during that quarter," Gopalkrishnan said. "We were communicating a lot, we had a lot of energy and we really got into their heads at that point. I feel like if we had played like that the whole game we could be the best team in the league."
The Matadors headed into halftime with an eight-point lead, hoping to run up the score in the second half. However, according to Gopalakrishnan, they lost their poise in the third quarter and WHS was able to close down their lead and take advantage of the subpar basketball the Matadors were playing.
"[We had a lot of] turnovers and rushed shots, especially I know I rushed a lot of shots that I could have passed on especially at the end," Gopalkrishnan said. "Their full court press got to us in the second half, and we were making a lot of rushed mistakes."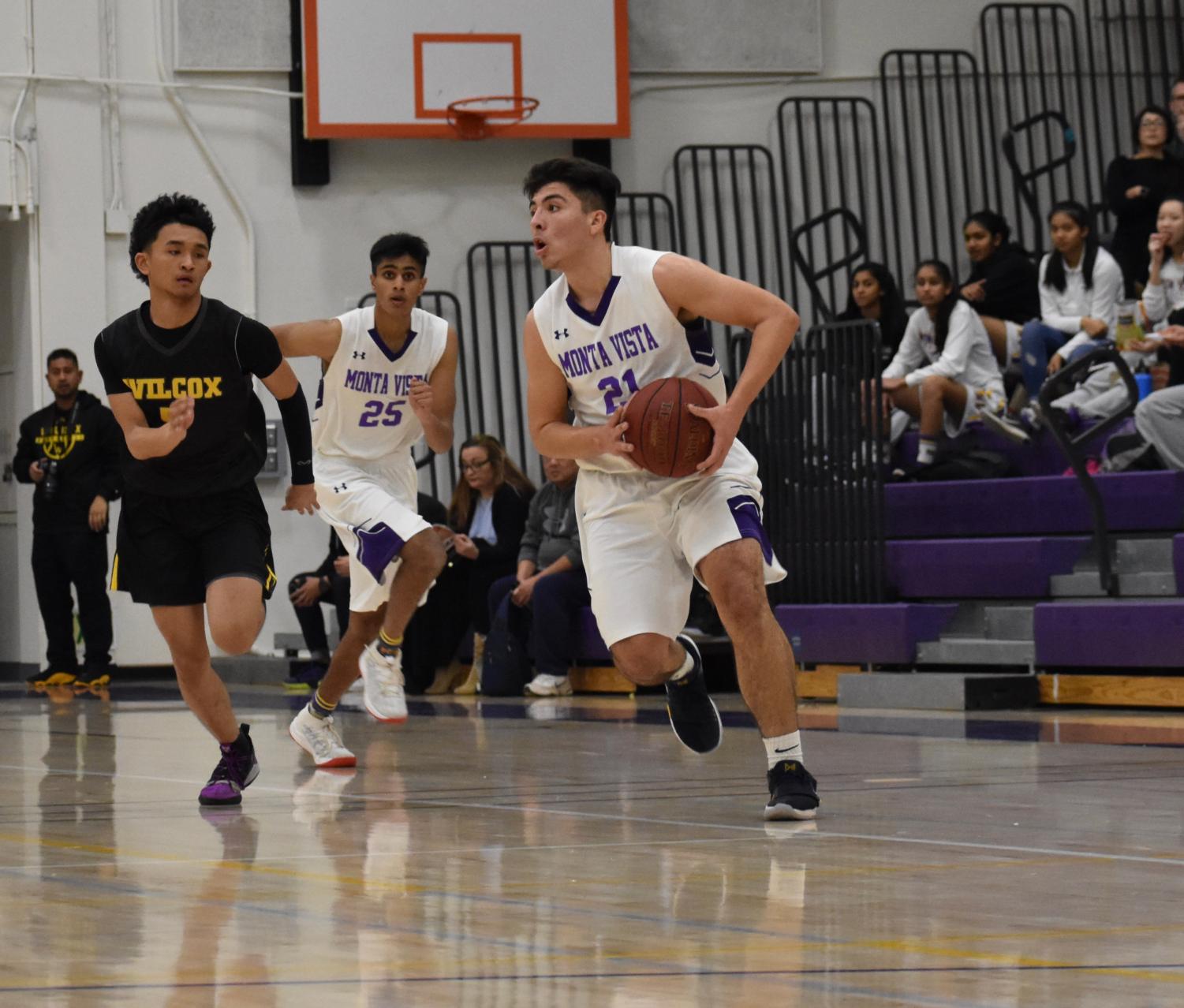 Defensively, MVHS was unable to stop the strong WHS offense and according to Gopalkrishnan, the team lost the effective communication that had helped them throughout the first half. In the fourth quarter, WHS was able to secure a lead which they did not let go of for the rest of the game.
However, hopes for qualifying for CCS are still alive and Gopalkrishnan is optimistic.
"I think we can make CCS honestly – we got a lot of seniors," Gopalkrishnan said. "I've been playing with most of these guys since fourth or fifth grade, and we don't want it to end now because we've been through a journey together, and CCS would really validate all the hard work we've done."
About the Writers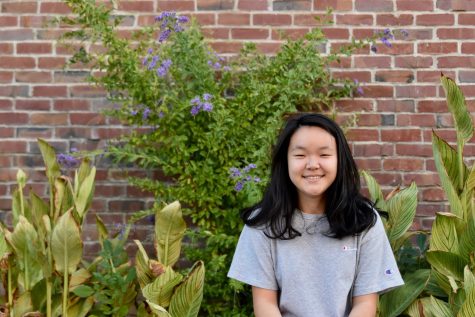 Justine Ha, Sports Editor
Justine Ha is currently a junior and the sports and visuals editor for El Estoque. She enjoys having a good cup of coffee, watching movies, and hanging out with friends while being the designated photographer.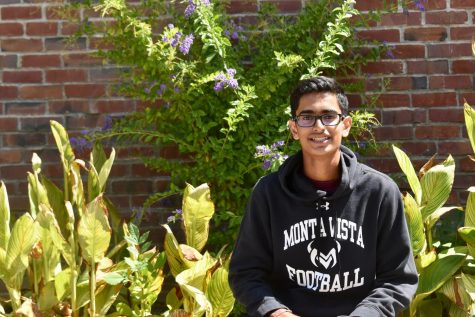 Anish Vasudevan, Co-editor-in-chief
Anish Vasudevan is currently a senior and co-editor-in-chief for El Estoque. He is a wide receiver and cornerback for the MVHS football team and enjoys playing recreational basketball with his friends. In his free time he watches ESPN and dreams of being a sports journalist someday.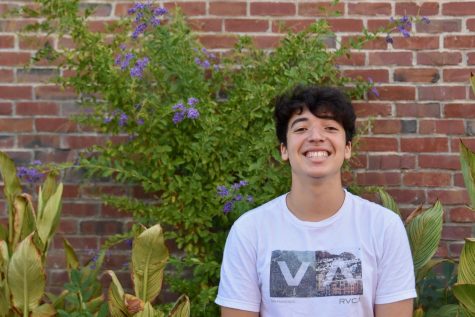 Kamyar Moradi, Staff Writer
Kamyar is currently a senior staff writer for El Estoque. In his free time he loves to spend time with his friends and family, talk about sports to whoever is willing to listen and enjoy music from the best rapper alive, Montana of 300.