Cupertino mayor proposes solutions for common city problems
Scharf addresses traffic, library organization in State of the City address
Video courtesy of City of Cupertino
On Jan. 30, new Cupertino Mayor Steven Scharf took to the podium at the Quinlan Community Center to deliver the annual State of the City (SOTC) address, when the current mayor informs residents and city officials alike on current and future city projects for the year. This SOTC differed from those in the past in that there were two presentations the same day: a luncheon and a night presentation.
After a brief introduction where Scharf mentioned wanting to improve City Council meetings, citing examples of ones that had run into early hours of the morning, he spoke about a complaint he had received from an eighth grader at Kennedy MS about the traffic around Hyannisport Dr. and Fort Baker St. Both MVHS and KMS students are dropped off on these streets because of their proximity to the schools. He displayed photos that showed cars forming two lanes on Hyannisport Dr. on a single lane, with bikers being forced to travel across crosswalks instead. Other traffic problems included serial red light running, blocking intersections, parking in bicycle lanes and crosswalk violations.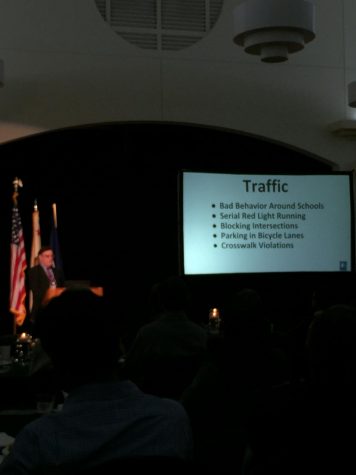 Following a short spiel about the traffic in the area, Scharf then discussed his plans for development reform. He stated that he wanted to clean up the process through which general plans are created so that developers must abide by certain objective standards like building height. Such a sentiment has frequently been echoed by supporters of political action group Better Cupertino, which Scharf is also a part of.
He also addressed common complaints from residents that the Cupertino Library is often crowded, and expressed his pet peeve of for-profit private tutors occupying tables and forcing some students to study on the stairs. Other complaints around the library included its lack of a dedicated multi-use program or meeting room, insufficient parking and frequent bike theft near the building.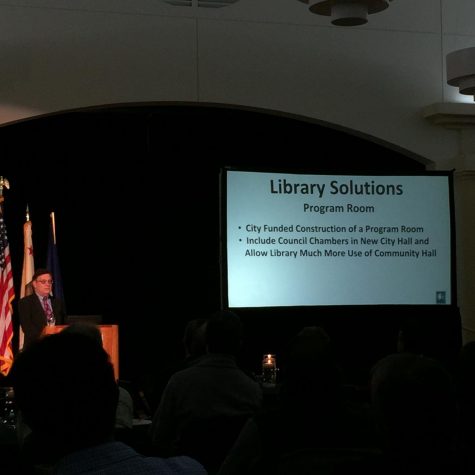 To address these problems in the library, Scharf proposed a couple of solutions: increasing the hours during which parking is available, installing secure bicycle parking, completing protected bike lanes and trails leading up to the library and prohibiting for-profit use of the library, though Scharf said the last solution would ultimately be for Santa Clara County Library to decide rather than the city itself.
In the way of public works, Scharf said that Cupertino is making good progress, especially for bikers as the 2016 Bicycle Plan moves forward. As part of this plan, the Junipero Serra and Regnart Creek trails are in progress. For MVHS students who bike, this could mean a safer ride around town.