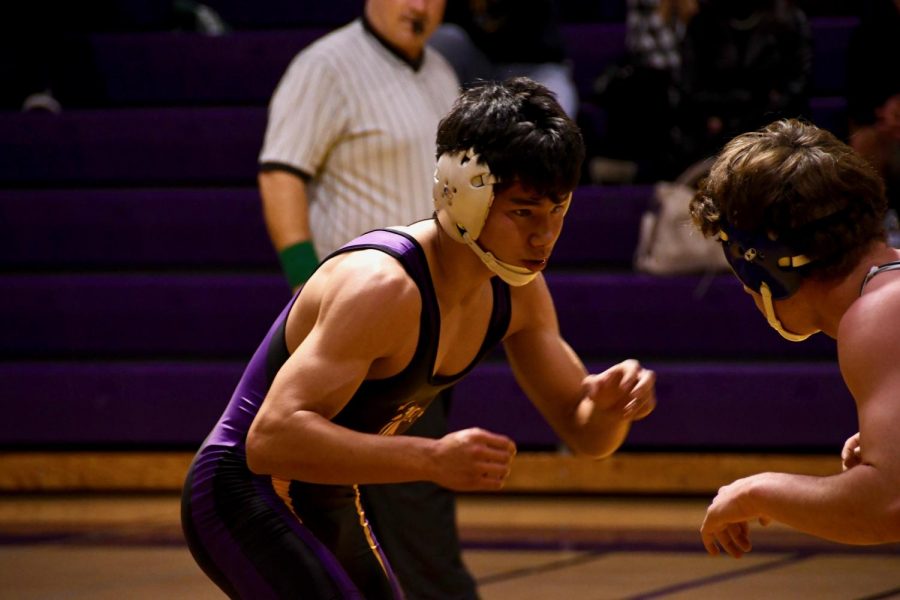 Behind the scenes: MVHS Wrestling
PRACTICE
The sound of rap music blared from inside the MVHS wrestling room, where athletes were getting warmed up for their joint practice with Homestead HS. While HHS would be the team's practice partners for the day, the Matadors were focused on their upcoming meet against Palo Alto HS, who would be coming to campus in two days.
Assistant coach Andrew Pappas described the joint practice as a change of pace that was needed for the team.
"[Homestead HS] came in, so it was really nice for us," Pappas said. "We have a kind of a small team. As the season goes on, we get tired of wrestling each other, so it's good to get it mixed in."
Practice began with a series of warmups led by captains from each team, which included standard exercises likes pushups, situps and jogging. However, as the team got deeper into practice, the coaches ran conditioning activities like bear crawls and running with weights.
The MVHS and HHS wrestling teams began practice with basic exercises, like pushups and situps.
After conditioning, the team entered the technical phase of practice which included a significant emphasis on situational wrestling. Each athlete was instructed to find a partner, and then worked on a variety of scenarios they might find themselves in at a meet.
Although wrestling requires a lot of physical practice and conditioning, it is still a mentally stimulating sport that requires adamant film study, says Pappas.
"I want us to watch film," Pappas said. "But I don't want to watch some like super high created highlights of moves and go, 'Hey, I want to do this right now.' That's something we need to do during the week, that's what we do on a Monday, and then gradually we can try it on Thursday."
HHS wrestlers practice escaping holds.
For the rest of practice, Pappas and the other coaches drilled the team on multiple stances and positions so that they wouldn't be caught off guard. Despite maintaining a high level of intensity, the coaching staff was careful not to overwork the team.
"Preparation wise, what we like to do is go easy Monday, like just getting you back," Pappas said. "We can start getting moves in. We do our basics, take downs. Everything else. Tuesday, Wednesday we started picking up a little bit just so we're ready for today and everything. So you build up to Thursday. We don't really want to go hard all week. We start slow and then build up."
MVHS coach Cesar Argont encourages one of his wrestlers to continue with his abdominal exercise.
GAMEDAY
After a week of practice, which included a heavy emphasis on technique and foundations, the MVHS wrestling team hosted Palo Alto HS in its second meet of the year.
Senior Satoshi Ueda described the week of practice heading into the day of the meet as rigorous.
"We were just more strict on drilling moves over and over again, because this past week we had more of a open practice where we would drill our own techniques and we would do what we felt we needed to do, which I think a lot of us started slacking off then — because the coaches weren't watching us as much," Ueda said. "So this week the coaches were leading the practice and we were doing every move as they watch us so we [couldn't] slack off.
Senior Peter Heydinger defends a takedown attempt.
Despite having a tougher week of practice, Ueda admitted that he wasn't prepared for the matchup — which he lost by technical submission.
"I was pretty nervous and didn't think we would do well as a team and individually because from the past years Palo Alto HS has gotten really good," Ueda said. "And our team, we just moved up in the league to a higher division, so I already knew the teams were going to be harder this year."
Pappas emphasizes that a lack of fundamental wrestling led to the team's overall loss.
"We did okay – our season started slow," Pappas said. "But [what] we need to work on is we rely too much on trying to do big moves. It's really just basics and that's what Palo Alto did on us. They just did basic moves and we didn't defend them."
Assistant coach Andrew Pappas looks on as sophomore Ryan Bullard struggles to recover from a hold.
Even with the loss, Pappas is confident that the team will be in better shape for the second half of the season.
"We have eight seniors this year, so the goal for me is just to work them and make sure that they are going to peak at the right time, peak at leagues," Pappas said. "I'm not necessarily looking for a bunch of wins right now. I want to wrestle well and so then by leagues will be beating everybody, we'll get in CCS."
Additional reporting by Herman Saini