Back from Mount Vernon
Mount Vernon teacher fellow Bonnie Belshe publishes her own curriculum
On Dec. 11, 2018, social studies department lead Bonnie Belshe successfully published a five-part lesson plan on the George Washington's Mount Vernon website after a year of research and months of editing.
During her stay at Mount Vernon, Belshe and a total of eight other teacher fellows lived in a house built specifically for people who were selected to be a part of the Life Guard Teacher Fellow program. In addition to having her own bedroom, Belshe also received a working office in the Mount Vernon library, where she would be conducting research and writing the lesson plans.
Belshe noticed that teachers often times neglect women's history due to the lack of time in their scheduled curriculum. So Belshe decided to spend the first summer in Mount Vernon library gathering information for her lesson plans, aiming to highlight women's history.  
"I wanted to create short lessons that can be done anywhere from 20 to 40 minutes," Belshe said. "So any teacher could feel like, 'oh, I can find 20 minutes to put in women's history.' So I had five major themes looking at those, write it up and then it goes from there."
With her goal in mind, Belshe began studying women's history through the lens of Martha Washington during America's colonial period, using the former First Lady as a case study.
Throughout the summer of 2017, Belshe developed ideas, wrote historical backgrounds and figured out what she hopes students will take away from her finalized lesson plans and how she would eventually present her lesson plans to the other teachers.
After devoting one year to researching, Belshe was ready to go through the editing stage in 2018. According to Belshe, the first formatted lesson plans were sent to the first round of edits in July, and were returned to her in August, while the second round of edits was sent to historian Mary Thompson, who then returned her curriculum in November. Combining the researching and editing process, the process took one and a half years to publish, and to Belshe, this experience was not like any that she had been involved in before.
"Every summer I do different summer programs [and] summer seminars, [but] this one I really liked because it was different than the others," Belshe said. "This one is focused on doing your own research and you get the support at Mount Vernon and the George Washington library Institute to do it. You [have] access to all of their primary sources, all of their secondary sources, the historical monographs and library. You get access to everyone who works at Mount Vernon, [including] their researchers, archaeologists [and] interpreters."
While the final publishing of the curriculum was an exciting and satisfying moment for Belshe, she recalled the primary challenge during the process of writing the lesson plans.
"Anytime I found myself starting to get a little tired, a little distracted, I would get up and take a walk," Belshe said. "And literally walk around the buildings and land that Martha Washington was walking around it. And so [what] really helped with inspiration is that sense of place."
Principal Ben Clausnitzer, who has written several summer program recommendation letters for Belshe before, notes the proactivity and dedication in her decision to apply for the Mount Vernon Teacher Fellowship.
"What I would say about Ms. Belshe is that she loves to learn," Clausnitzer says. "She is someone, as an educator, who embraces the idea of a lifelong learner."
According to Clausnitzer, he learns from Belshe whenever she attends a program. For instance, Belshe, who was given the National History Teacher Award in 2014 by the Gilder Lehrman Institute of American History, would bring back small exhibits to place in the MVHS library.
Clausnitzer also believes that Belshe is an example of an influential leader. He points out that Belshe, who is the social science department lead, Team America PLC lead and the Fremont Education Association site president, is also dedicated to serving as a master teacher for university students who want to work in education.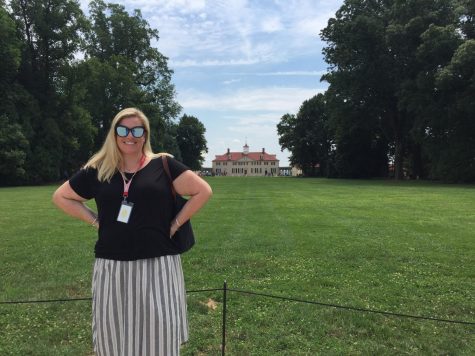 Belshe's student teacher this year, Brittany Rodriguez, was aware of Belshe's participation in the 2017-2018 Mount Vernon fellowship, so the published curriculum did not come at a surprise to her. As her master teacher, Belshe often gives Rodriguez extensive resources beyond classroom materials, such as summer program opportunities.
"She shows me this giant list of all the things that she's done as a teacher," Rodriguez said. "And just inspires me to also want to go and do those things."
Rodriguez, who went to Santa Clara University for her masters and teaching credentials, felt that having Belshe as a master teacher not only makes her feel prepared for her first year of credentialed teaching in the future, but also inspired her to continue learning as an educator. 
"I just feel super lucky that I got paired with Ms. Belshe because I know there's so many other options that could have been out there for me that could have been [been] nowhere near this," Rodriguez said. "I feel so prepared going into my first year teaching. If I were to teach U.S. history, I'm like, I got it. I'm there. You know, I'm not worried at all. I'm just super happy."
Even Belshe herself felt inspired by her attendance at Mount Vernon and strives to discover other similar opportunities.  
"[I feel] lucky [that] I was [able] to have the time and support to do this kind of research," Belshe said.  "And this actually inspired me to try and find other fellowships."