Cheer coach makes unprecedented exit from MVHS team
Due to complications, coach suddenly quits the team
Editor's note: All names starting with a C are pseudonyms generated in order to protect the identity and anonymity of the sources. Assistant principal Mike White declined to comment on the situation, preferring to respect the coach's personal life.
On Jan.14, 2019, the MVHS cheer team gathered for a meeting, eagerly waiting for their coach to arrive. They were instead greeted by athletic director Nick Bonacorsi and assistant principal Mike White, who brought unpleasant news — their coach was quitting.
"[When we heard the news,] everyone was in shock, including the captains," Cece said. "She just left. She didn't really tell us anything and she didn't even want to show up to the meeting. We felt betrayed."
When Callie first heard the news, she couldn't comprehend the situation. She knew that her coach had recently given birth and was struggling to balance her work and personal life. While she was initially shocked, Callie was partly relieved for her coach to have more time to focus on her newborn.
"In the summer, she just had a baby so she got pretty busy and I'm sure that her personal life is really stressful too," Callie said. "She kept skipping practices a lot. She kept it cancelling during sixth and seventh, and after a while it just got a little too much."
Due to the lack of practice, the team has not attended any competitions, despite having spent nearly 2,000 dollars per person. Callie adds that the team was not even prepared to attend competitions because they had not properly rehearsed new choreography. This prompted team members and parents to alert the school administration about the current circumstances and try to figure out a solution to the pressing problem.
"A lot of members emailed [athletic director] Nick Bonacorsi and he [alerted] the admin about the problem that she's been flaking out on practice a lot," Callie said. "We already paid for a lot of stuff like competitions, nationals and choreography. We never really got to go to competitions because of the lack of practice and I'm sure that the entire team was willing to put in a lot of effort, a lot of dedication, into the entire routine."
Both Cece and Callie were disappointed as the team had spent most of its practices, preparing sideline cheers for football and basketball games. The absence of their coach left the athletes with little time to focus on future competitions, which diminished its chances for qualifying for the National High School Cheerleading Competition, which they are normally eligible for.
"We were doing sideline stuff and that took too much time out of our competition routine and we weren't able to practice as much as we hoped," Cece said. "The coach felt like we weren't prepared enough to actually compete. She cancelled all of our competitions so it didn't allow us to qualify [for Nationals]."
The team is currently looking for a new coach to help them train and according to Callie, are making the best of their situation by constantly practicing and rehearsing new routines.
"The captains are either trying to find someone who has cheer experience or worst case scenario someone from the staff just keeps an eye on us, making sure that no one gets hurt," Callie said. "I guess we're just on our own for now."
About the Writer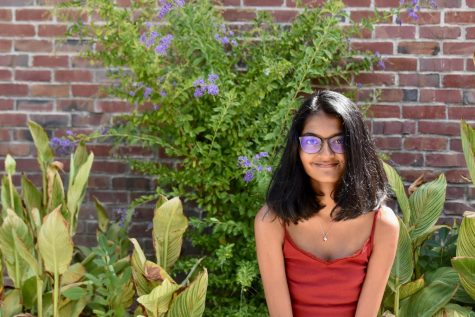 Sreya Kumar, Opinion Editor
Sreya Kumar is currently a third year staff writer and opinion editor. She was previously sports editor and enjoys traveling the world, watching choreography videos and taking photos.