Girls soccer: MVHS loses in tight match against Milpitas HS
Matadors fall in rough game by a score of 2-1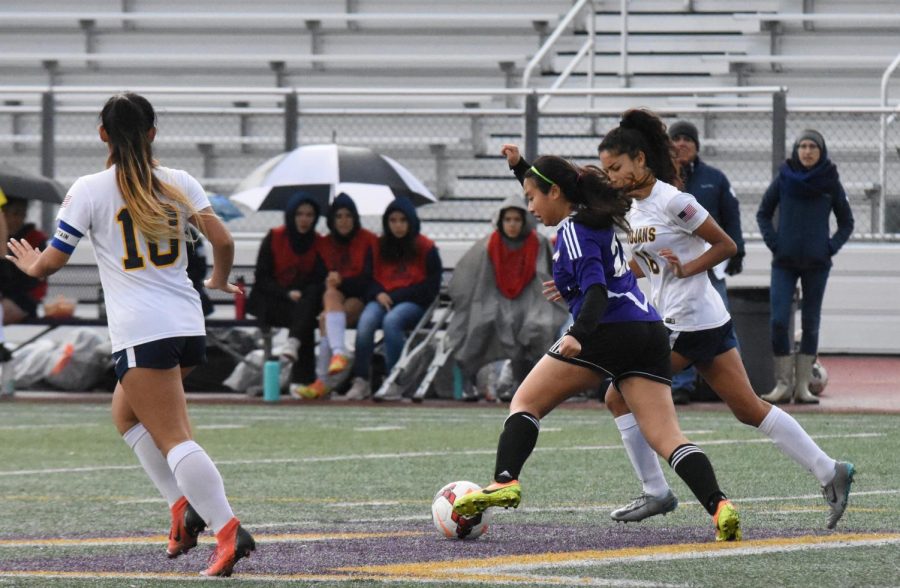 With a constant downpour in the first half, one would expect the weather conditions to result in a slow-paced game. However, that was not the case when the MVHS girls soccer team faced Milpitas HS on Friday, Jan. 11. Despite the unfavorable conditions, the Matadors played a tough game filled with numerous scuffles and fouls, ultimately losing 2-1.
The Matadors struck early in the first half after sophomore forward Skylar Ploshay dribbled through the opposing defense and hammered a shot at the goal, which was blocked by the MHS Trojan's goalkeeper. Sophomore Hana Foster pounced on the rebound to give MVHS a lead of 1-0.
Ploshay explained that the team's early success was because MHS was not as fast of a team compared to MVHS. Ploshay felt that the team was able to run up and down the sidelines efficiently, a strength that she feels not many teams have.
"[We were good at] getting it through the defensive line, getting it to our wings or one of our forwards and taking them down the sideline," Ploshay said. "And we are pretty fast generally, we could pass around them."
However, this lead did not last long as MHS scored after a period of back and forth play. Throughout the first half, the Matadors pushed the ball on the offensive side through the MHS defense, but were unable to score because of intercepted passes near the goal. Ploshay explained that the team's struggles in the end of the opening half were due to lack of direct communication.
"[We need to work on] calling names and where you want the ball not necessarily saying 'here here' or 'find space,'" Ploshay said. "We need to narrow it down to a person and exactly where they want the ball so they that is definitely communication we need to work on."
The second half began with MHS striking quickly, scoring on a chipped shot from 15 yards out. Senior goalkeeper Heather Migdal, who substituted in for sophomore Kira Israni at halftime, leaped up for the save but was unable to get to it, giving the opposition a lead of 2-1.
In the middle of the second half, MVHS started gaining more possession due to numerous defensive stops at midfield. The Matadors launched a final offensive surge in the game, but were still unable to score. However, junior midfielder Jaimie Chan explains that even though the team ultimately lost, they won the mental game by not getting phased when they were down.
"As a team, we did a good job of not being sad after they scored on us," Chan said. "There have been games in the past where we gave up when we were down a couple goals. I think in this game we at least tried the whole way through and we even had a push at the end."
Similar to Ploshay, Chan explains that the team needs to improve on communication going forward, in order to prevent mistakes and misjudgment between players on the team.
"[We have to] be on the same page with each other because sometimes we are not connecting," Chan said. "There are times when people are trying something new and others don't really know what is happening and that's something that [we need to change]."
About the Writers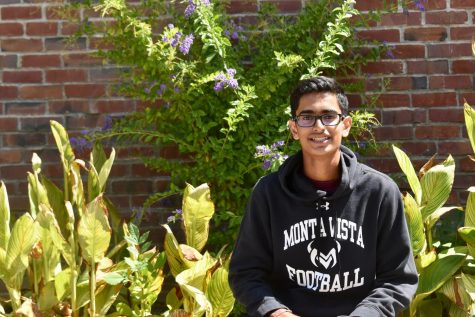 Anish Vasudevan, Co-editor-in-chief
Anish Vasudevan is currently a senior and co-editor-in-chief for El Estoque. He is a wide receiver and cornerback for the MVHS football team and enjoys playing recreational basketball with his friends. In his free time he watches ESPN and dreams of being a sports journalist someday.
Rajas Habbu, Sports Editor and Visuals Editor
Rajas is a second year staff writer and a current visuals and sports editor. In his free time, he enjoys playing volleyball both in school and in a competitive club. He also enjoys neuroscience and wishes to pursue a career in medicine. He also enjoys reading books and spending time with friends.