Odd beginnings: DJ Patil visits hometown of Cupertino
Peculiar high school experiences at MVHS shaped former U.S. Chief Data Scientist DJ Patil
Only two people have ever skateboarded in the White House: Tony Hawk and DJ Patil. Although Patil often skateboarded down Pennsylvania Avenue with gusto, he walks into the Quinlan Community Center with composure. His casual attire reminds the crowd that he is one of them. He places his metallic briefcase on the ground and begins to greet the hosts and prepare for his presentation titled "Let's talk education: DJ Patil."
Dhanurjay "DJ" Patil was appointed by former President Barack Obama as the first U.S. Chief Data Scientist in Feb. 2015. His task was to apply data science to sectors of healthcare, genomics and cancer research. His tenure ended when the Obama administration left the White House and he has since worked at Devoted Health, a medicare insurance company. Working for the Obama administration was not Patil's first job at the White House. After 9/11, Patil went into federal service under the George W. Bush administration and worked to identify external threats.
Patil grew up in Cupertino in a lower middle class family of Indian immigrants, attending Regnart Elementary School, Kennedy Middle School and then graduating from MVHS in 1992. On Nov. 17, he returned to Cupertino to speak about his journey from almost failing high school to being briefed in the situation room alongside the country's most prominent leaders.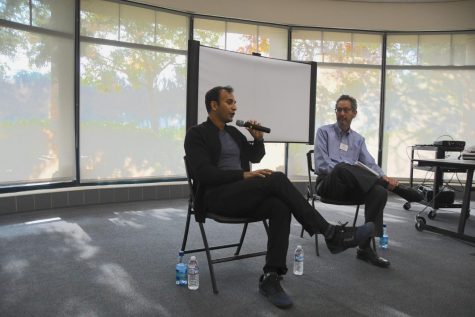 MATADOR DAYS
Patil attended high school during the early days of Silicon Valley. In his speech, he referred to his father as "one of the grandfathers" of Silicon Valley. Throughout high school, Patil mainly focused on social responsibility. He tried to find solutions to the seemingly trivial problems he faced in everyday life. He remembers walking home with a cardboard box of pipettes and ring stands, and thinking, "What the hell am I going to do with this?"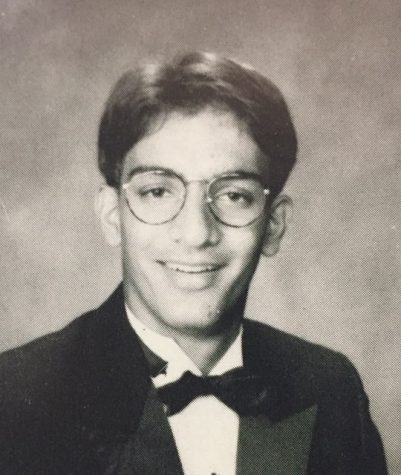 Patil's physics teacher Barbara Minetti gave this to him with no instructions, except to return it to her by the end of the year. Patil thought about what he could do with the equipment — and his eyes found his camera. As a photographer for both El Estoque and El Valedor in high school, he spent many hours following subjects and developing his photos using a single-lens reflex camera (SLR). SLRs were invented in 1975, and when Patil was using them in high school in the late 80s, they were still tedious to use. The top ISO was 1600 and the fastest shutter speed was a thousandth of a second. He recalls that the only way to capture a water drop falling was to be in a pitch-black room and have the flash go off at the exact moment the drop hit the surface.
With the help of his box of physics materials, Patil decided to rewire the flash, so that he would be able to capture a drop of water without these preexisting complications. Looking back, he believes that what Minetti did was one of the most influential things that a teacher could have done for him.
"She had the insight to be like, 'I don't know what to do with this kid, so why don't I just give him the equipment to allow him to be really interesting,'" Patil said.
Patil had an unconventional high school experience. When asked how he would describe his high school self, Patil hesitantly offered a slew of phrases: figuring it out, odd, nonlinear. Finally, he settled on the word: "quixotic." Originating from the Spanish folklore Don Quixote, "quixotic" means 'foolishly impractical especially in the pursuit of ideals' (Merriam-webster.com).
"I felt a lot of pressure – absolutely," Patil said. "I think what I did though was I opted out of the traditional measuring stick."
The MVHS competition culture and academic pressure was prevalent when Patil was in high school. The expectations for students to be accepted into prestigious universities was undeniable, as was the pressure enroll in an AP class. Unlike today, Patil had to test into the AP classes he wanted to take. One of the few classes he ended up qualifying for was AP U.S. History. Patil recalls the valuable lessons about how to think about the government and ideas from history he learned while taking the class, as well as their importance later on.
"If one day you said to me 'these lessons are going to critically important because one day you're going to be at the White House,' I would have [said] 'whatever,'" Patil said. "But those small things are big."
THE WHITE HOUSE
As the Chief Data Scientist in the White House, he focused on gun violence issues, particularly officer-involved shootings such as Ferguson. He was in touch with the Chief of Police and Texas officials five days after five police officers were killed in the 2016 Dallas police brutality protest, in what he describes as "one of the most intense meetings between officers, police chiefs, civic activists, mayors and the White House."
Many times, making decisions was not easy and came at a cost. Patil had seen a lot of travesties while working in the White House, and felt a lot of uncertainty when he had to make decisions to help mend a divided nation.
"It's very tough when you watch a country starting to come apart," Patil said. "By the time a decision gets to the White House, there's no good answer. [However] there is a way to figure out, how do you carry the country forward to a better answer?"
In one meeting to discuss policing and criminal justice, Patil sat with a number of police chiefs and the Black Lives Matter team in the Cordell Hall room. He began the meeting by talking about the history of the room – Cordell Hall, the Secretary of State at the end of World War II, and the courage it required to move forward with the Marshall Plan, a deeply unpopular plan at the time. When it comes down to it, Patil says, everyone wants the basic same things and rather than looking at their differences, they can make great progress when they look at their commonalities and figure out what they can collectively accomplish.
"If you're sitting around that table and you're sitting in the same chairs, what's your commitment to the country and are we doing the maximum thing we can to make this world a better place for our kids and our kids' kids?" Patil said.
This meeting was where Patil, along with police chiefs and the Black Lives Matter team, instituted reforms on policing as well as criminal justice that cover more than 94 million Americans today.
EPILOGUE
Patil is now in a Facebook group with everyone he went to MVHS with. He can barely recognize anyone because no one looks the same as they did in high school, but he feels happy that everyone found their passion in life.
"The most amazing thing about it is the people who were looked down upon [in high school]… they all have cool stuff that they've done," Patil said. "They all have exciting, interesting lives and it's just so awesome to see them have blossomed into something cool."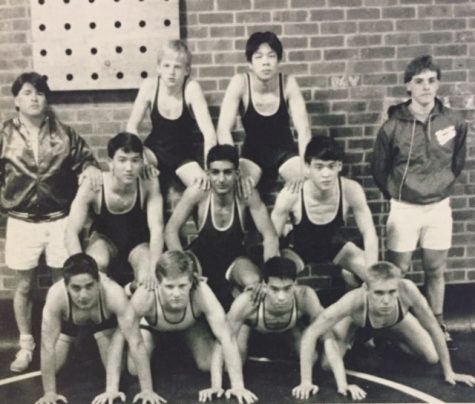 In high school, Patil chose not to worry about fitting into a certain mold but spent time finding out who he wanted to be. He was on the diving, swimming and wrestling team, and created a petition to start an MVHS boys volleyball team.
"We learn a lot about who we are through sports," Patil said. "The two pieces of advice I tell people is always be in excellent physical shape and be in excellent mental shape."
Patil also encourages students to notice their surroundings and be appreciative of what they have. Patil would often take long walks to help him think, or lie on the bleachers by the football field and stare at the blue sky.
"Sometimes you just have to take it a little step back and appreciate what we have. Just listen and be in the moment," Patil said. "High school should not be painful. Find your tribe."
When told about MVHS' gun control walkout in March 2018, he was satisfied. During his time in the White House, his colleague was responsible for calling the parents of every child killed in Sandy Hook. A look back to that shooting on Dec. 14, 2012 reveals chaos in the White House and nationwide mourning.
"I was there during Sandy Hook. Now it's all a blur," Patil said. "My friend is the one that called every parent after the shootings. And I don't know how she did it. I just don't know how she did it."
If Patil were a high school student now, he wouldn't think twice about walking out for gun control. Upon learning that some MVHS students didn't walk out in fear of receiving a suspension, he said he would proudly take the suspension. He believes that the youth is the future of this country and that they have the most impact on the world around them.
"The thing that I'm most proud of in the country right now is how your generation is responding," Patil said. "It doesn't have to be the glamorous White House. If anything, it's your impact that is often far greater. You don't have to accept the world that we're giving you."
Additional reporting by Iman Malik.