Team Knock Out Cancer competes in national cancer fundraising contest
Members describe their motivations and goals for competing
As each second passes, the countdown on sophomore Zhenda Hu's website gets closer to zero. It's counting down the weeks, days, hours, minutes and seconds until Jan. 11, 2019, the day that people will finally be able to donate money on his website.
Over the past couple months, Hu and his Team Knock Out Cancer have been preparing for a 7-week fundraising competition for blood cancer research under The Leukemia and Lymphoma Society (LLS) and its "Students of the Year" (SOY) program.
Team Knock Out Cancer is competing against 18 other local teams and the national LLS program to win scholarship money. Yet, for Hu, whose mother was diagnosed with breast cancer last year, the fundraiser is worth much more.
"[My mother's cancer diagnosis] caused a lot of stress and pain in the family," Hu said. "So I have a personal connection with it. That makes it so that I'm more motivated to help other people avoid this kind of situation. And if they are fortunate enough, there's some help for new research to be done. [A cancer diagnosis] can be a really big shock for people. So to help them, I think that's very good."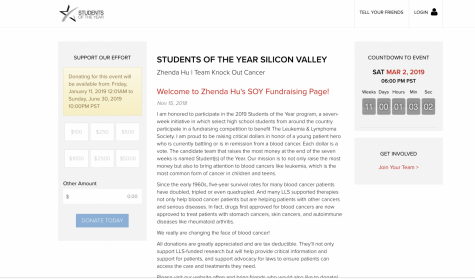 Hu's teammate, sophomore Christy Feng, also has a personal connection to cancer. Her grandfather was diagnosed with prostate cancer in 2012, and battled it through multiple rounds of chemotherapy, before passing away on Aug. 5, 2016.
"Ever since then, I hated cancer," Feng said. "So of course, obviously, I want to join and help others who have cancer or their family members who will go through the same thing."
Hu and Feng's personal connection to cancer is not uncommon — according to Pooja Klebig, the senior manager of Special Events at LLS, one in two men and one in three women are diagnosed in their lifetime. The striking prevalence of cancer in many individuals' lives is why LLS is trying to raise both awareness and resources for cancer research.
"Some live to share their success story, but many unfortunately don't," Klebig wrote in an email. "We need to continue to think of innovative ways to beat cancer … Cancer research is expensive and requires a lot of time and including time for trial-and-error in order to advance [it], but the investments being made thus far [have] already proven to help the lives of many thanks to LLS."
Klebig emphasizes his LLS mission that is shared by Hu, Feng and fellow Team Knock Out Cancer member and sophomore Diya Menon — they all strongly believe that while their team wants to win the competition, it's more important to raise awareness and support for the cause. Even though the competition starts much later, the team has a few ideas on how they want to fundraise.
Menon explains how the idea of a Build-a-Bear workshop in a hospital is appealing to their team — not because it will be able to raise funds, but because it will raise awareness for cancer, the main priority of this campaign.
"It would kind of raise awareness about our cause, which is kind of more of what our campaign is going to be focusing on," Menon said. "I'm passionate [about] anything that I can do to help."