Dessert Detectives: Dolce Bella Chocolate Cafe
Reviewing popular menu items based on quality and taste
Twice a month, El Estoque takes on a new case at a bakery or café, trying to decipher the quality and cost of the most popular items. Continuing the alphabetical trend, we went to Dolce Bella Chocolate Cafe, a café specializing in dessert cuisine along with hearty breakfasts, steaming soups and chocolate delicacies.
Drinks & Desserts: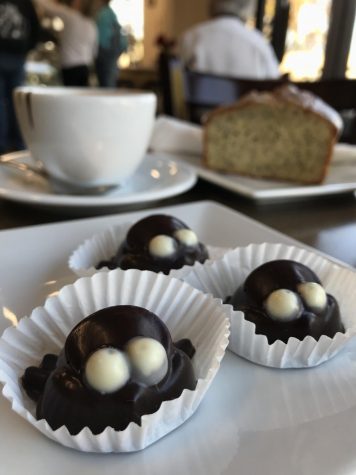 Chocolate Frogs – $2/piece
Rating: 9.5 /10
Fashioned into adorable, crouching frogs, these chocolates were adorned with white chocolate eyes and offered a choice of dark or milk chocolate. The chocolate wasn't exceedingly sweet and was a scrumptious delicacy with a smooth and creamy texture. These were addictive and highly recommended.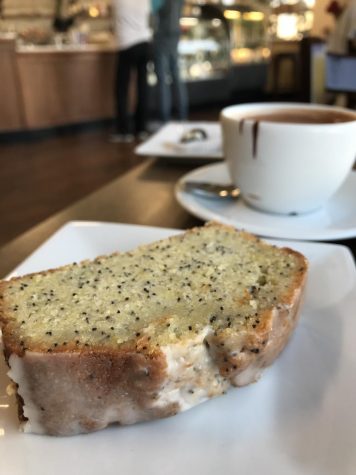 Lemon Poppyseed Cake – $3.50
Rating: 9 /10
The Lemon Poppyseed Cake had just enough sweetness with a hint of tangy lemon. The poppy seeds in the cake gave it a compelling but appetizing texture. The outer crust of the cake was layered with a tangy lemon glaze, making the cake flavorful but not exceptionally sour. Additionally, the cake had a smooth texture and is a definite must try.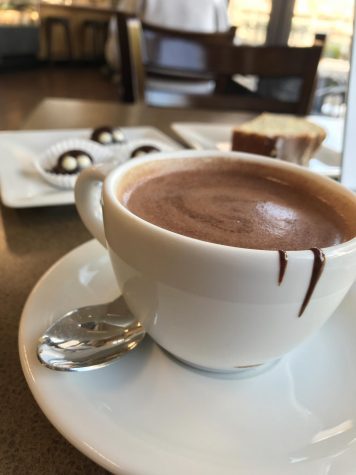 Chili Hot Chocolate – $4.50
Rating: 5 /10
The Chili Hot Chocolate is a speciality with ground house-made chili powder and steamed milk. Upon the first sip, the drink was exceedingly bitter and had a peculiar, strong tangy taste. It left a bittersweet aftertaste, the chilli flakes slightly scalding the throat. The sweetness wasn't overbearing and was balanced by the bitterness. The Chili Hot Chocolate had a delectable, rich and creamy texture with an appetizing aroma. However, the chocolate wasn't entirely melted and there were clumps of chocolate aimlessly floating. After a few more sips, the drink began to severely irritate the throat. Overall, the Chili Hot Chocolate isn't especially sweet or bitter, but does have an odd flavor and aftertaste.
Overall:
Price:  $/$$$
Overall rating: 8 /10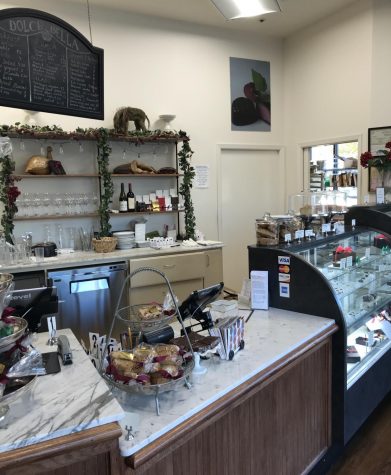 Adorned with old fashioned architecture and vines, Dolce Bella Chocolate Cafe is cozy and situated in a square of restaurants and shops, making for a wondrous stop for after dinner. The cafe presents a variety of chocolates and pastries coupled with drink delicacies. The service was quick and the waiters were delighted to assist. With reasonably priced pastries, Dolce Bella Chocolate Cafe is a splendid location to unwind and indulge in sweets.